Barbara Diener is an exhibiting artist in PCNW's 23rd annual juried exhibition, curated by Kris Graves.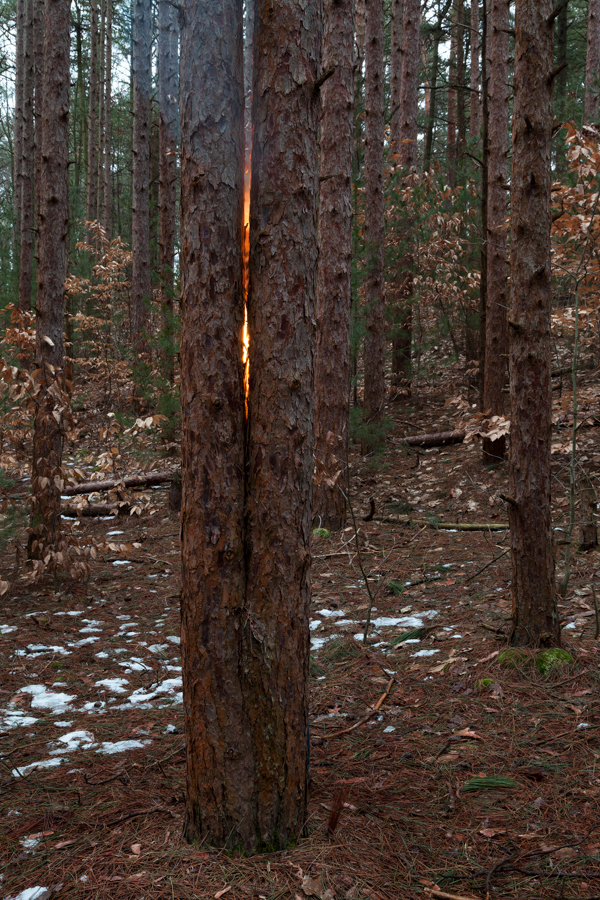 Tell us about yourself, where you're from, and when you first discovered your love of photography.
I grew up in rural Germany, have lived in Seattle, Oakland, Santa Fe, and now Chicago, and am currently teaching and working in the Photography Department at the Art Institute of Chicago. For my 8th birthday my grandmother took me to Toys 'R Us and said I could pick out one thing and I chose a pink point-and-shoot camera. That sealed the deal.
Tell us about the work that was selected to be included in Distinction by Kris Graves.
Burning Tree, 2017. Fire has long been a metaphor for destruction and renewal alike. In this image it represents the delicate interplay of life and death.
Was the selected work part of a larger body of work?
Burning Tree is part of my body of work "Phantom Power" which explores my ongoing interest in the intersection of science and faith, the limits of scientific research and photography's longstanding mistaken ability to capture truth. The world of the paranormal, Spiritualism and theories about the afterlife are ripe with opportunities to visually explore such curiosities.

The camera is a crucial tool for most paranormal investigators, so it was a natural step for me to become an amateur ghost hunter myself. Photography has been linked to the spirit world since the 1860s with the popularity of spirit photography and post-mortem portraits. In recent years, the paranormal received amplified media attention through numerous 'reality' television programs that sensationalized any experiences for the camera. On the contrary, my approach is self-reflective and curious. To make the resulting images I adopted both traditional and contemporary approaches of capturing the invisible, as well as my own interpretation of the magical and mystical.
Who / what are your biggest influences?
Caspar David Friedrich, William Eggleston, Amy Friend
Are you making work in response to the current pandemic?
Not directly, but I had planned a major shooting trip to Germany that I had to cancel. I was going to visit Peenemünde, the place where the V2 rocket was developed. Luckily, they have a webcam, so I have been taking hundreds of screenshots of the place which will turn into a large collage piece somehow.
PCNW's annual juried call for entry provides exhibition opportunities for artists and directly supports our programs, scholarships, and labs at PCNW. This helps ensure access to photography for many future generations of creatives. We know you have many options for submitting your work, so please tell us why you chose PCNW? What are your thoughts and experience with submitting your work to different calls?
Having lived in Seattle I always loved going to PCNW, so I was very excited for this opportunity to exhibit there. I look at both the reputation of the space holding the call, as well as at the juror when I decide to submit to something.