Walter O'Brien is an exhibiting artist in PCNW's 23rd annual juried exhibition, curated by Kris Graves.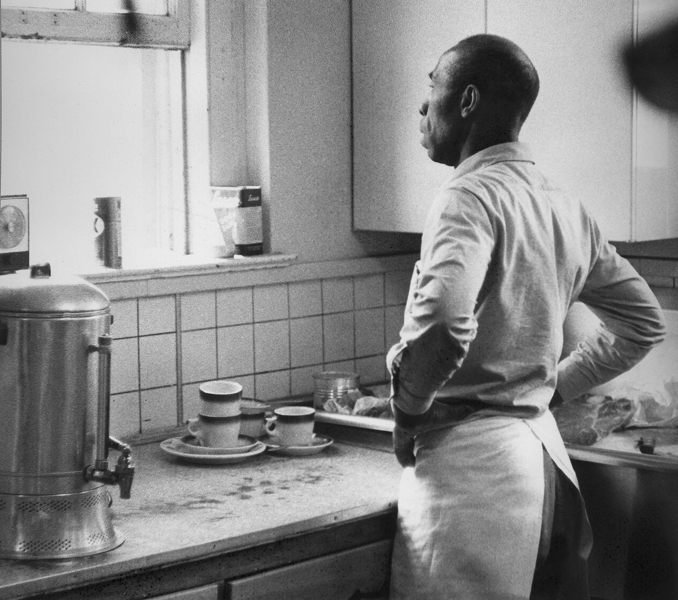 Tell us about yourself, where you're from, and when you first discovered your love of photography.
I started darkroom work at the age of 13 and haven't stopped since. We had a camera club in my Jr. High School in Amarillo, Texas and a crude darkroom in the janitor's closet. It was just magic and continues to be.
Tell us about the work that was selected to be included in Distinction by Kris Graves.
The print was part of a series I did while still in my teens. Of course I didn't think of it in those terms at the time. It only congealed as a small collection about 2 years ago. I had a show of it in my gallery at that time and it has become part of a self published book I did at that time. The images were displayed in pairs. African American home workers next to high society whites. It was a show in contrasts. The book can be viewed on Blurb at this address: https://www.blurb.com/b/7201476. The series spent a year in the photography drawers at Light Box Gallery in Astoria.
Who / what are your biggest influences?
I was influenced by many, but I first saw the prints of John Sexton and others at a Friends of Photography workshop in 1984. In addition to Sexton, I would list Morely Baer, Ed Weston, Ansel Adams and most of the West Coast landscape photographers. I also love the work of Cartier Bresson.
Are you making work in response to the current pandemic?
I am taking advantage of the time by doing printing for myself. I operate a small custom lab business, but have been closed during this time. So I am working on some new platinum processes, but no, the work isn't related to the pandemic in any direct way.
PCNW's annual juried call for entry provides exhibition opportunities for artists and directly supports our programs, scholarships, and labs at PCNW. This helps ensure access to photography for many future generations of creatives. We know you have many options for submitting your work, so please tell us why you chose PCNW? What are your thoughts and experience with submitting your work to different calls?
I don't submit to too many venues, but when I do, I try to keep them physically close. Being in Eugene, Oregon, I had not known much about PCNW, but thought it would be good to reach out a bit further.