Spotlight on Alumni


Jennifer Stanton exhibits September at SAM Rental Gallery
One of our own is part of "Autumn Introductions" at the Seattle Art Museum's Rental Gallery. Photo Center Certificate Program alumna, Jennifer Stanton will have photos hanging in the Seattle Tower Building through October 8. Stanton showed three works from her Tel Aviv Boardwalk series at our June Alumni show and the SAM Rental Gallery director wanted to see them as BIG prints. So, Jennifer got printing and has seven pieces in the exhibition. Stanton wants to continue the Boardwalk series with more trips to Israel and appreciates the unpredictability of both travel and the lith process. You never know what exactly will appear. Every person and print is a little different. Life, as the boardwalks, is not flat but rolling and Stanton approaches her art with a gentle grace. Be sure to stop in to see Jennifer's work next time you happen to be downtown.
Other Alumni News
Eva Skold Westerlind, 1999 graduate, is represented by the G.Gibson Gallery and continues to regularly exhibit. She will have a piece in the 10x10x10 juried exhibit in
Tieton (near Yakima) in the Mighty Tieton Art Center. Through October 2.
Karen Howard, 2001 graduate, will be part of a group show at the National Steinbeck Center in Salinas, CA. Her work feature the San Antonio de Padua Mission, opens Dec 2.- Feb 12, 2012.
Elisa Huerta-Enochian, 2010 graduate, recently became a volunteer mentor for Youth in Focus, and served this summer as a mentor to eight YIF students.
Laurel Schultz, 2004 graduate, led the SAM and Photo Center workshop Art and Nature Through the Lens, a one-day exhibition tour, slide talk, and photographic outing. Read more about the workshop and view works here.
Welcome back Jenny Riffle!
Jenny Riffle, a former student, and staff member at the Photo Center, just graduated with a MFA in Photography, Video and Related Media from School of Visual Arts, and now she is returning to the Photo Center to teach two classes: City Panorama, a Public Art Project with King County Metro, and Digital Darkroom: Scanning, Editing, Printing. Riffle is currently working on a series called "Scavenger: Adventures in Treasure Hunting". You can see Ms. Riffle's work and get more information at www.jennyriffle.com.
Why I still shoot film by Chris Letcher "Anachronistic Man".
Chris Letcher is a Certificate student at Photo Center NW. He is planning on being part of the class of 2013, beginning his Thesis year in fall 2012.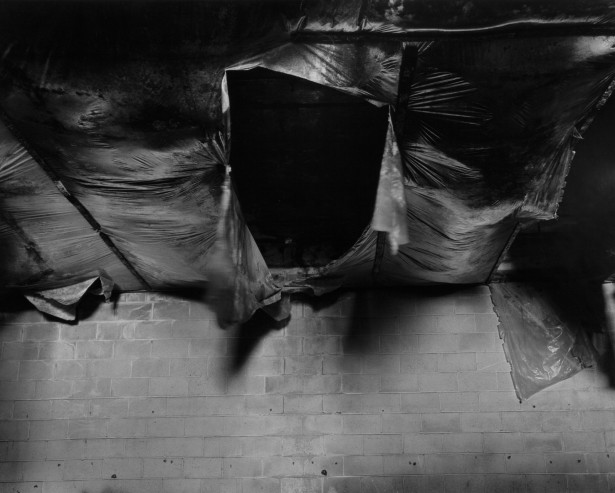 One of the first things that happens when people find out I'm a photographer is a discussion of what kind. It's a difficult question to answer, do I say that I'm a conceptual artist, using photography to explore the sculptural nature of objects?  Perhaps a reference to my camera, "I'm a large format guy shooting with a 4×5." Explicitly I can say that I'm a film shooter. In my case the idea of being a film shooter fits in with my ideal of the concept of analog. In an increasingly electronic world, there are activities we can engage in that offer us a more visceral tactile experience. I started pursuing black and white photography at PCNW. I had never done photography of any sort before, but it didn't take long before the magic of developing my own film and making prints took hold. The nature of letting light into my lens and then taking these pieces of film and paper and through the alchemy of chemistry turning that experience into a work of art was intoxicating. I love the dim light and the meditative nature of being in the darkroom-rocking the trays, waiting with anticipation, as a print develops. All I need is light and dark to create my art.
Learning the Zone System at PCNW is not only a technical tool but as taught by Jahnavi Barnes, its a philosophical undertaking in the art of seeing. Yes, any teacher can blather on about previsualization but to talk about it and to teach it in a way that makes you feel it are two different things. Out in the world with my 4×5 I always have limitations; a limited number of film holders, a setup that takes time and needs a fair amount of space. Yet this heightens my senses, it has to be worth taking because of these limitations. I see and feel it before I shoot it. Life is transitory, palpable, contradictory and full of awareness, and often the pain of lost chances and mistakes. I desire a creative experience that embodies those same qualities and by shooting film, I've found it. Analog-it's a way of life and a choice.
Classes & Workshops Highlights
City Panorama with Molly Landreth and Jenny Riffle (Thursdays 6-9 from September 22-December 1)
This project class will focus on creating artwork, concepts and images for a major public art project: printed panels to be installed in Metro bus shelters around King County. The class will consider approaches to large-scale photographic pieces, work collaboratively when necessary, and participate in intensive group meetings to further develop their individual strategies for creating photographs for public display. Work by students in this class will be considered alongside images submitted from other photographers in the Photo Center community. This project is partnership between Seattle King County Metro and Photo Center NW with funding by 4Culture. (3 credits) Prerequisites: Any Photo I class; Register now!
Students from last year's City Panorama Class reflect:
"It was with a lot of excitement and a fair bit of trepidation that I signed up for the PCNW City Panorama course. I had no prior experience working as part of a group to deliver a large-scale public art project. I was interested in the creative and technical aspects of the course, but more so, I wanted to gain experience with the project management aspects of pulling off this challenge in a short 10 weeks. During the course, through classroom discussions, teacher-led lectures and self-reflections we explored questions such as: What makes public art successful? How does public art compete with the visual distractions around it? How does the artist engage the general public through art displayed on a bus shelter? What images work effectively in a 4:1 ratio? In addition to submitting our personal work, the group decided to open a Call for Entries, inviting other Photo Center members and students to contribute to the project. We then curated the submissions, selecting works that were effective and diverse. Through the course, I felt both challenged and supported to learn about public art, how to work as part of a larger collaborative effort and ultimately, how to produce images appropriate for a public installation." — Milkana Brace
"One of the highlights of the City Panorama course at Photo Center NW was that it required students to both individually and collaboratively toward a quarter-long goal; in this case, supplying King County Metro with a large curated selection of high-quality panoramic images for their bus shelters. Few courses offer this type of dedicated project, so when I saw it in the course listing, I jumped at it.  — Christopher Bachmann.  Check out his work from the class here.