Geralyn Shukwit is an exhibiting artist in Imminent Existence, Photolucida's Critical Mass TOP 50 (2022). On view at the PCNW gallery from March 30 – June 4, 2023.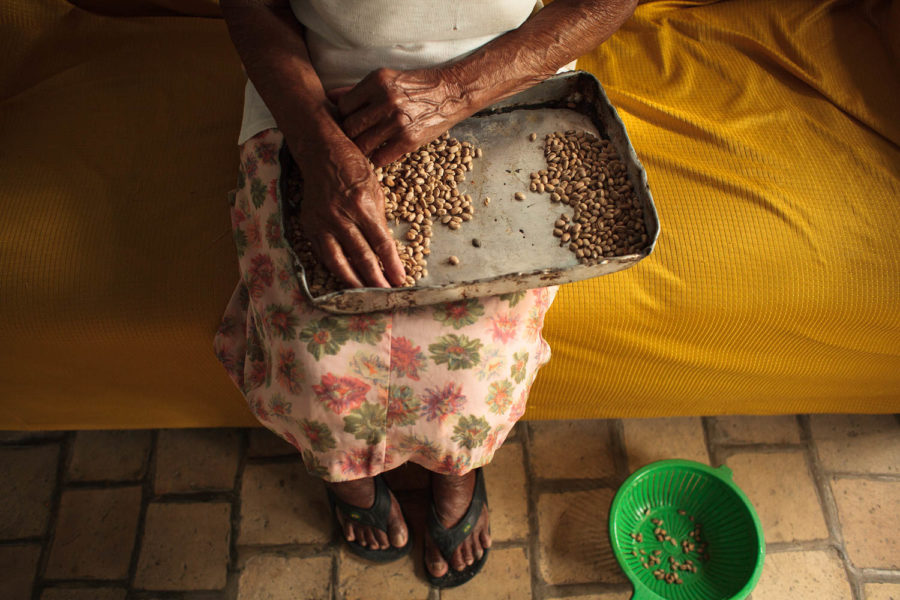 Geralyn Shukwit (b. 1971, Detroit, MI; lives in Brooklyn, NY)
Feijões / Beans, 2011
Archival pigment print 
Image 18 x 12 inches, framed to 20 x16 inches 
$800 (for purchase inquiry, please contact Erin at espencer@pcnw.org)
I'm wondering if the Critical Mass review process brought about any meaningful connections with one or more of the reviewers?  
Not this time, but after the 2018 Critical Mass I was offered to exhibit at Blue Sky Gallery and have kept in contact with Chris and everyone I met at the gallery.
Please tell us about yourself and which part of the world you currently reside.
Photographer/Artist/Graphic Designer living in Brooklyn, NY
When did you first discover your love of photography?
I guess you could say high school, I was on yearbook and was one of the photographers. It was fun! But I really didn't take photography seriously until I moved to NYC in 1998 – something about this city sparked a bulb for me and I've never looked away. 
Please tell us about the individual piece that was selected to be included in this exhibition. Also, tell us a bit about the body of work that this is from.
This image was taken in a small village in Chapada Diamantina Bahia. I was walking around with a photographer friend and we met this woman, she invited us in as she was preparing dinner. This happens a lot in Bahia, I sometimes think I should rename this project, "Please, come in". This photo is part of a long-term love letter to Bahia I call "O Tempo Não Para" (Time does not stop) that began in 2011. I came up with the title a few years into the project as every time I returned to Bahia I felt like nothing had changed, yet so much had… especially folks that I have been photographing. This year, after being away for 4 years, was drastic! My girls were no longer kids, they were all grown up – so tall, so beautiful, so smart! My heart feels full but also sad to have missed 4 years. 
Who / what are your biggest influences?
Visually, I'm most influenced by painters, especially the light of Vermeer. I follow a lot of photographers, and am influenced by all of them, but knowing and studying with Ernesto Bazan really helped me to understand how important relationships are with anyone you are photographing. To continually return over and over again to people and places that I am inspired by – to create relationships not just pop in to take a photo or two. It makes it hard to wrap up a project, maybe I never will, but it really makes the images feel more meaningful to me.