JOIN AN ALUMNI CRITIQUE GROUP!
The PCNW Alumni Critique Groups can be invaluable in strengthening connections with colleagues, supporting continued photographic efforts, and sharing experiences following graduation.
Feel free to join in at any time and bring some work to share!
CAPITOL HILL
---
First Meeting: Saturday, January 14 from 2-4pm at PCNW
This new group is being started by Harini Krishnamurthy and Janet Politte, and will continue to meet every second Saturday of the month.
WEST SEATTLE
---
Next Meeting: Wednesday, January 11 from 11am-1pm at West Seattle Uptown Espresso – Junction (4301 SW Edmunds St Seattle, WA 98116)
This group meets every second Wednesday of the month.
---
ALUMNI HIGHLIGHTS
On Process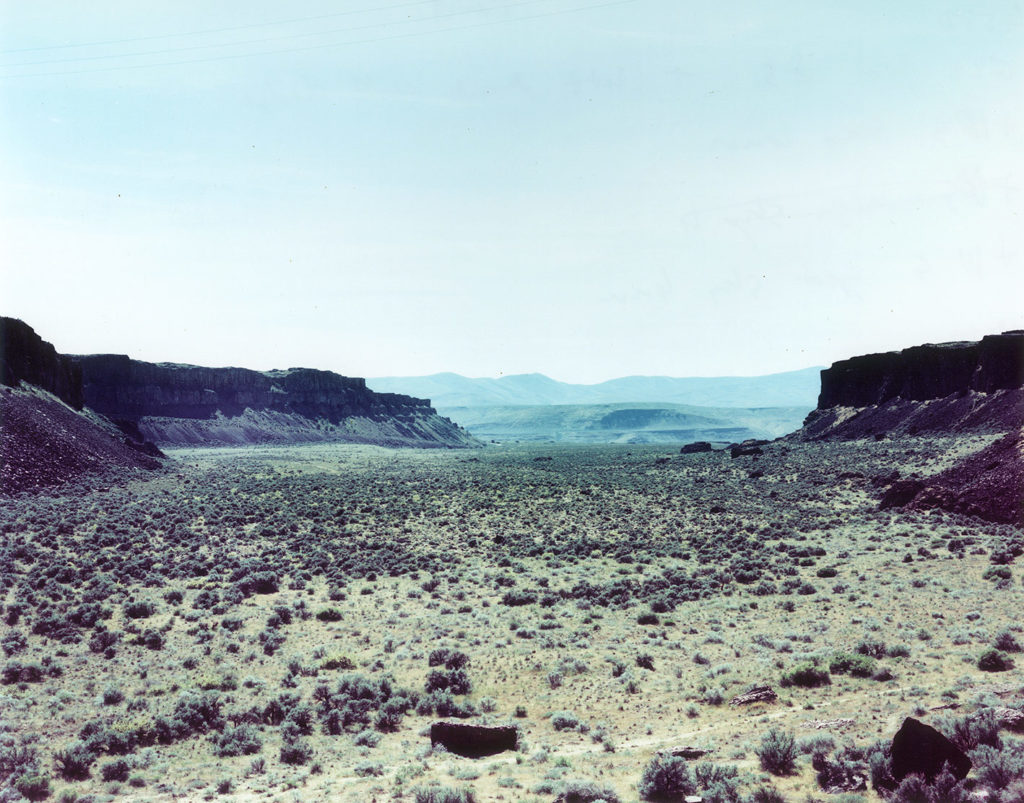 ANDREJ GREGOV
graduated 2015
nterview by Joan Dinkelspiel, grad. 2017
What motivates you to photograph what you photograph?
The subject matter that attracts me most is landscape and architecture. How the manmade environment intersects with both landscape and architecture seems to continue to draw me to explore seeing the world from this perspective.
What was the inspiration for the work showcased here? Is it part of a larger body of work?
I've been exploring the desert for some time. I noticed Eastern Washington had similar geographic features to the California desert (Mojave, Death Valley), and wanted a closer location to continue to explore. After several trips, I learned of massive prehistoric floods that carved out much of the Eastern Washington landscape and began shooting it. I'm currently tracing the flow of these floods from their source (ancient Lake Missoula) out to the Columbia River.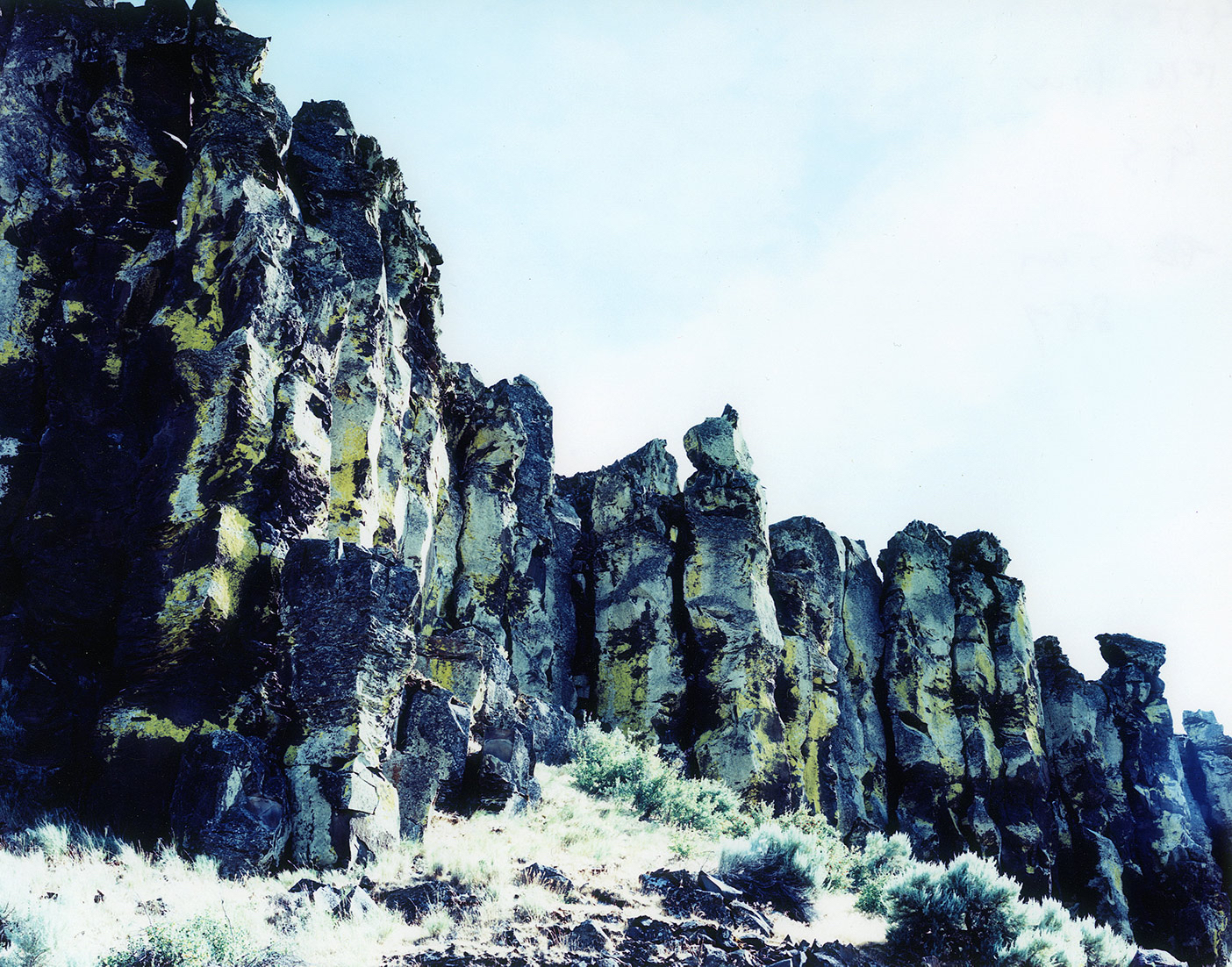 Tell us about your process for this project:
I've been recording scenes from the flood using a cross processing technique where you shoot transparencies (slide film) and cross process (develop) in C41 chemistry, used for color negative film. The effect causes a warping of the image colors and added grain texture. You lose the ability to get color-accurate images which I wanted to help transport viewers back in time 10,000 years. I am also shooting the manmade environment in B&W negative film at the same time, something analogous to a topographic exploration of the modern landscape. With all the discussion around climate change, I think it's interesting to think about other major past cataclysmic events to the landscape and how we live around those impacts.
I understand you make photographs in black and white and color analog, as well as teach color analog at PCNW. What is it about color analog that intrigues you and motivates you to seek out and use color analog printers?
With respect to color analog in particular, I love its simplicity. Film shooting and development is straight forward. Cut your ASA in half and process at standard temp/ times for C41. Then for printing, there is no contrast control. What's in the negative and what can be seen in RA4 paper is your contrast level. So, all you're doing in the darkroom is finding your density (exposure) and color settings. Color correcting is especially simple. It's a subtractive process, so you simply move along three color dimensions and work in opposites (yellow/blue, magenta/green, red/cyan). You make one color change at a time and then look at a new print. Rinse and repeat until you have a final print. It's a really lovely process. In a group printing setting, it's especially fun because you get to see other photographers' work as it comes out of the processor and up on the viewing board. Very fun conversations when sharing the darkroom with other printers. It's a very communal experience, whereas photography is often quite solitary.
Is it a preference of film over digital that is a motivator?
I'm an analog image maker because that's how I like to work. It's really as simple as that. I like working with my hands and working with a physical process of making images. I sit behind a computer all day at work. I don't want more computer work when making my art.
Are the final prints significantly different?
I do think it's easier to get higher quality level of prints from analog printing methods than digital, not because analog is inherently better. But to become a proficient digital printer is hard, in my opinion. Computer image making controls and workflows can be quite complex and are not intuitive at all. I've seen many shows of major photographers' work printed as inkjet prints that were mediocre to poor in quality compared to the quality of their previous work as silver or RA4 prints.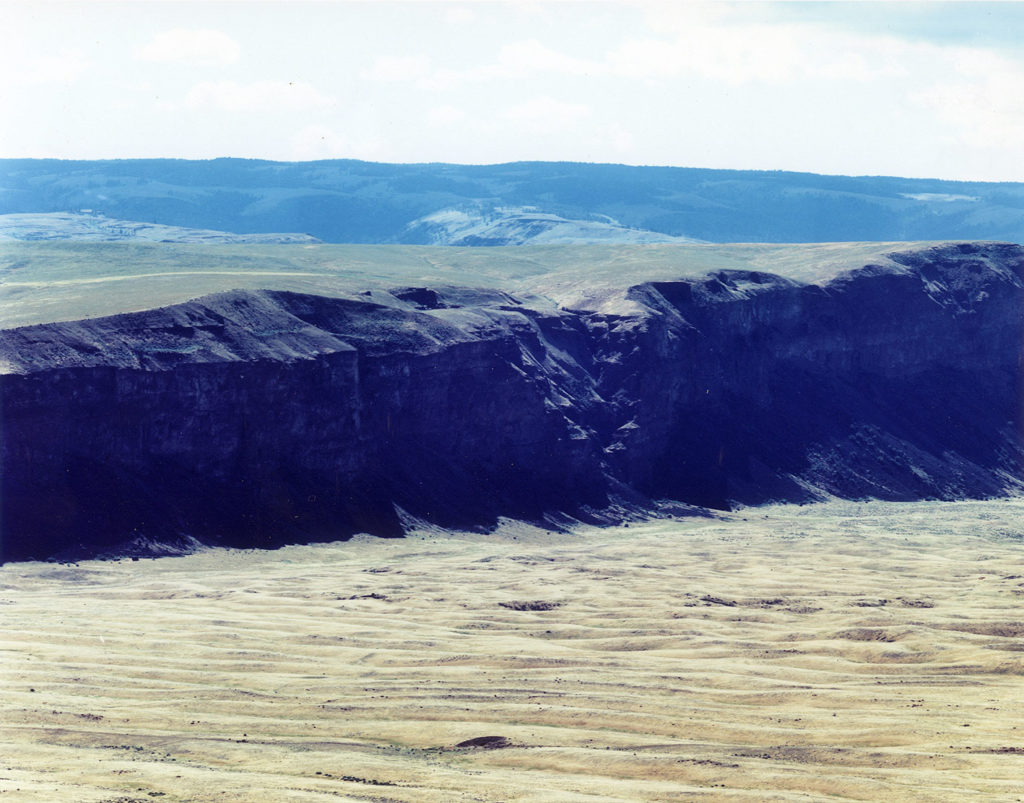 What are the challenges of printing color analog today?
The primary challenge is there are no facilities to print RA4 color. In theory one can use rotary drums or even trays to print at home. But the most difficult thing to learn in printing color analog is how to color correct your images. To learn that skill, it's really helpful to print via a RA4 processor. It's a controlled chemistry and printing environment which allows for stability, and one can apply very fine color corrections to images. I know of one place in LA and several in NYC that have color processors for public color rental. One of the reasons I've started to teach color workshops at PCNW is to help promote analog color printing and perhaps help see color facilities return to the facility.
Exhibits, presentations, and photographic engagement with communities, etc., since graduation?
I have had some images in group shows and publications. I like to continue learning, so I've tried to spend time with master image makers and learning their techniques. I also continue to take classes and workshops at PCNW. Finally, I participate in an art collective called Push / Pull where we get together to critique work and put together shows/events of the group's work.
Upcoming projects?
In 2023 I'll be continuing to work on my project in Eastern Washington. There may be a color analog workshop or two I teach at PCNW as well!
For more about Andrej Gregov:
www.andrejgregov.com
Instagram @agregov
---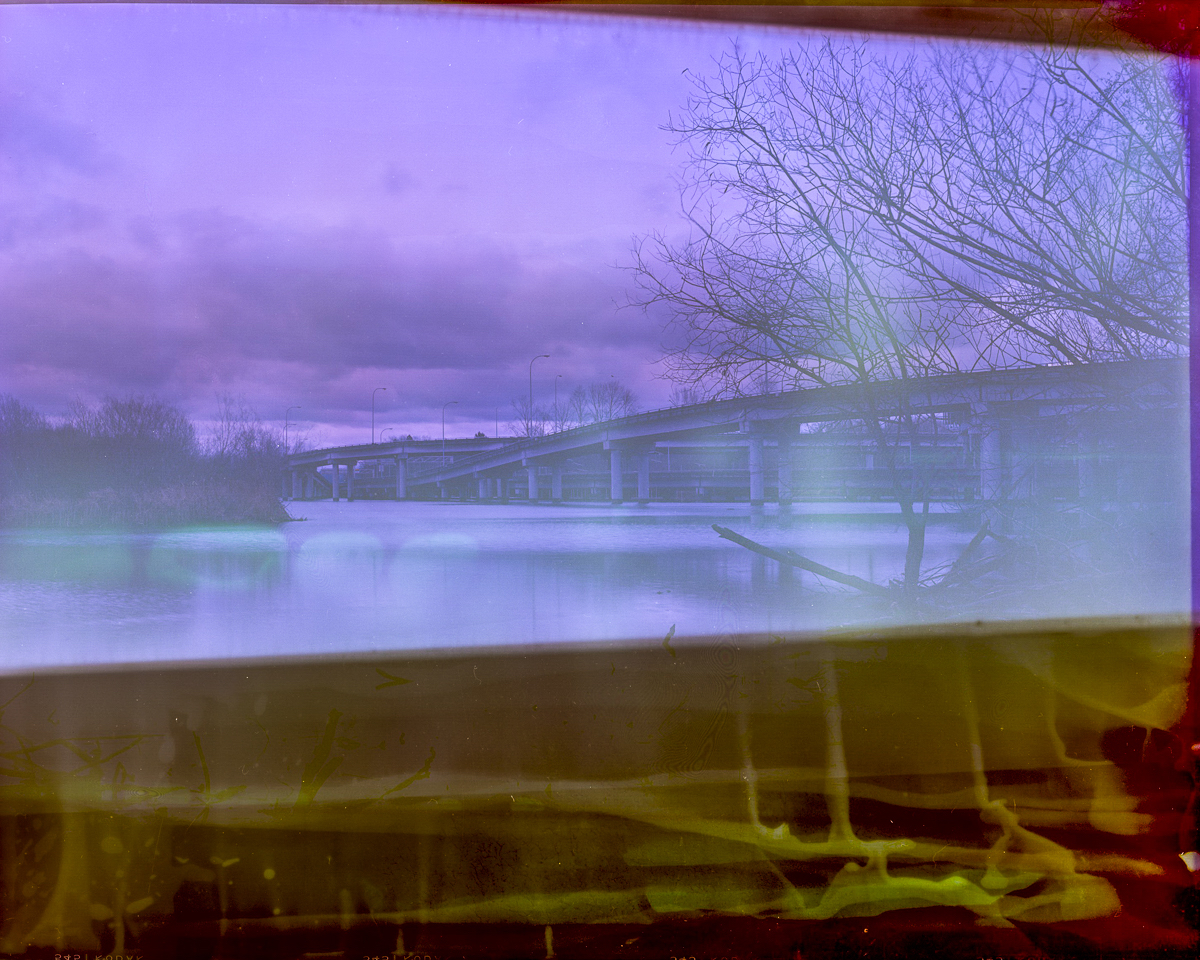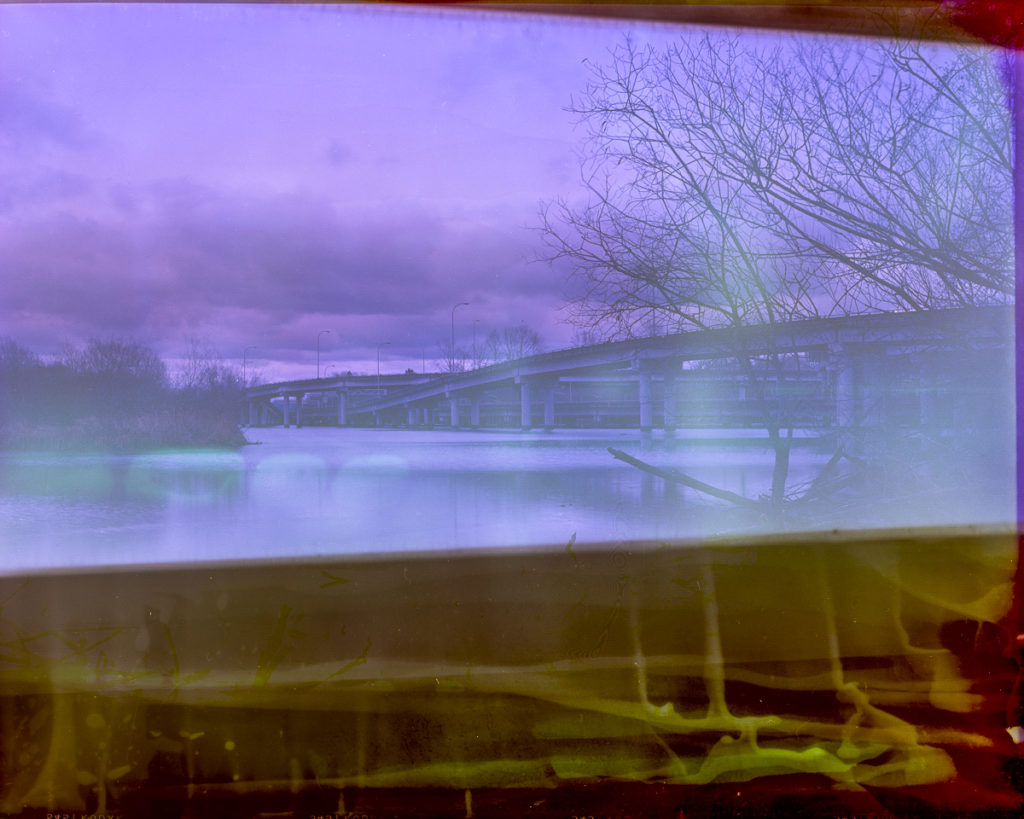 DAN HAWKINS
graduated 2016
interview by Lisa Ahlberg, grad. 2005
Do you begin with the desire to work with a particular process first? Or do you choose the imagery or subject matter first and then decide on the process?
For me a project can start either way. Sometimes I realize that a new process is possible and begin to search for an appropriate subject and other times I become obsessed with a subject and begin to think about what types of materials could be used in a body of work. I like to keep things as open as possible in the beginning since many ideas don't actually work out in the end.
How does the process you chose enhance the intent of the image?
Most of these images involve site specific materials that get incorporated into the photographic process. It is my belief that by doing this we are able to begin to understand the links between history, materials, and the photographic process. In a world awash with stunning images I am asking the viewer to consider meta questions about the medium itself.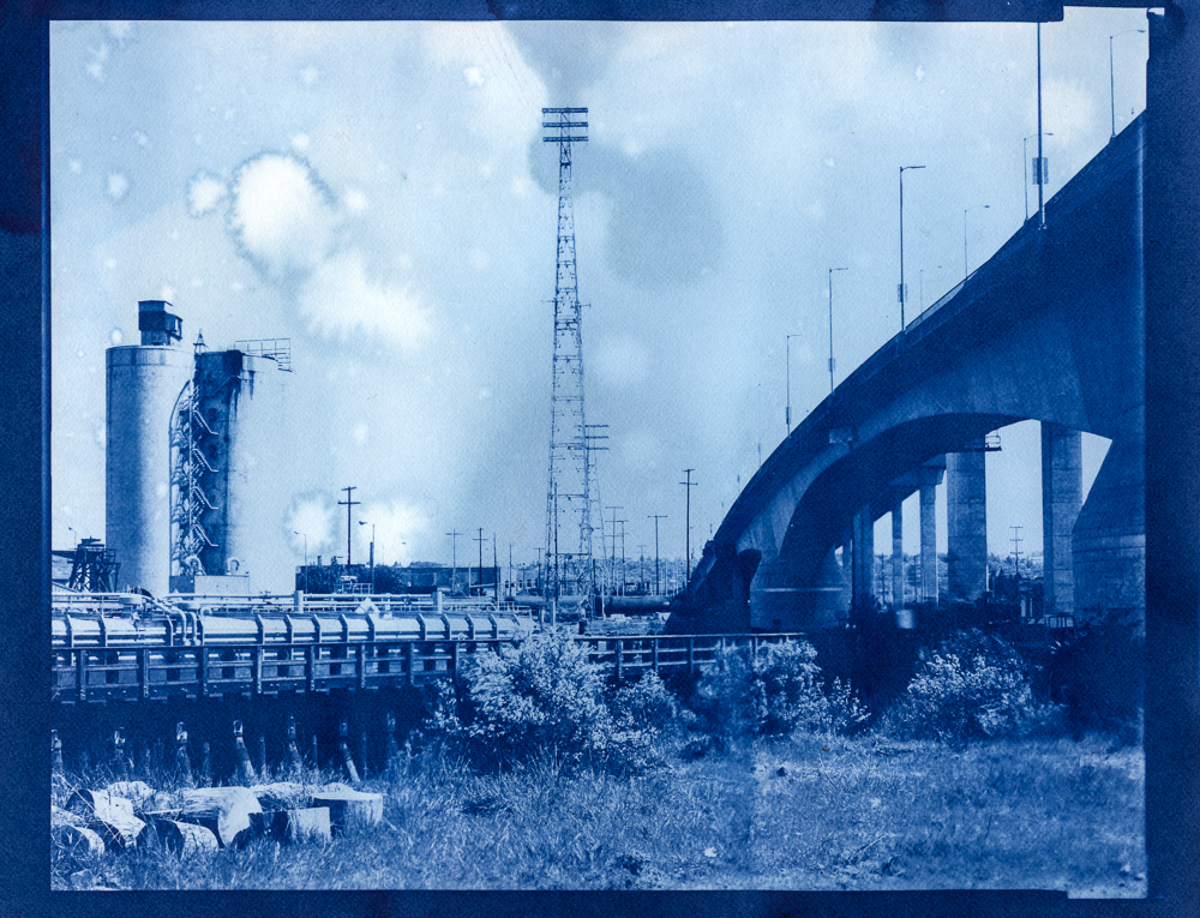 Are these images part of a larger body of work? What was the inspiration?
All of these work samples are part of a larger series. Most of the time my process begins by thinking about sites/locations that I would like to photograph and then investigating what combination of process and materials would best serve to outline some of the ideas listed above.
What advice do you have for someone wanting to begin exploring a new process?
I always advise folks to dive in and make mistakes right away. These lessons are invaluable and difficult to forget. There is nothing worse than someone who is on the sidelines obsessing about "mistake avoidance"! It is really difficult to learn about how materials work by thinking about them.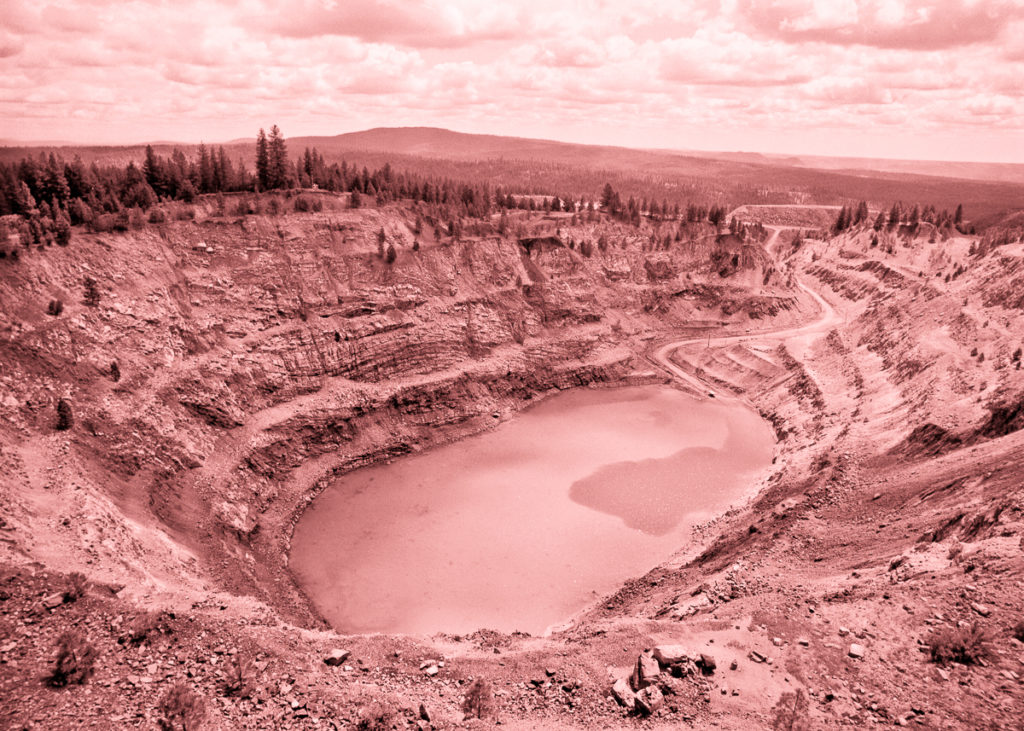 What have you've done since graduating? Any upcoming exhibits, books or projects to share?
I am very rooted in the PNW and since graduating I have worked with many processes from wet plate to digital negatives. I am very interested/invested in collaborations and have had the opportunity to do this both locally and internationally in recent years.
I just recently returned from an artist's residency in Montenegro working with Saint Genet, whom I have collaborated with for many years (www.saintgenet.org). I have also been printing a great deal of work with Steven Miller (www.smiller555.com). He has been developing a series of infrared prints that are lith printed using digital negatives, and I have been acting as technical support.
For more about Dan Hawkins:
www.danhawkinsphotography.com
Watch this Artist Talk with Jenny Hansen Das, Dabi Stathakopoulos, and Dan Hawkins, moderated by alumni Sarah D. King
---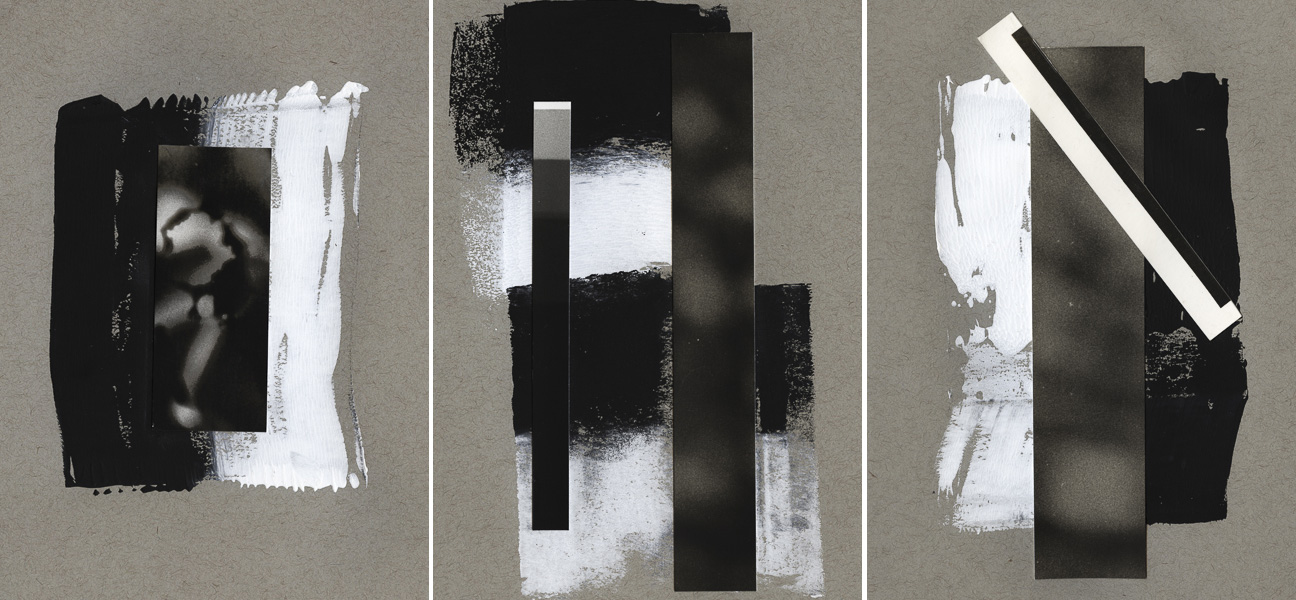 LEAH FREED
graduated 2018
interview by Lisa Ahlberg, grad. 2005
Tell us a bit about yourself?
I was born and raised in Long Island, New York, and currently living in Capitol Hill, Seattle. My educational background is in chemical engineering, which is what I do at my day job. I love being able to combine my love of experimentation and chemistry, and interest in materials into my photographic work and really love making anything with my hands. Outside of work and photography, I love crossword puzzles, reading, and going on long aimless walks.
Tell us about the work you decided to share. Why did you choose this process?
The work that I decided to share represents some of the pieces that I've been making since the start of the pandemic. With all of my normal outlets for dealing with stress/anxiety closed, I tried to pick up other creative pursuits like drawing, painting, collage making that I could do from my tiny apartment. It really started with no expectations. Just a placeholder to keep my hands busy and my brain shut off until I could get back into the darkroom, and I am still not sure it is anything that I will pursue other than for my own benefit. This is the first time I have shared the work with other folks in my photographic community so that's a bit strange and exciting.
You seem to be very much a "maker" of photographs with process being key. Why?
On being a "maker" of photographs – I agree with you completely. I find a real escape in making things with my hands and getting into that "flow" state by doing things over and over again. It's how I best process my thoughts and emotions. I also really love exploring materiality and the interaction between different materials – letting their inherent properties and chance really drive the outcome.
You've produced work with lith, created lumen prints, cyanotypes. What else? Can you tell us about your journey with alternative process?
Oh boy, yes, there would be a lot to list here, but some of the highlights: lith, cyanotypes (and a lot of the other coated paper process — van dyke, albumin, platinum, kallitype, etc.), lumen prints, bromoil, chemigrams, and wet plate collodion. I first really started going down the alternative process road because of a PCNW class that I took with Dan Hawkins and Laurel Shultz in 2012 called "DIY Photography: Experimental and Alternative Projects". It was an amazing survey course where we got to play around with a new process each week, making our own pinhole cameras, digital negatives, laser print gel transfers, cyanotypes, etc. I loved it! I was completely hooked by how freeing it was, especially after coming from engineering graduate school where everything felt so rigid and prescribed. It was a great example of being in the right place at the right time in my life.
You've been leading the Chase the Light workshops on alternative process with Gina White in recent years. Most participants submit digital images, what kind of images have come out of the workshops?
The Chase the Light workshops have been a blast over the last few years! Absolutely, you are right, most participants submit digital work; in years past, with the truncated time frame, it was really difficult to do anything other than digital. Luckily that has been changing! The workshops that Gina and I have been doing have tried to show the participants a range of processes that they can experiment with and embrace the sunshine! They have been largely cyanotypes, lumen prints, and chemigrams that have come out of the workshops. It is intentionally open-ended so that the participants can learn whatever process that they are interested in and just spend the time experimenting and playing.
What motivates you to photograph what you photograph?
I am really drawn to abstract images and let the processes that I work in drive the outcome. I love the idea that 100 different viewers would have 100 different interpretations of a piece depending on their personal histories and what they bring to the viewing experience.
How has your work evolved since graduating from PCNW?
I graduated in 2018 from PCNW and since going through the thesis year and finishing, I think it really helped me grow in confidence to embrace more experimentation and harness my scientific background more. That and the pandemic have made me reach for more everyday objects and processes that are 1-bedroom apartment friendly, but I have some big plans for 2023.
What's next?
I have been working on some new pieces that are going to take some of my paintings into the darkroom. I am really excited about it. I hopefully will have more to share soon!
For more about Leah Freed:
www.leahfreedphotography.com
Instagram: @leah.p.freed
---
ALUMNI NEWS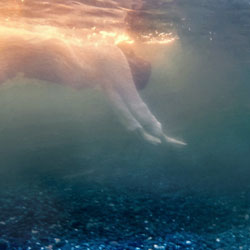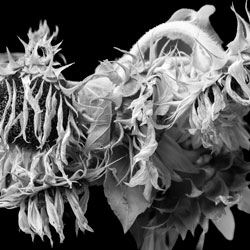 After two solo exhibitions, a theater residency and a series of graphic novellas in the works, Jenn Reidel continues to create her art under the auspices of a fictional unknown photographer in her on-going multidisciplinary project "Rodin's Photographer."
In her latest work, Reidel hired diverse thinkers in costume design, dance and video to help her foster new perspectives. Last fall, she was awarded a 2021 Arts Incubator Residency by Cornish College of the Arts to further the development of "The Phoenix" as an art dance that will be part of a future exhibit of "Rodin's Photographer." Learn more at jennreidelart.myportfolio.com.
The photo detail above is from one of her recent underwater concepts of "The Phoenix" performed on the last day of summer 2022 in the Salish Sea. It will be featured in "3Elements Literary Review" Issue No. 37 Winter 2023. The free issue will be available February 1st: 3elementsreview.com
Daniel Gregory, 2009 graduate and core PCNW faculty member, has work in the SAM Gallery in January — Seeing Light is on view through January 29, 2023!
Here's a note from the SAM Gallery: Artists create contrast with light and shadow around their subjects in this featured collection for Seeing Light. Against a wall, along the street, from above or below, these local photographers capture light play while considering the
energy of their subject and reminding us to look closer or to look again. Dramatic beauty prevails throughout these works in this inspiring look at how we experience light.
Gregory also received honorable mention in an exhibition at the Alex Ferrone Gallery entitled The Landscape – National Juried Small Works Exhibition.
---
NEW BOOKS BY

RACHEL DEMY (graduated 2022) and SELENA KEARNEY (graduated 2019)
Congrats to two alums!Rachel Demy for her newly released book BETWEEN, EVERYWHERE Photographs by Rachel Demy, with Death Cab for Cutie, and Selena Kearney for her upcoming book Every Object has a Ritual which is in pre-sales. Info on both books available from Minor Matters.
ABOUT THE ARTISTS
Rachel Demy has been busy with an exhibit of her photos at Leica Gallery in Bellevue and book signings celebrating the release of her book. According to Rachel's publisher, Minor Matters, "The photographs comprising Between, Everywhere were made over a five-year period touring with Death Cab for Cutie, a band she met first as a fan, and eventually joined as family. Demy's wry and poignant photographs take viewers behind the scenes and on a journey full of the quiet, the beauty, the monotony and the exhilaration of a veteran band on tour."
Selena Kearney's book, Every Object has a Ritual is in pre-sales with Minor Matters. We highlighted Selena for the September 2022 Alumni News, and had this to say about the book, "Object / Ritual was born out of Selena's pre-thesis classes at PCNW; the work is inspired by the growing national condemnation of non-indigenous people donning Native American costumes for Halloween and other national celebrations, and by the use of stereotypical Native American imagery in branding for sports teams."
Selena also curated an exhibition A Weaver's Voice – Coast Salish Wool Weavings at the Leonor R. Fuller Gallery of South Puget Sound Community College this past November 7 – December 9, 2022
---
SAVE THE DATE:
SALON NIGHT!
Saturday, March 4th from 4-6pm at PCNW join us for a Happy Hour celebration of alumni new work and winter quarter student work!
Open to all alumni and current students; bring one print (unframed) to hang for viewing. More details to come!
Want to help with the event?
E-mail alumni@pcnw.org
---
THANK YOU FOR YOU SUPPORT!
Thanks to the incredible turn out from alumni, Golden Hour: PCNW's 2022 Benefit was a huge success — raising nearly $210,000!
13 alumni donated work, 17 attended in person, many others tuned in virtually, and a few served on the Event Committee/PCNW Board, all in support of PCNW. We are deeply grateful for your continued engagement!
You can still view the donated works here.
---
PCNW ALUMNI ASSOCIATION UPDATE
We want to hear from you! Use the survey form to let us know what you're up to. We want to continue to highlight a few alumni every issue.
Want to join us? Join our leadership comittee? Help with the newsletter? Help with Salon Night? Have another idea you want to pursue? Contact us at alumni@pcnw.org!
Thanks to all the alumni who contributed to making this issue of the newsletter happen — especially Lisa Ahlberg, Jennifer Brendicke, and Joan Dinkelspiel.
Sincerely,
PCNW Alumni Association