Sam Zalutsky is an exhibiting artist in PCNW's 23rd annual juried exhibition, curated by Kris Graves.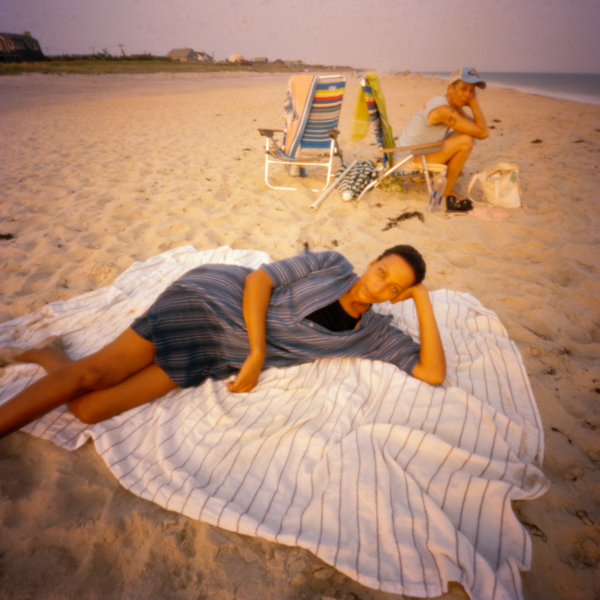 Tell us about yourself, where you're from, and when you first discovered your love of photography.
I'm a NYC writer/director originally from Portland, OR. For the past 20+ years, I have primarily focused on narrative film and have a new feature film, a revenge thriller called Seaside, that is streaming now on most platforms that I shot on the Oregon Coast. But before I was a filmmaker, I was a photographer and visual artist. I always had a camera since I was a small kid. From instamatic to disk to my first SLR, a Pentax K-1000. I remember when I did a three week exchange in Mexico City when I was 12 I asked my host mother to drive me to take pictures of the massive sculptures from the 1968 Olympics throughout the city. She very kindly agreed, cementing my love for photography, art, and Mexico, to go along with my love of the Olympics. I discovered my love of black and white printing as an undergrad art major at Yale. Since focusing on film, I've used my photo practice as a way to hone my visual looking skills. I love that I can do it all by myself, unlike the very collaborative and expensive craft of film. I used to focus mainly on street, travel, and portraits, including author photos, but more recently I have been developing a couple of ongoing conceptual series.

Tell us about the work that was selected to be included in Distinction by Kris Graves.
This piece, Katherine I, is part of a pinhole camera series called "Ghost Self Portraits." It's a group of long exposure shots set on the beach at Cherry Grove, Fire Island, NY, a predominantly LGBTQ vacation town on a barrier island off the coast of Long Island where queer people have summered since the middle of the 20th Century. I've been in a house share with my husband and many of the same friends for 20 years. Katherine is not in our share but is a friend that we spend a lot of time with while whiling away the weekend hours on the beach, which is our main summer activity.

Is the selected work part of a larger body of work?
In this series, I'm exploring that idea of chosen family and community. In some of the portraits, I insert myself as a ghost figure to challenge the traditional relationship between photographer and subject. I want to reveal my connection to the subjects but I'm also thinking about how we create our identity through the people we spend our lives with and our interactions with them. I'm not in this photo, however, other than in the shared gaze between Katherine and myself, and also our other friend, Heidi, who is in the upper corner. The long exposures and the nature of the pinhole camera give the images a really moody romantic and nostalgic feeling, which is perfect since I'm always nostalgic for the beach when I'm not there and we've accumulated hours and hours of shared history on that beach, so the people and place are very special to me.

Who / what are your biggest influences?
That's tough to narrow down! I have very eclectic tastes and often use photographers as visual inspiration for my films. I did a black and white fairy tale as my MFA thesis film and used Koudelka's Gypsies as inspiration, especially the shot of the man with the white horse, since I had a white horse in my movie. I looked at Gursky's photos, especially of 99cent stores for another short I did about a woman whose child disappears in a Costco. My favorite photo of all times is Cartier Bresson's Alicante, Spain 1933, the shot of the three people doing each other's hair and nails while looking into the lens. It's so strange and wonderfully queer. I can stare at it for hours wondering who are these three, what is their relationship, and why are they all tied up in each other's intimate business. It's just beautiful. But I also love so many others: Kertesz, Arbus, Modotti, Duane Michaels, Avedon, Freidlander, Woodman, Alvarez Bravo and some of my contemporary faves include Catherine Opie, David Benjamin Sherry, Zanele Muhole, and Mickalene Thomas. I've been looking at Evelyn Hofer recently, whose work I love but didn't know. And I follow a ton of photographers on instagram. The list is long.

Are you making work in response to the current pandemic?
I've started going out and photographing NYC when I do my daily bike ride, both on my phone and my 35 MM film camera which I hadn't used in a while. I find it really hard to photograph New York in general but we'll see how it goes. I've been meaning to force my husband to model but I haven't done that yet. I've been working mainly on a film script and going through previous photos, applying for things, etc.

PCNW's annual juried call for entry provides exhibition opportunities for artists and directly supports our programs, scholarships, and labs at PCNW. This helps ensure access to photography for many future generations of creatives. We know you have many options for submitting your work, so please tell us why you chose PCNW? What are your thoughts and experience with submitting your work to different calls?
I love Kris Graves. His own work is fantastic. And I love his KG Projects and his commitment to making books and getting interesting photo work out there. His dedication, drive, and smarts are really inspiring. So I will always try to get my work in front of him. And since I'm from Portland I have a soft spot for the PNW. I've only started submitting my work for shows in the last couple years but I know from many years making films that the two most important things is to always be making new work and to have a strategy for coping with the rejection, since it's constant. I'm lucky that I have a good support system of friends and family. And I can move between photo and film, so when one isn't working or frustrating me or I'm getting rejected, I can move over and refocus for a while. It takes longer but it saves my soul.