Fazilat Soukhakian is an exhibiting artist in Imminent Existence, Photolucida's Critical Mass TOP 50 (2022). On view at the PCNW gallery from March 30 – June 4, 2023.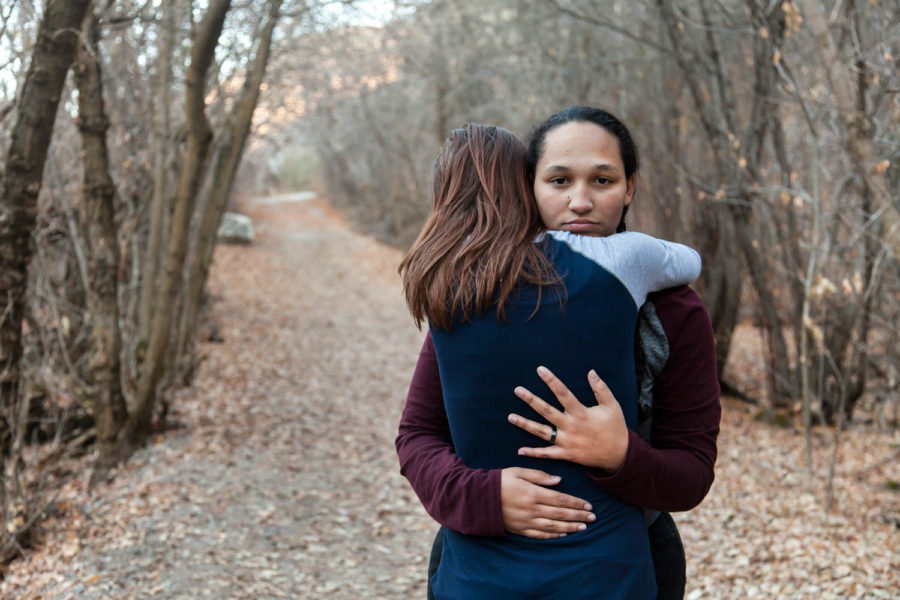 Fazilat Soukhakian (b. 1983, Larestan, Iran; lives in Bountiful, UT)
Queer in Utah, Heather & Sariah, 2020
Archival pigment print
Edition of 8 + 2AP
Image 16 x 23.5 inches, framed to 22 x 30 inches
$1250 (for purchase inquiry, please contact Erin at espencer@pcnw.org)
I'm wondering if the Critical Mass review process brought about any meaningful connections with one or more of the reviewers?
Being able to share my work with 200 amazing experts in the field of photography has been a wonderful opportunity. I was very excited and honored to be contacted by a couple of the judges who shared their feedback with me and congratulated me on this wonderful recognition.
Please tell us about yourself and which part of the world you currently reside. 
I am originally from Iran, but I have been living in the USA for the past 12 years. Since 2015, I have lived in Utah and teach photography at Utah State University. I consider myself a visual storyteller and I'm a firm believer in the power of photography to raise awareness and help change the world for the better. 
When did you first discover your love of photography?
After I finished my undergraduate degree and started working in Tehran as a photojournalist, I witnessed so many political and social issues around me. I discovered that my camera became essential in recording all that I was a witness to. The camera became a visual record of my experiences, making sure that these would not fade from my memory through the passing of time. I liked photography before this time, but I truly fell in love with it at that time.
Please tell us about the individual piece that was selected to be included in this exhibit. Also, tell us a bit about the body of work that this is from.
This photograph is part of a series called "Queer in Utah". It revolves around portraying the new and young generation of LGBTQ+ community in Utah, specifically those who grew up practicing the LDS faith. As some might know, within the state of Utah, The Church of Jesus Christ of Latter-day Saints (LDS) is omnipresent. Generally, the social framework of the LDS Church has resulted in a path of dilemmas and self-doubt for many people looking to make the hard decision whether to act on their desires. Here, I photographed Saraya and Heather, both in their early 20's, and both grew up Mormon with still so much love and respect for their faith. After they publicly announced being gay, they lost their membership to the Church. Heartbroken and faced with many challenges, they still decided on taking a chance to pursue their relationship. A couple of weeks before this photograph was taken, they got engaged. Their dream had always been to get married in the LDS temple but that is not something that could happen for them. 
After our photoshoot session, we did some additional photographs in front of the LDS temple in Logan. Even though they did not get to experience their dream, my camera hopefully helped create a moment for them to cherish.
Is it your intention to have your artwork bring attention to any current social issues? 
My photography is a celebration of human empowerment, and an attempt to raise the bar towards  more equality. Having had the chance to live in two very different societies, these experiences have taught me the universal consistency of people's thirst for power. No matter where we live, this power struggle will always result in racial, sexual, religious and social inequalities. I am intrigued by stories that challenge our perspective of the world, and I can't get enough of the voices of brave people that are willing to share their stories and experiences to help make a difference towards a more tolerant world.
Who / what are your biggest influences?
The young me was very much influenced by Susan Sontag and Walter Benjamin's views and perspective towards photography which has led to my interest in storytelling and using photography as a tool of power.