John Huang is an exhibiting artist in PCNW's 23rd annual juried exhibition, curated by Kris Graves.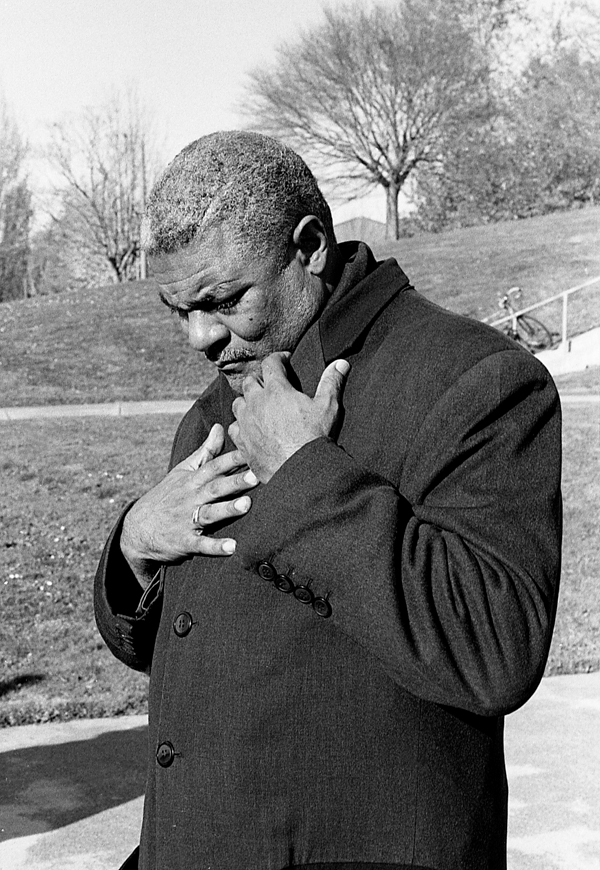 Please tell us about yourself, where you're from, and when you first discovered your love of photography.
My name is Tzu Hung Huang. People call me John. I'm a senior at Seattle University, majoring in Interdisciplinary Arts, and I'm an international student from Taiwan. I first discovered my love of photography when I was taking Black & White Photography class in college.
Tell us about the work that was selected to be included in Distinction by Kris Graves.
I took Pastor Livingston, 01 at a memorial event for Jacquie Jones-Walsh, who was a long time community leader and key activist in Seattle's fight for civil rights. Pastor Livingston was my Political Science professor at Seattle Central College back in 2015. I got back in touch with him because I saw his name multiple times in articles and interviews when I was doing initial research for my thesis project on gentrification. After a couple of talks, he trusted me and introduced me to local community leaders, who are the greatest people I've ever met. He is one of the mentors who guide me through my thesis project, "Seattle Community Leaders."
Is the selected work part of a larger body of work?
Yes, the selected photo is from my "Seattle Community Leaders" series. The photo series is on my website: https://johnhuang.space/seattle-community-leaders. I conducted interviews with Pastor Carl Livingston, Mr. John Yasutake, Mr. Gabriel Prawl, Mrs. Dawn Mason, and Mrs. Dorothy Cordova to talk about their community work and gentrification in Seattle. I also followed them to different events to take photos and to get to know the community better. 
The African- and Asian- American community in Seattle had helped me tremendously when I needed it the most. So as a student photographer, one of the best ways to give back is to document what I see and what they want to say. I hope this series can raise more awareness of the continuing fight for Asian- and African-American communities in Seattle. At the same time, I hope the interviews and photos can inspire viewers to follow these community leaders' footsteps and make a difference.
Who / what are your biggest influences?
My family and closest friends shaped my personality and my values. Besides them, here are some of the people and things that make me who I am today: Skunk (a fixed gear shop in Taiwan I frequent in high school), Taro Nettleton (my Art History professor at Temple University, Japan Campus), One Day Magazine (an independent magazine from Taiwan), Jenny Lee (founder of The Unicorn Reading Project in Taiwan), and The New Order Magazine (best culture magazine in the world).

Are you making work in response to the current pandemic?
I'm not sure if this is in response to the current pandemic, but since the stay-at-home order, I have been taking photos of birds and planes from my apartment window with my phone. Here are some of those photos:
PCNW's annual juried call for entry provides exhibition opportunities for artists and directly supports our programs, scholarships, and labs at PCNW. This helps ensure access to photography for many future generations of creatives. We know you have many options for submitting your work, so please tell us why you chose PCNW? What are your thoughts and experience with submitting your work to different calls?
I was taking the Business of Photography class at PCNW, and our lecturer, Melinda, recommended us to apply for the show. This is the most significant and (physically) the closest juried exhibition for me to see where my work stands in the photography world. It never hurts to submit when you know the style or jurors of the call fits your photography.
For "Seattle Community Leaders," I have my project statement in different lengths and a variety of image selection for different call-requirements. Applying to calls raises the possibility to share the community leaders' story with a broader audience that is far beyond my reach as a student in Seattle. I started this project wanting people to know what's happening to the communities in Seattle, so now I have to promote these photos as much as I can.
On another note, the late Bill Withers gave great advice to artists, "If you feel like you have the gift and you want to find out, make yourself available, and the world will let you know."