A deeper look into the art of collecting photography with PCNW community members
"I really don't think of myself as a collector. It's not about acquiring. It's about supporting. I have always loved supporting artists and purchased work from people who create things that either evoke a memory or I am so enthralled with their creativity that I need to have it," – Constance Brinkley, PCNW Alumni
Lisa Ahlberg, a longtime PCNW supporter and 2021 Benefit Committee Member, recently talked with Constance Brinkley, her fellow photographer and community member about collecting art and what it has meant to her over the years. Read more from Lisa and Constance below and be on the lookout for additional conversations coming soon.
Constance Brinkley is a photographer and is passionate about supporting other artists. She's an active member of the Photographic Center Northwest community, taking workshops, classes and exhibiting. She co-founded and exhibited her work at Studio F, a collaborative gallery in the Pioneer Square Tashiro Kaplan Building which hosted emerging and established artists working with photo based imagery 2011 – 2015. She has exhibited her work nationally in various juried shows and is currently part of the fotofemmes collective focused on photography projects. You can always find her participating in the PCNW Benefit and Auction and we are often seated together.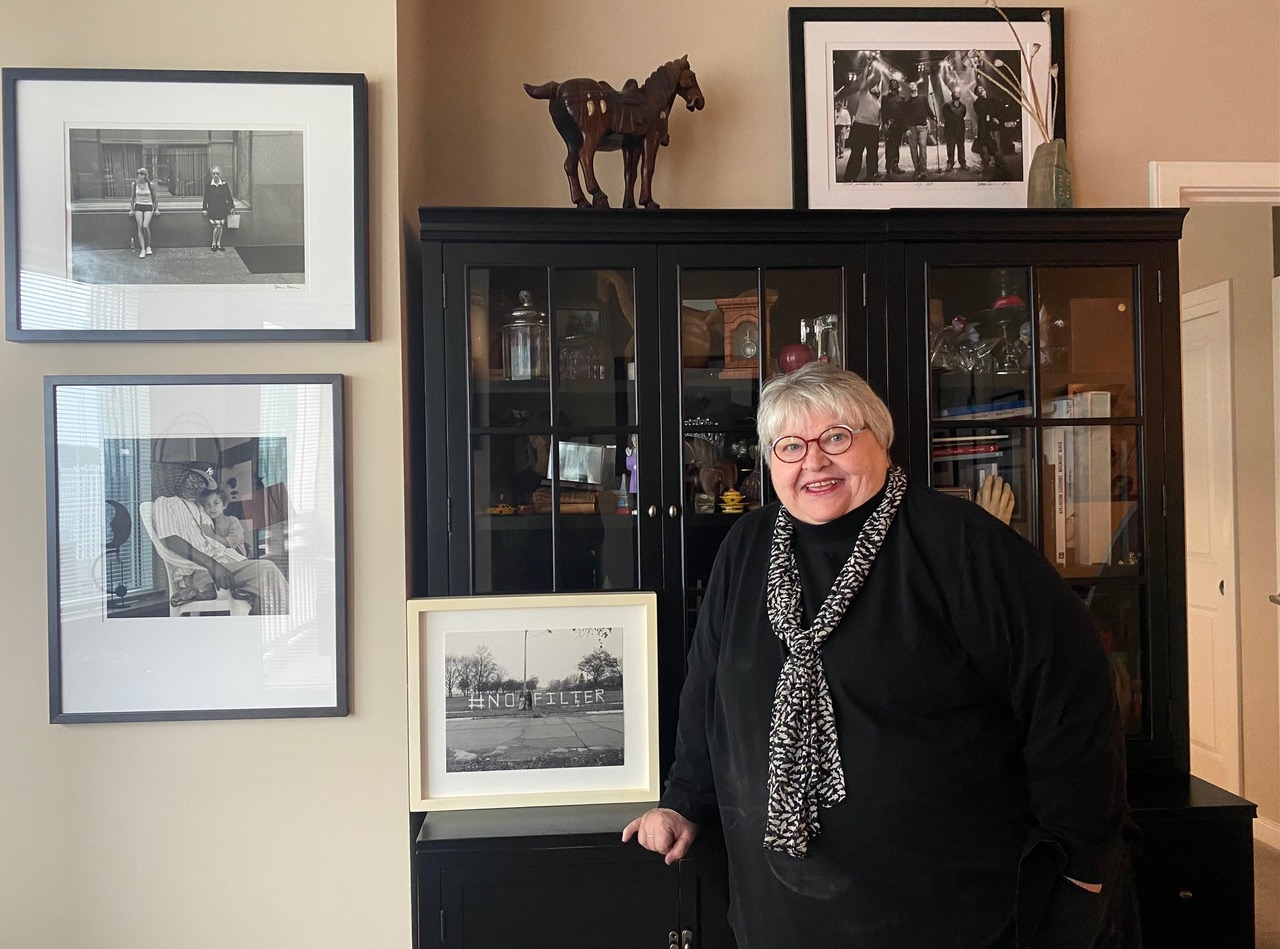 Lisa: When and how did your love of collecting art start?
Constance: I really don't think of myself as a collector. It's not about acquiring. It's about supporting. I have always loved supporting artists and purchased work from people who create things that either evoke a memory or I am so enthralled with their creativity that I need to have it.
The first work I purchased was right out of college and created by a very good friend of mine, Gary Jacobsen. He was an illustrator and graphic designer and we had been friends since high school. I loved the detail in his work and the humor he brought to his pieces. He has passed way and his spirit lives through the work I have on my walls. He was the major influence in my choice to support artists through the purchase of their work.
I started acquiring photography when I attended the art walks in Pioneer Square in the 1980s. After I retired in 2010, another photographer and I decided we wanted to share our street photography images and rented a space in the Tashiro Kaplan Building and started Gallery F. This is where I started meeting other photographers and taking classes at PCNW. I invited the Business Of Photography class to use the space for a final showing of our work to promote our sales and some of them joined me in participating as members at Gallery F for another 3 years. I have bought some wonderful pieces from my fellow gallery friends and PCNW photographers including Michelle Taul, Marcia Glover, Laura Sindell, Stacy Davis, Anna Ream, and Harini Krishnamurthy.
Lisa: Is there an emphasis to what you collect?
Constance: I love street photography since that is what I am drawn to photograph. I look for the humor and images that I wished I had taken! I love photographers who can capture a great portrait and you feel their environment. I also like to photograph dance and look for images with movement.
I collect because I know you, I like your work or it's a memory jogger. Or I know I couldn't make it and wish I could!
Lisa: Which was the first piece that made you feel like a collector?
Constance: Well, I had already been acquiring some art work. But with photography, it was seeing Carrie Mae Weems work in a museum. I was just taken aback by her work.
I was with my mother and looking at a piece that had recently been acquired by the Seattle Art Museum and I turned to my mother and said I'm going to have a piece of her work someday.
And the next thing you know, the Photographic Center Northwest had a piece in the Benefit and I had to have it. So I bought one from The Kitchen Table Series. It is one of my favorite bodies of work that she has done.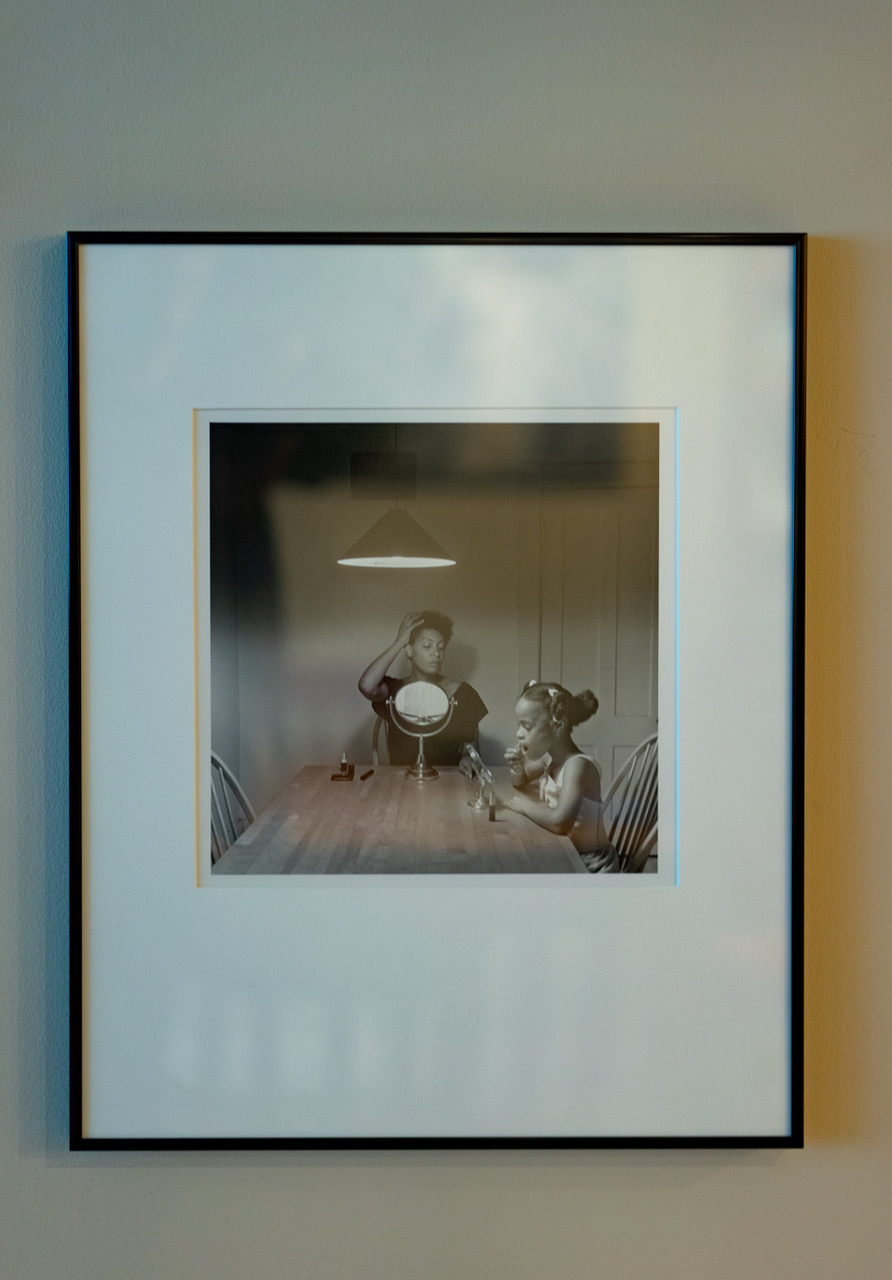 It's the first piece that I purchased by someone that I didn't personally know that inspired me to want to do portrait photography. And if also brings back memories of my time with my mother.
So, I bought it. I had to kind of fight for it. PCNW's auctions have a "Buy it Now" option and I did that to ensure that I got it. Someone else was bidding against me. That was fun and PCNW even managed to get him the same piece and that sort of brought us together. Every auction since, he has assured me he will outbid me.
It was because of Carrie Mae Weem's piece, I came to know LaToya Ruby Frazier. When I read about her, I learned she had been mentored by Carrie Mae Weems. I was lucky enough to have breakfast with LaToya here in Seattle through the PCNW. I went and was totally inspired by her and bought a beautiful piece of hers from her The Notion of Family series when I visited Paris shortly afterwards. And another later on another one from her series on the Flint water crisis from a PCNW auction.
That's how I started collecting – through either seeing pieces in museums or learning about new artists through the Photo Center Northwest.
But I want to clarify something. Collecting can have a certain connotation to me, like you are collecting just for the value or to own all of a certain item. Or just to acquire something. I think of myself really as a supporter.
All the work I have is because I either knew the artist personally, loved their work and I wanted to support them so they could continue to do their work or I bought it because I was influenced by a style that I would really like to delve into. And if I wasn't able to reproduce it, I had to have it.
Lisa: What piece(s) gets a big response from visitors in your house?
Constance: It depends on what I have up. I rotate my photos as I get new pieces. Two Women by Damon Pablo always creates conversation. Thoughtful Hands by Harness Hamese also is loved. The composition is so good!
Friends also love my Vivian Maier prints, both are self portraits, and my stories that go with them.
Speaking of Vivian Maier, I discovered her work on John Maloof's Flicker site when he asked for an opinion of her work that he had purchased in a locker at an auction. He later set up a kickstarter project to fund a film "Finding Vivian Maier". It was a feature length documentary film that I was able to back and attend the film's premier in Chicago. John brought her work to life and I was able to learn more about this mysterious woman who produced amazing street photos that were not shared with anyone before her death. I also attended the premier of her work at the Merry Karnowsky Gallery in Los Angeles on January 7, 2012 and purchased my first piece of her work, a self portrait taken in NYC from the John Maloof Collection. I could not see enough of her images. She inspires me to continue to capture moments in the streets.
I later acquired another Vivian Meier self portrait piece at the Photographic Center NW gallery when they brought an exhibit of her work to Seattle from the Jeffrey Goldstein collection. I love having these images around to look and motivate me to continue look for new artists that inspire.
Lisa: Is there anything else you'd like to share about your photography collection?
Constance: A favorite is Paolo Ventura. I am obsessed with Paola Ventura's work. I like his storytelling style. I also like to tell stories with my photos. I love that fact that he was a scene painter which I identify with having a theater background. And so I bought a piece because it inspires me to be creative, not to do the same work as him, but for inspiration.
Lisa: You seem to support a lot of emerging artists as well.
Constance: I have some wonderful work from many women photographers, many of whom I met through PCNW including Kristan Park's great images of Cooking with Grandmother and What's in Bloom, Ann Pallesen's Tree Reflection Olympic National Park; and Lisa Ahlberg's Francisco from the White Center Series at the PCNW auction.
Grace Weston is another one. She used to be here in Seattle and I bought one of pieces from an art auction here in Seattle. Her work is so creative and she has been a major influence in my still life photography. She also has just put out a book with Peanut Press that I bought and love.
Other emerging artists include Preston Gannaway. I have her print Watermelons and her book Between the Devil and the Deep Blue Sea. It has a very Midwest feeling and really resonates with me.
Lisa: Where do you find your art?
Constance: I have purchased from galleries, fundraising auctions, online and friends. I will look up new artists. I'm obsessed with photography. I just love it. It's what my life is about.
I now also collect books of photographers since I've run out of room on my walls. What a great way to have a reference of great work at your fingertips. I love zines for example, that show me through pictures of a particular custom or tradition. I just sent off for a print from a photographer from the zine you gave me from Cafe Royal Books, Christmas Turkey Market, Dublin.
Lisa: How have you found art on a limited budget?
Constance: You can find reasonable art work in many ways, including directly from the photographer. I also follow Aperture and Magnum. Magnum has a great sale of $100 for a small print. I love Elliot Erwitt's work and purchased a piece at a PCNW auction. And then, Magnum came out with the small print sale. I have enough big prints now! He is a street photographer and is so clever. He has influenced me to create some of my own humorous and observatory photos. I love having a reminder on my wall of a photographer who has influenced me.
I have others from the Magnum square photo series — Alec Soth, a Midwesterner like me, who has done some work at fairs which brings back memories and a snowman that reminds me of home!
And, I just love Martin Parr. I went to the Portrait Gallery in London to see his work and later bought a Magnum print of his.
And finally, Inge Morath. Her photographs had a big influence on my mask series.
But I also buy to give. There is nothing better than to give a gift of a memory. So I have gifted some of these prints as well. How wonderful to support photographers and give a gift of photography. You can do it really reasonably.
Lisa: What advice would you give newcomers to art collecting?
Constance: Go to First Thursday and galleries. If you enjoy photography, then support it. If you're an artist, get on Instagram and and share your work. You get and create community by sharing and following artists you like. Everyone has a little bit of money to purchase a piece of art. Take classes at PCNW and at the end of a class, offer to buy a piece from a fellow student that you love. Or exchange. That is how we start and can contribute to the success of other artists.
You can find some wonderful work at PCNW's benefit auction, Collective Vision and fundraisers like Chase The Light that will support new and upcoming photographers.
Buy what you love, work that inspires you or creates a memory. It will last a lifetime.