Debra Achen is an exhibiting artist in Imminent Existence, Photolucida's Critical Mass TOP 50 (2022). On view at the PCNW gallery from March 30 – June 4, 2023.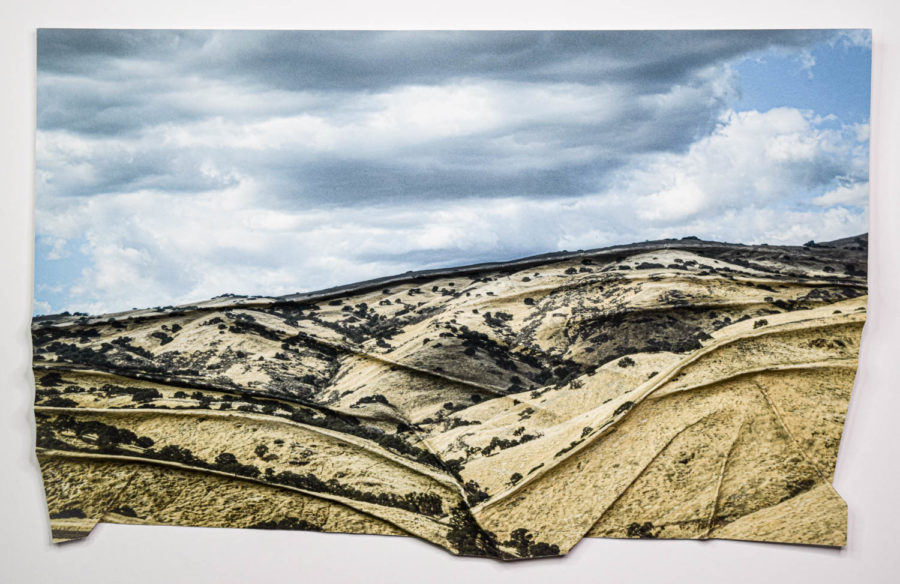 Debra Achen (b. 1954, Monessen, PA; lives in Monterey, CA)
California Hills, 2021
Hand-manipulated pigment print
Edition 2 of 6 
Image: 11 x 17 inches, framed to 17 x 23 inches
$1000 (for purchase inquiry, please contact Erin at espencer@pcnw.org)
I'm wondering if the Critical Mass review process brought about any meaningful connections with one or more of the reviewers? 
A number of the reviewers also participated in recent portfolio reviews with the Los Angeles Center of Photography. In my introductions, I mentioned that they may recognize my work from the Critical Mass process, which was a great opener for our review discussions. Since then, several reviewers have contacted me with publication and grant opportunities.
Please tell us about yourself and which part of the world you currently reside in.
As a photographer, I am most passionate about landscape and nature as subject matter. This played a big role in my decision to move to the scenic central coast of California, where I find inspiration for my work all around me.
When did you first discover your love of photography?
First in college, where I studied traditional film and darkroom processes in the Visual Arts program at the University of California, San Diego. Later on, when I was gifted my first digital camera, it was like falling in love all over again.
Please tell us about the individual piece that was selected to be included in this exhibition. Also, tell us a bit about the body of work that this is from.
California Hills is a hand-folded print representing the cracking and crumbling of the California landscape after years of drought and wildfires. It is from my "Folding and Mending" portfolio in which folded, burned, and stitched prints express the world "folding in on itself" from the impacts of climate change.
Is it your intention to have your artwork bring attention to any current social issues? 
Yes, the climate crisis is not something we can put off until the future to address. Record storms and wildfires are wreaking havoc on our forests and communities and our ecosystems are unraveling at an alarming rate. We must keep climate change front and center to keep working on solutions.
Who / what are your biggest influences?
Right now I would say my work is most influenced by ecologists, climate scientists, and environmental reporters who are researching and writing about the impacts of climate change and potential solutions. While their work does contribute to my sense of "climate anxiety," it is also a source of motivation and creative inspiration.
"Behind the Lens" – Do you have any interesting or funny facts about the creation of your piece?
My husband Donn and I were returning from a trip to the Eastern Sierra. As we drove across central California, the light kept changing, moving the shadows of the clouds across the layered hills. I grabbed my camera and asked him to pull over as I do countless times while we are traveling, even around town. He very patiently stopped so I could capture that special moment in time. This is one of many images that remind me how grateful I am for his support and patience.