Jennifer Zwick is an exhibiting artist in PCNW's 23rd annual juried exhibition, curated by Kris Graves.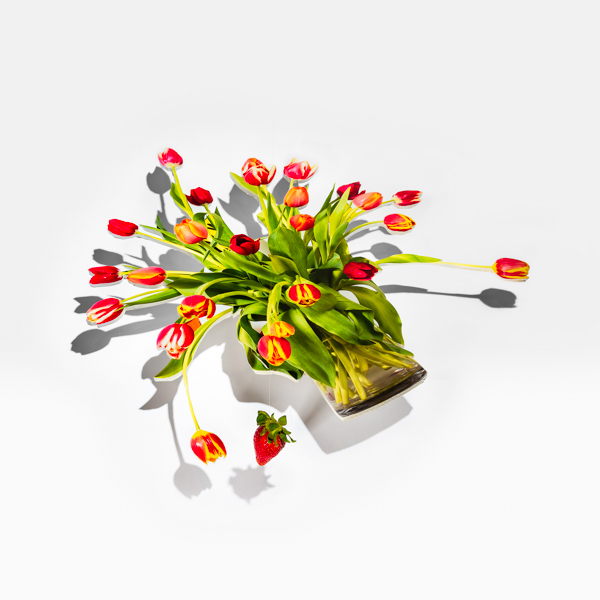 Tell us about yourself, where you're from, and when you first discovered your love of photography.
Hello! I am a well-meaning multimedia visual artist, currently social distancing in Seattle. Because I like making things in a wide variety of ways, majoring in photography was a good choice since I could make anything at all, and as long as the end result was a photograph, it counted as homework.  
Photography allows for a tightly controlled view of a scene or an object. You can create something which only needs to exist for a fraction of a second, and only has to make sense from the specific vantage point of the camera. This is a very interesting set of parameters to work within, because fragile materials or strange situations can be inhabited by the viewer for far longer than they would otherwise last. I love making things (narratives, objects, etc) that look impossible, but were actually built quite simply. I don't think I'll ever get tired of how it feels when you realize your brain and your eyes are oversimplifying what you see, getting things just a teeny bit wrong – when you piece apart an optical illusion, so you "get the joke", and then willfully reconstruct it again – how it keeps working, keeps tricking your mind, even though you know how it's done.
Tell us about the work that was selected to be included in Distinction by Kris Graves.
Floating Bouquet exploits how the brain is hard-wired to experience photography's flat representations of three-dimensional objects as still being three-dimensional. To make this image, I printed a photograph of a bouquet of tulips, mounted it on foam core, and cut out the background. I elevated it slightly over a seamless backdrop, then hung a strawberry from some filament. By lighting the image from above, the rephotographed bouquet has what almost appears to be a drop-shadow photoshop effect, but is in fact just its actual shadow. The strawberry's shadow and placement create a relationship with the lowest tulip, and the subtle shine of its filament serves as a clue to how this deliberately confusing image was built.
Who / what are your biggest influences?
Some of the artists I'm drawn to right now are: Jorge Luis Borges, Charles Mudede, Haley Morris-Cafiero's "The Bully Pulpit," Joseph Park's Prizmism work, Josef Albers, Jenny Riffle, Claire Cowie, Duane Michals, Jenny Heishman.
Are you making work in response to the current pandemic?
Like everyone who has young children, I am all of a sudden a homeschool teacher. Then, after school, I'm a parent! I have two kids, ages 5 and 9, and they're wonderful and weird, but they aren't conducive to hand-placing thousands of flowers, or large-scale set-based construction, or any number of projects that require more than a few seconds of steady concentration. Especially my constantly inquisitive 5-year old, who never runs out of questions or "helpful" suggestions on what I'm doing. Honestly, I've come up with so many project ideas that would be fun to do with them, but I find that this constant caregiving, all day every day, leaves me too tired to be clever with my own art. So that's on hold for now! However, if you have kids or if you just like coloring, I've made some pretty fun coloring books over the years that I encourage you to download and print.  They can be found on my website in the "Social Distancing Content" section (https://jenniferzwick.com/).
PCNW's annual juried call for entry provides exhibition opportunities for artists and directly supports our programs, scholarships, and labs at PCNW. This helps ensure access to photography for many future generations of creatives. We know you have many options for submitting your work, so please tell us why you chose PCNW? What are your thoughts and experience with submitting your work to different calls?
I'm beyond proud to be a part of this show! I have applied many, many times to PCNW's Juried Exhibitions and this is the first time I've been accepted. Sometimes I feel like my catchphrase is "Jenny Zwick: I'm Still Here!". Rejection is a normal part of any art form, and while I wholeheartedly embrace failure (much of my work is about failure, like https://jenniferzwick.com/works/the-builder and https://jenniferzwick.com/works/what-might-go-wrong and https://jenniferzwick.com/works/you-are-a-disappointment-to-yourself-and-others and https://jenniferzwick.com/works/bed-dress and https://jenniferzwick.com/works/it-will-never-get-better and https://jenniferzwick.com/works/self-portrait-with-raccoon), I still (shockingly) prefer the alternative. I wasn't going to give up on applying because PCNW is such an exciting place across the board. Their exhibitions are fascinating, and the staff are exactly the kind of photo-obsessed people you'd want to learn from. My first lighting class was at PCNW, taught by "world's best Bill Finger," as I think of him, and I recently took a class from genius supermodel Kiliii Yuyan, who demystified drone photography in an approachable yet detailed way. So I say: always keep applying, and absolutely take a class from PCNW, because in doing so, you're investing in yourself, and you are worthwhile.