PCNW Alumni Association Updates
Want to join us? Join our leadership committee? Help with the newsletter? Have another idea you want to pursue? Contact us at alumni@pcnw.org!
Our current volunteer steering committee is: Lisa Ahlberg, Cian Hayes, Harini Krishnamurthy, Sarah D. King, Anna Ream, and Al Varady.
Please send us a note and let us know what you are doing! With PCNW's recent website refresh – which includes a revamped Alumni page – we have an even greater opportunity to share the wonderful achievements and news from alumni, so keep us in the loop about exhibitions, events, books/zines, collectives, initiatives, etc., that you're a part of!
Thanks to all the alumni who contributed to making this issue of the newsletter happen — especially Lisa Ahlberg, Jennifer Brendicke, Gwen Emminger, Sarah D. King, Anna Ream, and Al Varady.
Sincerely,
PCNW Alumni Association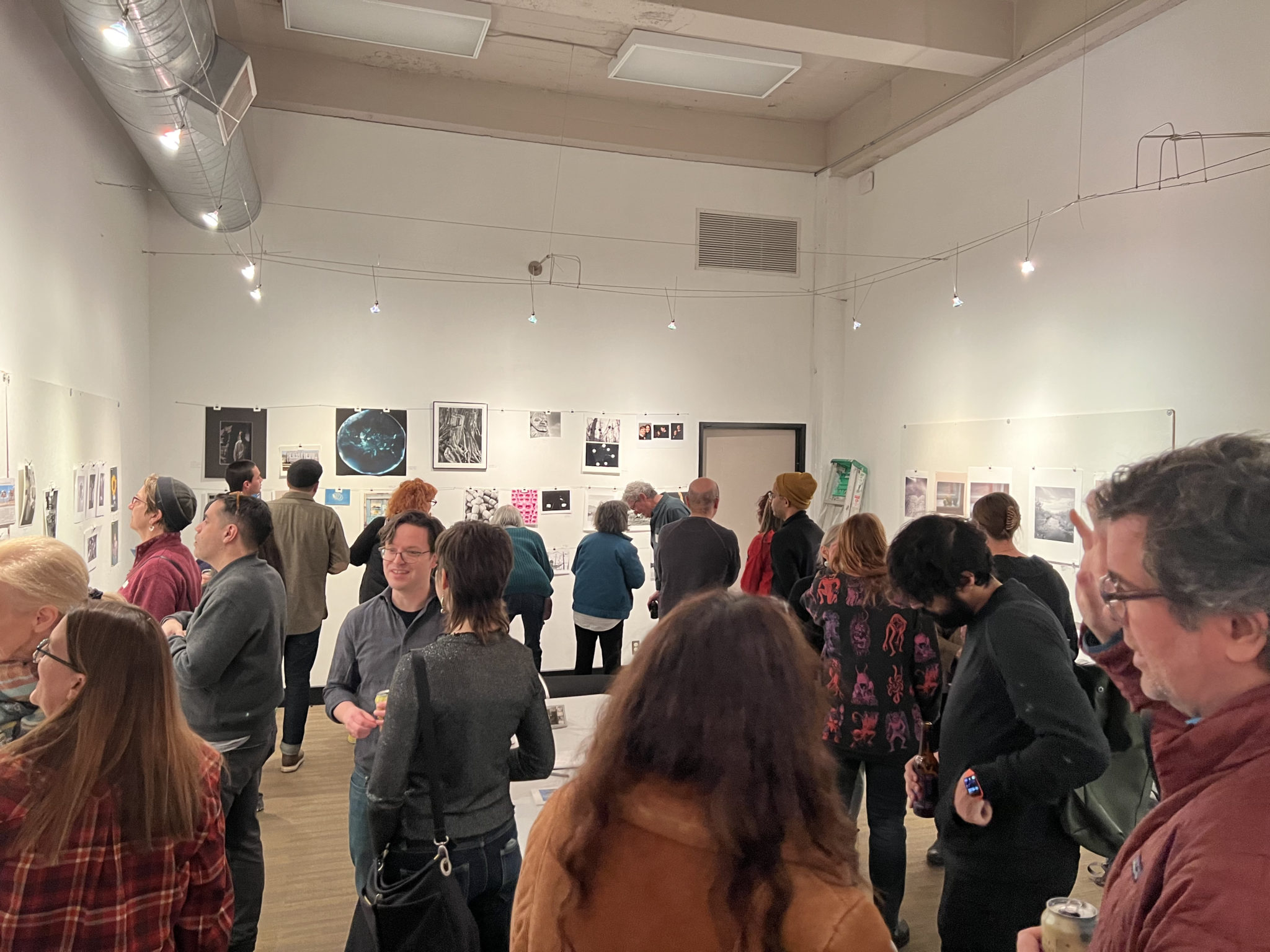 Image Credit: Gwen Emminger, taken at the Salon Exhibit in March 2023
by Gwen Emminger, grad. 2022
---
On March 4, 2023, the PCNW Alumni Association hosted our first ever Salon Exhibit and it was a hit! The success of this event is attributed to the community members that attended. We were fortunate enough to have a room full of creatives attend; new students, alumni, instructors, friends, and family. It was lovely to meet new people and connect with some familiar faces, most of all it was great to view the diversity of work displayed. Some folks were sharing their art for the first time outside of a classroom environment.
We, the organizers, are preparing for the next Salon Exhibit and hoping to make it a regular community event. Stay tuned for future dates and please join us. Cheers!
Image Credits: Lisa Ahlberg, Left: Photo I: B&W Students Fern, James, and Jake; Right: PCNW Faculty, Jenny Riffle at the Salon Exhibit
graduated 2010
interview by Lisa Ahlberg, grad. 2005
---
I met up with Elisa in the Georgetown neighborhood of Seattle in late March. She gave me a tour of her new work place, Prairie Underground, where she is the photographer. She has been working in the field for over ten years. She loves shooting film and photographing people. She taught photography at Photographic Center Northwest for 5 years.
I've noticed in your Instagram feed that you have been doing some amazing portraits for a local clothes manufacturer and wanted to hear more. Can you share a bit about that?
Sure and thank you for the compliments! I recently started working at a small womxn owned clothing company in Georgetown called Prairie Underground. I photograph their seasonal clothing catalogs and do editorial shoots. We wear multiple hats so I also get to do some marketing and visual design work too. Prior to that, I worked five years at Zulily as an Editorial Photographer.
What other commercial or art work are you doing?
Since I recently just changed jobs, I haven't been doing much artwork outside of work. You know how it is when you start a new job. But while I was at my old gig, I started taking more drawing classes at
Gage Academy of Art. Drawing has been something I have been wanting to pursue and I hope to take more classes in the near future.
Can you tell us a bit how you have landed doing this work since your graduation?
Well it's not very glamorous! When I graduated I was working as a portrait photographer at a local portrait studio. I was just happy to have a job! I also kept saying yes to any work that was offered to me, i.e. weddings, portraits, low paying freelance gigs. I also sought out other local commercial photographers to assist so I could get more commercial experience. I knew I wanted to be a working photographer and I got there in a very roundabout way. Many photographers go to commercial photography school but I loved fine art photography which is why PCNW was a really good match. It took me a while to build my career as a working photographer but it eventually happened. I just kept at it and that is what I would recommend to a new photographer, just keep doing it and saying yes!
What motivates you to photograph what you photograph?
I really love faces, I know it's cheesy but people are so beautiful and I love capturing them!
Who are your inspirations?
I have been going to see artwork in person again, it's just so much better than online or in a reproduction. Recently I went to the Frye Art Museum and their current show "The Third, Meaning: Estar(ser)" installation was amazing! You should go!
Are you still shooting film for some projects?
Yes, I still love shooting film with my digital shoots. My film shots are usually my favorite image from my shoots and I am actually starting to shoot more film vs digital in my commercial work.
You have been part of a local art group called Push/Pull. Can you tell us a bit about that?
It's a group of photographers who met at PCNW. Prior to the pandemic, we were meeting once a month sharing work and doing critiques. It is a really great way to get feedback after you graduate from school. It pushes you to keep making work and be around other photographers who are just as passionate as yourself. We continued to meet online during the pandemic and we had a group show at PCNW in 2021. I was in it for about three years and stepped away from it last year to focus more on drawing.
Do you have any advice for someone wishing to begin to do portrait or editorial work today?
While I was teaching at PCNW, I would recommend to my students at the end of the quarter to stay in touch with their fellow students and start their own critique groups. Having that bond and to continue to get feedback is so important when you are starting out and even now as a professional. I would also recommend photographing everyone you know. The more people you photograph, the more experience seeing different light, directing different people, and more hours under your belt using your camera.
What's next for you?
I am not sure, I really love my new job so I hope to do that for a little while.
For more about Elisa Huerta-Enochian:
www.elisahuertaenochian.com
Instagram @elisahuertaenochian
graduated 2015
interview by Sarah D. King, grad. 2019
---
Suzanne describes herself as a singer, a photographer, a supervisor, a business owner and someone who has had, and continues to have, ever evolving careers. She has toured the country and traveled around the world as a singer, and has had the opportunity to do the same with collaborative projects that utilized photography. She currently lives and works in the NJ and NYC area.
Can you tell us a little about your creative work since graduation? I know that your music and singing is very intimately connected with your work.
As soon as I started taking classes at PCNW, I mentioned a desire to bridge the gap between my love of music and love of photography. I was very encouraged by my teachers to experiment. I started exploring by creating one image and would choose a piece of music to accompany it. Then it expanded into a series that had music as a partner to the photo in the storytelling. Ideas for other projects began by simply having the freedom to combine the different art forms that I love and realizing I would be creating something new and authentically mine.
I'd love to hear more about your interdisciplinary exhibition that combined music and images.
When I was considering my PCNW thesis project I thought music would play a bigger role. Although I did have sound and some music, it didn't unfold in the way I expected. The time wasn't right. When I moved back to NY, that original idea of bridging the gap came to fruition in the form of an exhibition. I approached that project as I did my previous cabaret shows. I found the personal stories I wanted in the songs first and then created photos to enhance the storytelling. I had such fun creating these images with my community here and when I wasn't working on the photography piece, I was rehearsing with my incredible band. It was true joy. The show and exhibit took place in a cabaret room, The Laurie Beechman Theatre, on 42nd Street in Manhattan. It was set up for a cabaret show, with a 4 piece band and my father was a special guest on the piano for part of the show as well. I used the walls surrounding the space to hang images and had other images on easels, on and off the stage, for people to view before the show. For the performance, I had a projector exhibiting the images that accompanied some of the songs from the show. This project was one of my proudest achievements. My "Cabaret Photo Gallery" was an idea that began taking shape during my first semester at PCNW. It was a dream come true!
Are there any upcoming projects that you'd like to tell us about?
I have 2 upcoming projects that have some seeds planted. One continues the connection with my family, which was the focus of my thesis project at PCNW.
Specifically, my grandfather, who was a main subject matter in my thesis project and a lover of photography as well. Before I became a photographer, I had studied voice in Italy at a time in my life. My family, including my grandparents visited while I was there, as that is where our familial roots are. My father and I had planned to take my Grandfather back to his hometown of Torrecuso, Italy. Unfortunately, the day we planned to go the trains weren't running and we were unable to bring him. He never did have the chance to go back before he died. So my plan is to take anything that I have of
his — photos, memorabilia, an article of clothing — and to photograph his belongings in Torrecuso and bring him there once and for all.
Another project that I am planning to bring to life focuses on my dreams. I have been writing down my dreams since March of 2008. I have hundreds of pages of dreams written. I have ideas to create them in photo form cinematically and abstractly.
In regards to your personal and fine art projects, what motivates and inspires you?
I am motivated by telling my story, as ordinary as it may seem, I think all of our stories are both unique and relatable. I am inspired by the people I love. By my ancestors. By dreams I have both in the sleeping world and in the waking world. Music. I have always spoken most clearly by way of the arts. Sometimes it just happens naturally without any specified inspiration at all, it's just part of the way I can speak honestly.
Are you doing any commercial work? How do you balance your commercial work with your fine art work? Do you have any advice for others breaking into the world of commercial photography?
Yes, I have a photography business. It has evolved over time and these days I find myself focusing on family and child portraits as well as headshots, capturing theater and the performing arts. Regarding balance … it's interesting because I have my hands in so many things. I sing with a band, I have my photography business, I work in real estate and I have these fine art projects roaming around in my brain that I want to express. I'm also planning a wedding right now so my plate is wonderfully full! I'd say the commercial work often takes center stage more regularly. However, I do add fine art options for my clients which keeps that creative, fine art spirit alive within my commercial work. But when a fine art project is ready to reveal itself I give it my all.
Advice I can give is to do the thing that you connect with easily. Don't force yourself to work in an area of the business, or any business, that doesn't make sense to you or that drains you. It may take trial and error and it doesn't mean you won't try lots of things, but once you find your groove, play in it, sing in it, dance in it and capture it. That is when your authenticity and your value will co-exist and your business will thrive!
For more about Suzanne Fiore:
suzannefiorephotography.com
Instagram @suzannefiorephotography                                                                                                    Facebook: facebook.com/SuzanneFiorePhotography
graduated 2017
interview by Lisa Ahlberg, grad. 2005
---
How did you first come to be at PCNW?
I'm originally from Connecticut and moved out here after a few years in San Francisco. I was told about PCNW by some co-workers about 2010. My first class was about how a DSLR works. One of my co-workers told me about some photographers, which opened a door as to what is possible.
Please tell us a bit about the work you are sharing here.
Being at home, I had a lot of delivery containers that I rinsed for recycling and thought it would be interesting to document them. I added color and the images housed a couple ideas about art that I carried around for years not sure what to do with them.
You attended the Chico Review in Montana. I thought others might be interested in your experience.
A fellow PCNW'er told me about the review. Some of my favorite photographers were reviewers, so I applied. I started a new body of work between submission and attendance, which was delayed a year and a half due to the pandemic. I wasn't sure how the very different work would be received, but was very happy with the reviews (mostly). They gave me many ideas for avenues to take the work, which was still pretty new.
What happens at the review?
You sign up for the reviewers you want by rank, and they give you a schedule. I did get a few of those I'd asked for. Some had dropped out due to pandemic issues or personal issues. The replacement reviewers were impressive. You have a couple reviews each day. A review is 20 minutes, which doesn't seem that long, but is sufficient. By having to present my work, I developed a way to talk about the work and the repetition helped me understand what I was doing and also how to better express that. Talking about images is a common challenge. There were presentations every morning and also panels at night, as well as ample time to meet and talk with other attendees and reviewers.
How did it change the way you are working?
The various reviews gave me new avenues to explore, other things to ignore, and confidence to press ahead. Since this was a new way to work for me, that last part was very helpful. Most importantly, being seen and reviewed bolstered my efforts in producing this body of work.
Who would you recommend attend the Chico Review?
If you have a body of work that you'd like photographers, publishers, and gallerists to see, this is that place. The line up is impressive and the potential for exposure is great. I'd say this review is for people on the cusp of getting a show or publishing a book and are looking for a bump in helping finalize those efforts. My work was pretty new, so the reviews I had were helpful to mobilize my efforts. I plan to take this work back. They have alumni reviews available.
How do you find motivations for your artwork?
I look at videos of artists and buy a lot of books. I look at painters a lot, too. Various social media as well as emails from publishers help expose me to work that might be influential. Just last night I came upon an artist working in plexi, but with different results. The similarities are strong, but it was interesting to see our different takes on how plexi is used.
What photographers are inspiring you right now?
Barbara Kasten, Jan Groover, Bahar Yurukoglu, Kandinsky, Picabia, and also the band,
Unwound. Warhol, too.
Are there any exhibits, presentations, books or photographic engagements with communities since graduation that you'd like to share?
The Alumni Critique Group was very helpful when I needed to get a body of work together
for submission. A fellow thesis member told me about the Chico Review.
It's funny to me how long it can take for me to "get" a body of work. I love Justine Kurland's Girl Pictures. Michael Lesy's Snapshots 1971-77 is a banger.
What's next for you?
I'm opening a photo gallery with a friend from PCNW.
For more about Al Varady:
alvarady.com
Instagram @alvarady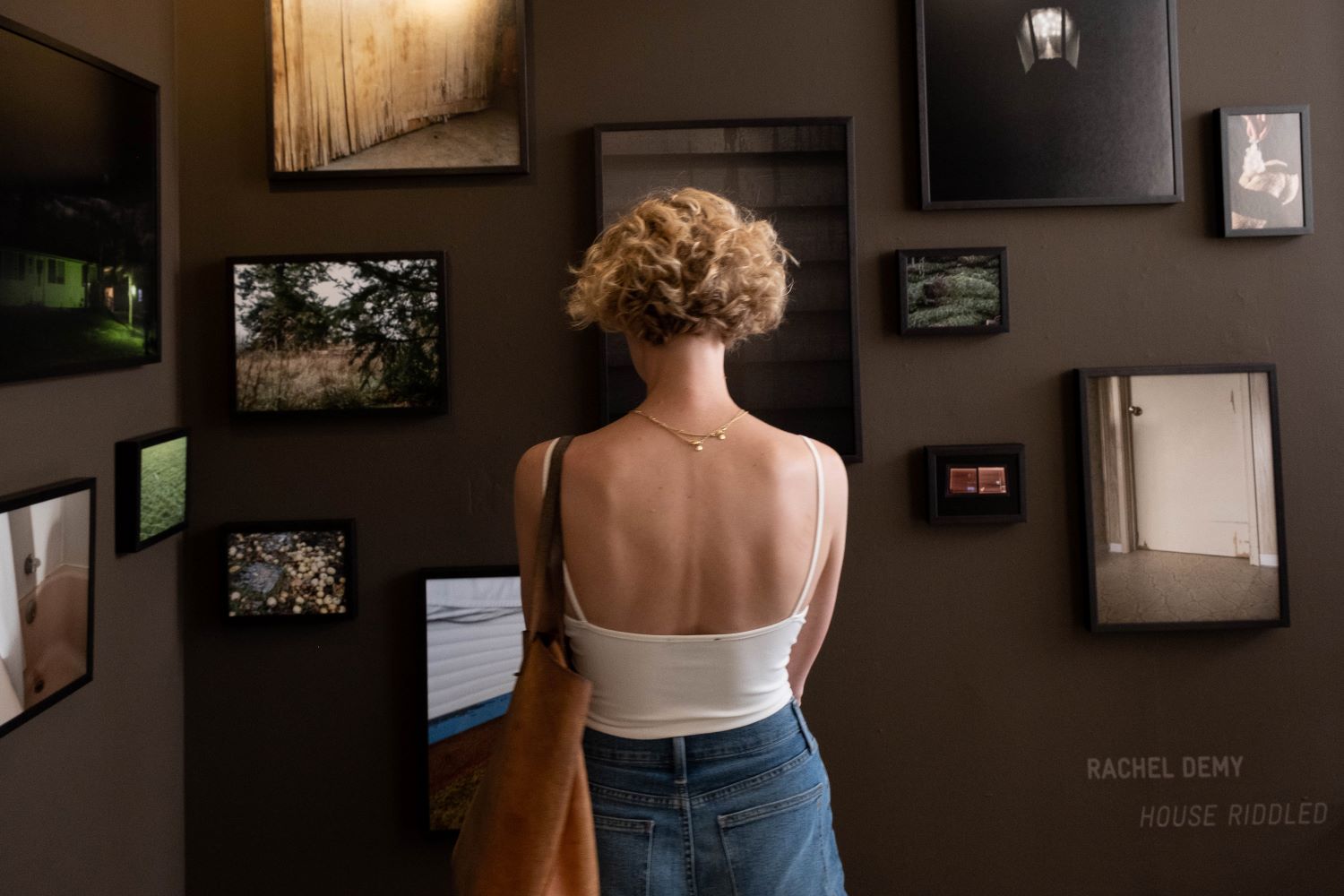 Join an Alumni Critique Group!
The PCNW Alumni Critique Groups can be invaluable in strengthening connections with colleagues, supporting continued photographic efforts, and sharing experiences following graduation.
Alumni: Feel free to join in at any time and bring some work to share!
CAPITOL HILL
---
Meets every second Saturday of the month from 2-4pm at PCNW
This new group was started by Harini Krishnamurthy and Janet Politte.
WEST SEATTLE
---
Meets every second Wednesday of the month from 11am-1pm at West Seattle Uptown Espresso – Junction (4301 SW Edmunds St Seattle, WA 98116)
Alumni Updates / News / Exhibitions
ALUMNUS OPEN SOLAS GALLERY IN SEATTLE!
Cian Hayes and Al Varady, 2017 Certificate Program graduates, are opening a photo gallery, Solas Gallery, in Pioneer Square this May. Solas is Irish for light. The goal is to show printed photographs, building on the things we learned at PCNW, as well as the relationships that began there. We will be open Saturday afternoons as well as First Thursdays. We look forward to welcoming the PCNW community to our space. – Al Varady
Solas Inaugural Group Show on view through June 3, 2023 featuring work by: Lisa Ahlberg, Brennan Cavanaugh, Selena Kearney, Sarah Dawn King, and Jody Poorwill
EXHIBITION HIGHLIGHT – JANET POLITTE
Janet Politte, 2022 graduate, has been chosen to exhibit in Praxis Gallery's The Shadow Exhibit on view May 20 to June 3, 2023. The gallery is located in Minneapolis, Minnesota.
POSTING TO INSTAGRAM? Use hashtag #pcnwalumni
SAVE THE DATE: JUNE 24, 2023
3-4pm | Alumni & Certificate Student Happy Hour – join us prior to the opening of the 2023 Thesis Exhibition, all alumni and certificate students welcome!
4-6pm | 2023 Thesis Exhibition Reception & Graduation – celebrate and revel in the accomplishments of this year's Thesis cohort!