Barbara Strigel is an exhibiting artist in PCNW's 23rd annual juried exhibition, curated by Kris Graves.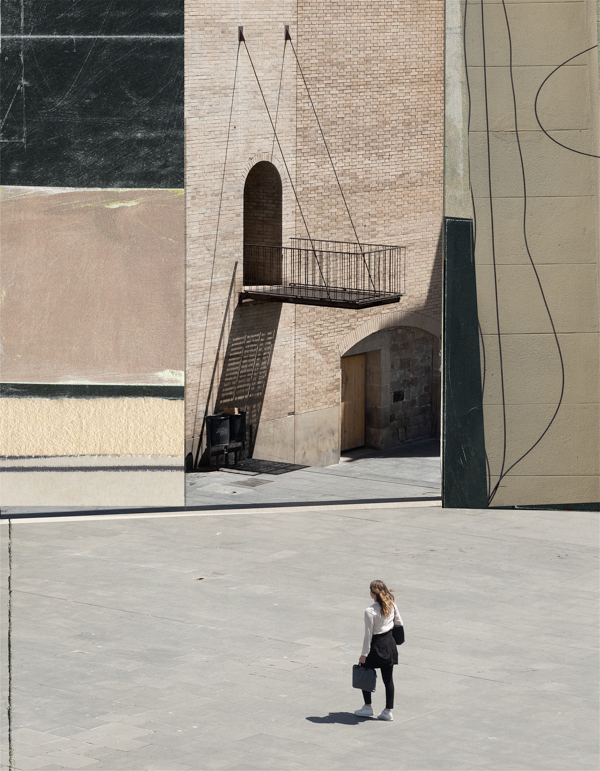 Tell us about yourself, where you're from, and when you first discovered your love of photography.
I was born in Pennsylvania and studied printmaking and photography at the Museum School in Boston. For over twenty years I taught high school photography and that enabled me to continue my involvement with photography.
Tell us about the work that was selected to be included in Distinction by Kris Graves.
This image was shot in Barcelona. It was a warm afternoon and people were going about their business in and around groups of skateboarders. I liked the purposefulness in this woman's stance. I have modified the background with scanned paper collage elements in order to draw out the elegance of the space.
Is the selected work part of a larger body of work?
This image is part of my "At Street Level" series, images which begin on the street but are altered with scanned collage elements. The subjects are solitary walkers but the series is more about the urban state of being both together and apart than it is about loneliness.
Who / what are your biggest influences?
In the beginning, Henri Cartier Bresson and Andre Kertesz. Lately, I have been studying Richard Diebenkorn's paintings and Francis Davison's collages.
Are you making work in response to the current pandemic?
I am using this time to work through my archive of travel photographs. It's interesting because now they are not only from another country but what feels like a whole other world.
PCNW's annual juried call for entry provides exhibition opportunities for artists and directly supports our programs, scholarships, and labs at PCNW. This helps ensure access to photography for many future generations of creatives. We know you have many options for submitting your work, so please tell us why you chose PCNW? What are your thoughts and experience with submitting your work to different calls?
I have great respect for what PCNW has done to support photographers both locally and internationally. I always look forward to this show for the variety of approaches and to see the curator's sensibility.