Aline Smithson is an exhibiting artist in PCNW's 23rd annual juried exhibition, curated by Kris Graves.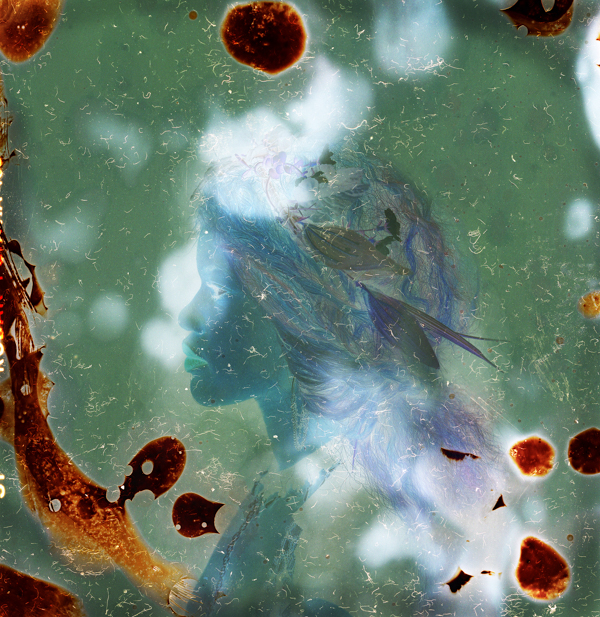 Please tell us about yourself, where you're from, and when you first discovered your love of photography.
I grew up in Los Angeles and was always interested in the arts and fashion. I studied painting in college and moved to New Work to work as a painter, but soon after was offered a job in fashion. For over a decade, I was the fashion editor for Vogue Patterns and Vogue Knitting magazines, working alongside some of the best photographers in the business, including Mario Testino, Patrick Demarchelier, and even Horst.
After having my children and moving to California, I took a photography class and never looked back. Discovering my uncle's twin lens Rolleiflex in my parent's garage, shifted the way I see and make work.
Tell us about the work that was selected to be included in Distinction by Kris Graves.
Melanesia is a portrait of a young woman I know, (who happens to be Little Wayne's make-up artist!). Shot on film, I later wounded the negative to speak to the loss of the printed photograph in future generations. In 2018, this image was selected for the Taylor Wessing Prize and hung in the National Portrait Gallery in London.
Is the selected work part of a larger body of work?
"Fugue State" speaks to the potential loss of the tangible photograph in future generations. This dispossession of the photograph-as-object, as something tangible to be circulated through the decades, reflects the fading away of specific memories and identities, and the loss of cultural and familial histories in forms that we associate with family preservation.
The photographs created for this series sit in an in-between space of the future and the past, demonstrating the clash between images and materiality. For this project, after creating analog portraits of people in my life, I have damaged the emulsion of my negatives, wounding the film stock with a variety of chemicals. I then reinterpret the image in the digital darkroom in the original, negative state where the potential for both the restoration and erasure of memory are present. I am in fact, damaging my own photographic legacy as a way to call attention to this shift from the physical to the visual.
Who / what are your biggest influences?
Lately, I am drawn to the work of painter, Kerry James Marshall, and to photographers who are intervening with the surface of a photography and use photography as a way to create art.
Are you making work in response to the current pandemic?
I am not. For the first time, I wish I owned a digital camera, but I am doing lots of things that surround the idea. I'm very proud of the Lenscratch Self-Quarantining Exhibition that ran on April 1st (http://lenscratch.com/2020/04/the-2020-self-quarantining-exhibition/) and am offering Lenscratch posts to MFA students who have had their thesis shows cancelled. I am using this time to promote good will and community.
PCNW's annual juried call for entry provides exhibition opportunities for artists and directly supports our programs, scholarships, and labs at PCNW. This helps ensure access to photography for many future generations of creatives. We know you have many options for submitting your work, so please tell us why you chose PCNW? What are your thoughts and experience with submitting your work to different calls?
At the very beginning of my career, Keith Carter juried one of my images into an exhibition at PCNW. I flew up for the opening and was so excited to have work recognized by such an incredible photographer. I flew up for the opening and it was a very special memory. Submitting to this exhibition, with Kris Graves as the juror, felt just the same. I so admire his person and his work, so wanted to submit. I am a big fan of PCNW and know how much the organization has supported photographers over the years.