If you're signed up for LONG SHOT 2012, take advantage of one of these great workshops with local artists and experts. All you have to do is put your name on the roster, and pay what you will: $5 – $100, everything helps advance education programs at Photo Center NW! Advance registration (HERE) is recommended.
Night Photography and Long Exposures with Dan Hawkins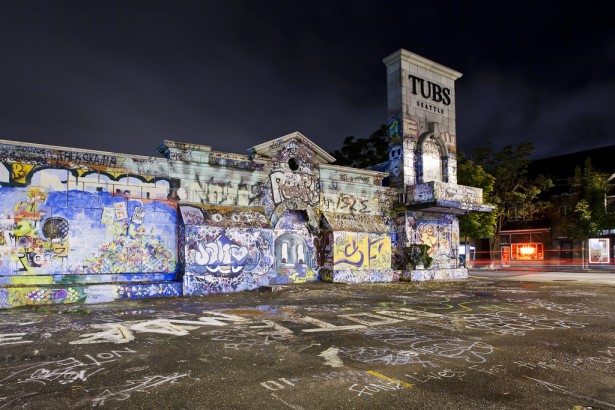 When: Friday June 1, 8-10PM. Meet at Photo Center NW.
Tuition: Free! (Please make a donation to the Photo Center for LONGSHOT 2012)
This workshop is almost FULL! If you'd like to meet up with other Long Shot participants, Dan and his class will be headed over to the Seattle University Campus, and to Cal Anderson Park between 8-10pm on Friday June 1!
Join artist and photographer Dan Hawkins on a night adventure and learn more about how to make long exposures, work with the special qualities of twilight and artificial light, and capture scenes and spaces in the urban environment.
Dan Hawkins is a Seattle based photographer who has used a wide variety of obsolete and archaic imaging processes to produce his work. These highly personal documents often deal with the dual themes of memory and decay. Beginning with empty houses and discarded water towers he has gone on to record EPA Superfund sites, chemical factories, decaying ballrooms, deserted nuclear facilities, crumbling hotels, and a number of derelict mental hospitals and jails. In his attempts to describe a "landscape of the soul" he has managed to see many of the nations lost treasures of industry and tour its forgotten mental health legacy. He is currently working on a body of photographs from a recent tour of the nuclear reactors of Northern France. An ongoing catalog of this work can be seen at www.washingtonruins.com
Photo-gram-mania! with Laurel Schultz

When: Saturday June 2, 12-4pm. Meet at Photo Center NW.
Tuition: Free! (Please make a donation to the Photo Center for LONGSHOT 2012)
Leave your camera at home and come experiment with a little black and white darkroom alchemy! Make a photogram or ten, and work creatively with the absolute basics of photography. Laurel Schultz will be there to help you get started, paper and developer will be provided by the Photo Center. Bring a collection of objects (anything smaller than 8×10 inches!) to turn into photograms. (No live snakes please — photogram above by Adam Fuss)
Laurel Schultz received her MFA from the University of Washington in 2008, and graduated from the Photo Center Certificate program in 2004. Laurel lives and works in Seattle. She in interested in the natural world as a lens on human nature. She also works in bronze, iron and glass.
Adobe Lightroom Demo with Laura Shoe

When:Wednesday June 13 from 6:00-8:30. Meet in the Photo Center Auditorium.
Tuition: Free! (Please make a donation to the Photo Center for LONGSHOT 2012)
Laura will discuss what makes Lightroom so attractive, explains how it works differently from other programs, and give you a tour of the fundamentals of the program by importing and processing a photo shoot. Whether you have never seen the program and are wondering if it is something you should consider, or you already have it and wonder if you are leveraging all it can do, this information-packed demonstration is for you. Laura will also give an overview of what is new in Lightroom 4.
Laura Shoe completed the Summer Intensive and Digital Intensive at the Rocky Mountain School of Photography in 2004 and holds a Masters in Business Administration from the University of Chicago as well as a BS in Economics, Santa Clara University. Laura teaches Photoshop and digital photography. She worked for almost 20 years in the corporate world before pursuing her passion as a photographer. She is a fine art photographer, and has a particular interest in abstract images and in compositing such images to convey complex themes. Laura's work has been shown in galleries throughout the West. Laura is an Adobe Certified Expert in Photoshop Lightroom. www.laurashoe.com