Charlotta Maria Houksdottir is an exhibiting artist in PCNW's 23rd annual juried exhibition, curated by Kris Graves.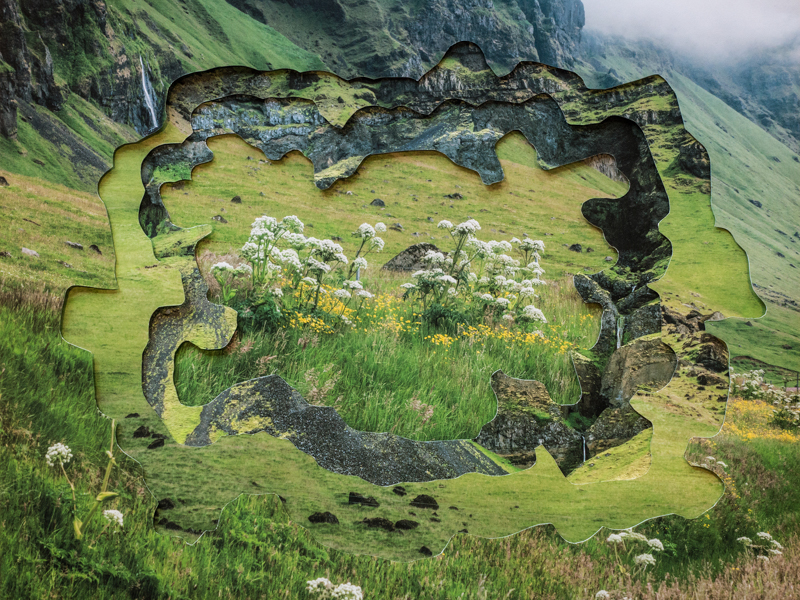 Tell us about yourself, where you're from, and when you first discovered your love of photography.
I am originally from Iceland but live and work in the Bay Area. I was around 6 when I discovered my love of photography while vacationing with my family in Florida and I still remember well the first photograph I took.
Tell us about the work that was selected to be included in Distinction by Kris Graves.
Topography Study V is from a new series of Icelandic landscapes. The work features multiple photographs with various hand cut patterns layered together creating 3 dimensional pieces. That particular piece features photographs taken around the south coast of Iceland and I made the pattern somewhat mimicking the shape of Iceland.
Is the selected work part of a larger body of work?
That piece is from a recent series of handmade works called "Imprints". It is a collection of topography and fingerprint patterned pieces suggesting the connection between man and nature and questioning the impact we are having on our environment.
Who / what are your biggest influences?
I have been a fan of Mark Rothko's work from the moment I stood in front of one of his pieces. I like the way his pieces draw me in and offer a momentary respite. In my work I have made human scale pieces with this same idea of not only viewing the image but existing in it. I also really like Meghann Riepenhoff's work as well as Todd Hido's.
Are you making work in response to the current pandemic?
This pandemic has certainly been eye opening in terms of priorities. Alongside taking care of my family I have been continuing to work on the "Imprints" series and using this opportunity of slowing down to experiment with new angles to that work. I am also working on creating a new website which is something I haven't taken the time to do for way too long.
PCNW's annual juried call for entry provides exhibition opportunities for artists and directly supports our programs, scholarships, and labs at PCNW. This helps ensure access to photography for many future generations of creatives. We know you have many options for submitting your work, so please tell us why you chose PCNW? What are your thoughts and experience with submitting your work to different calls?
I really admire the work being done at Photographic Center Northwest and the opportunities being provided there as well as having great respect for Kris Graves. I also felt that the uniqueness of the sculptural pieces I applied with fitted the Distinction theme. I would absolutely apply again and in a small way show my support for the center.