JP Terlizzi is an exhibiting artist in Imminent Existence, Photolucida's Critical Mass TOP 50 (2022).
On view at the PCNW gallery from March 30 – June 4, 2023.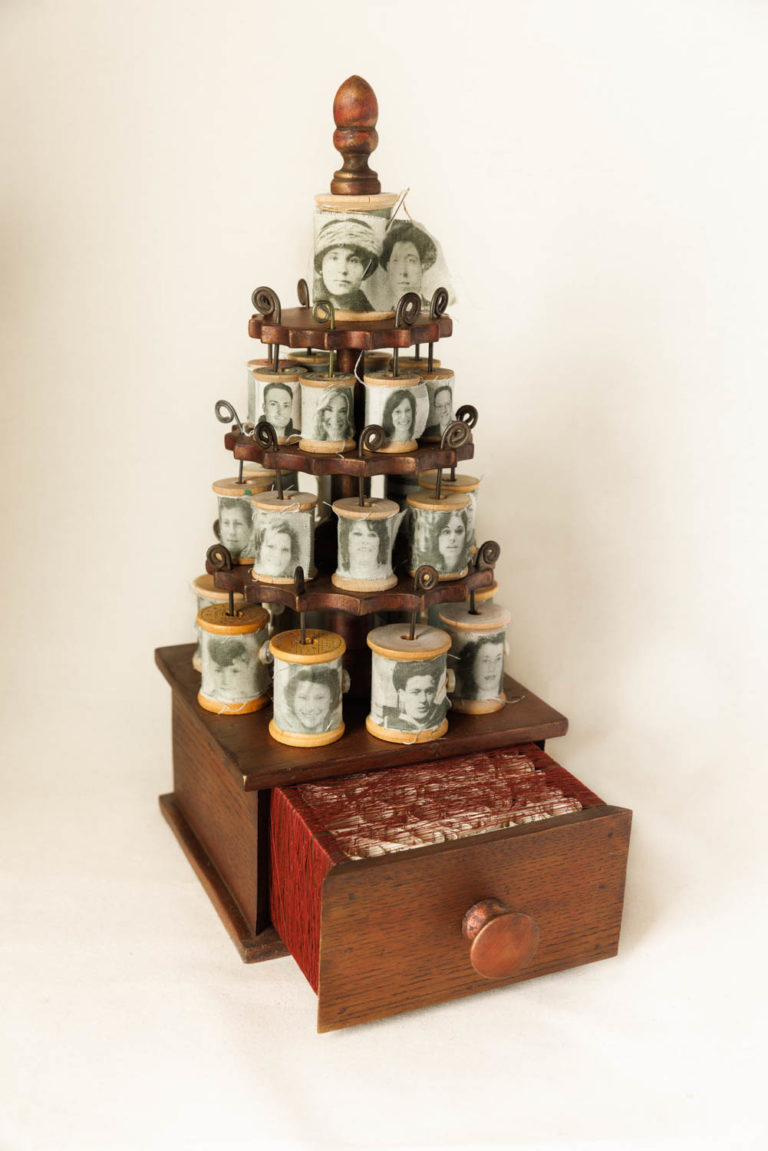 JP Terlizzi (b.1962, Somerville, NJ; lives in New York City)
Memory Spools, 2022
Assemblage: Family photo on muslin, vintage spool holder, thread, book pages
Unique edition 
6.5 x 15 x 8.5 inches 
Courtesy Foto Relevance Gallery, Houston, TX
Please tell us about yourself and which part of the world you currently reside.
I'm a NYC lens-based artist whose contemporary practice explores themes of memory, relationship, and identity. My images are rooted in the personal and heavily influenced around the notion of home, legacy, and family. I'm curious how the past relates and intersects with the present and how the present enlivens the past, shaping one's identity. I frequently use my family archives as source material to create his art, exploring how personal memories can be recontextualized into objects.
When did you first discover your love of photography?
I was first introduced to photography back in college in the 1980's, it was part of my curriculum as a Communication Design major. After graduating I never picked up a camera until 2012 when I purchased my first digital camera. It was then that I discovered my love of photography and the years following that helped me refine my vision on how an image can be part of a greater personal narrative.
Please tell us about the piece that was selected to be included in the exhibit. Also, tell us a bit about the body of work that it is from.
Memory Spools is from my series "Remembering Papa." Papa is my mother's family name and goes back several generations. It's a surname that I have a profound love and respect for and with which I most identify. The series focuses on the relationship between the family archive and personal memory. It uses assemblage as narrative to heighten and enliven the family portrait as both a memorial function and a declaration of love for those that came before and as a legacy for remembrance to be passed down.
I took a workshop back in 2021 on Photographic Objects with Dawn Surratt. The Photo Object was something I was curious about and wanted to explore further. For me, it was a natural progression in my practice since I like to intervene with my images either through graphic design, stitching or collage. I enjoy the handmade aspect of creating a one-of-kind object. One of the standout pieces I made in the workshop was of my grandmother cocooned in thread which was the catalyst for the series. I wanted to dedicate a series specifically to the Papa family and push an object's meaning to convey both the good and the bad, the happy and the sad memories that surface in every family dynamic.