Jason Reblando is an exhibiting artist in Imminent Existence, Photolucida's Critical Mass TOP 50 (2022). On view at the PCNW gallery from April 30 – June 4, 2023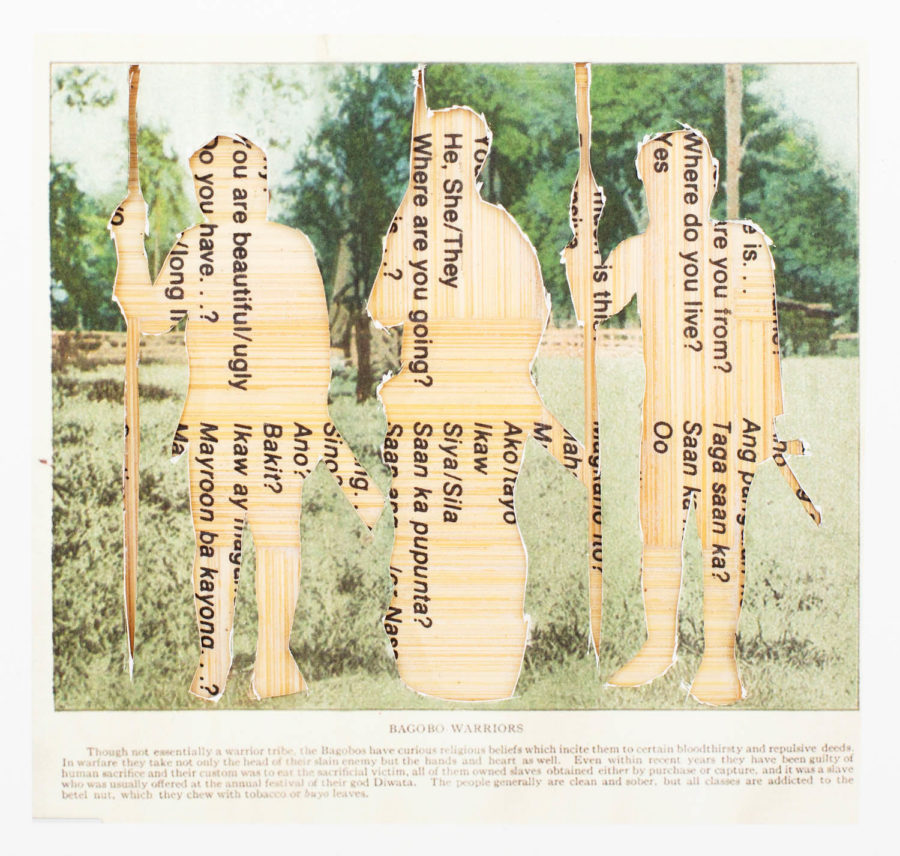 Jason Reblando, (b. 1973, Flushing, NY; lives in Normal, IL)
National Geographic – Bagobo Warriors, 2021
Archival pigment print
Edition 1 of 5
Image 12 x 12.5 inches, framed to 16 x 20 inches
$1000 (for purchase inquiry, please contact Erin at espencer@pcnw.org)
I'm wondering if the Critical Mass review process brought about any meaningful connections with one or more of the reviewers?  
Being included in the Top 50 of Critical Mass in 2022 has already made an incredible impact as far as getting connected to the reviewers. I will be publishing a monograph with the publisher For the Birds Trapped in Airports as a result of Oriana Koren seeing my work in Critical Mass; Mark Sink has invited me to his collage discussion groups and to participate in The Big Picture in biennial public art project Denver; I was one of several CM artists featured in a special issue of Fraction Magazine; and of course getting featured in this exhibit at PCNW curated by Arnika Dawkins are just a few highlights of being featured in Critical Mass. It's been an incredible way to connect with people I've always wanted to talk to before.
Please tell us about yourself and which part of the world you currently reside.
My parents are from the Philippines, and I was born and raised on Long Island in New York. I live and work in Normal, Illinois, where I teach photography at Illinois State University.
When did you first discover your love of photography?
My mom instilled a love of photography in me when I was growing up. She loved taking pictures, and documenting important and unimportant family moments. I borrowed her Nikon FM2 for a darkroom class in college and I never gave it back!
Please tell us about the individual piece that was selected to be included in this exhibition. Also, tell us a bit about the body of work that this is from.
The image National Geographic Bagobo Warriors is a collage made from a photo from an issue of National Geographic from 1913 and a bamboo serving tray from the Philippines. In my project "Field Notes," I cut, paste, and rearrange various elements of archival images made during the American colonial period in the Philippines. The images of the Philippines published in National Geographic at the time had a major influence on how the West viewed the Philippines and other "uncivilized" countries. In creating these collages, I aim to deconstruct and critique the colonial gaze, while attempting to reclaim the photographic narrative. 
Is it your intention to have your artwork bring attention to any current social issues? 
I hope to contribute to a growing conversation by contemporary artists who are eager to interrogate the colonizing power of the archive for Filipinos, and more broadly, all members of the Global South.
Who / what are your biggest influences?
Some of my longtime influences are my Columbia College Chicago graduate school mentors, Dawoud Bey, Bob Thall, Paul D'Amato, Barbara Kasten, Kelli Connell, and Greg Foster-Rice. I'm currently inspired by poet and collage artist Krista Franklin.
"Behind the Lens" – Do you have any interesting or funny facts about the creation of your piece?
Creating the National Geographic Bagobo Warriors piece was one step in a liberating journey in how I make photo-based work. Living in central Illinois, I was struggling with how I wanted to make work about the Philippines without having access to Filipino communities. I never imagined that I would be making research trips to archives to not only make work about the Philippines, but also American colonial power, and the history of photography itself.