Becky Wilkes is an exhibiting artist in Imminent Existence, Photolucida's Critical Mass TOP 50 (2022). On view at the PCNW gallery from March 30 – June 4, 2023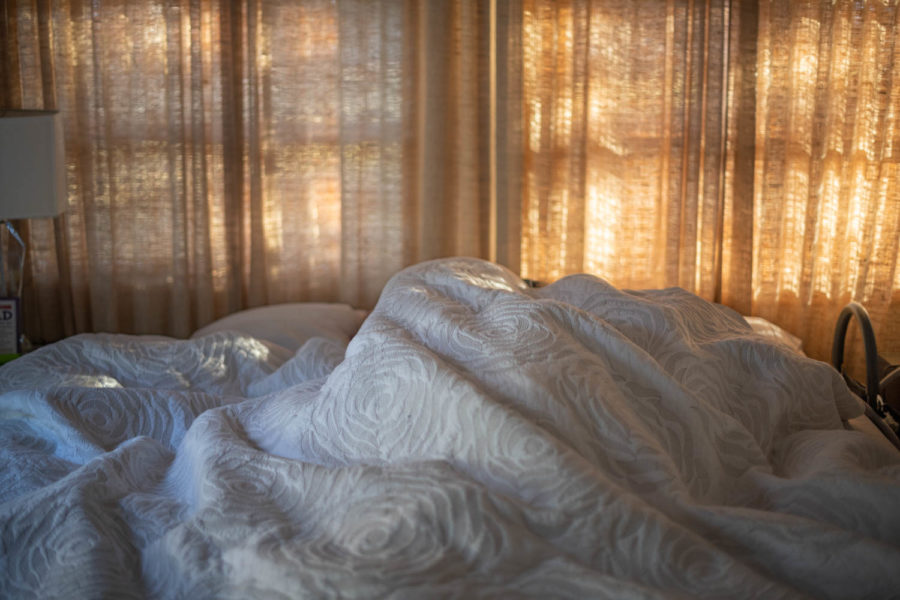 Becky Wilkes (b. 1956 Houston, TX; lives in Azle, TX)
Bob, come over here and keep me warm (December 7, 2020)
Archival pigment print, edition of 5 + 2AP
Image 16 x 24 inches, mounted on 16 x 24 inch aluminum
$650 (for purchase inquiry, please contact Erin at espencer@pcnw.org)
I'm wondering if the Critical Mass review process brought about any meaningful connections with one or more of the reviewers?  
Critical Mass is indeed a great way to get work in front of influential people in the photography world. Photolucida does an amazing job every year recruiting editors, consultants, publishers, gallerists, etc to volunteer their time and talents to look at all the submissions. Inclusion in the Top 50 led Ellyn Kail, editor of Feature Shoot and Linda Alterwitz of Lenscratch to highlight my work. Their interview questions galvanized me to evaluate and write about my experience taking care of my parents in ways I would have thought only a therapist could crack open. I am eternally grateful. 
Please tell us about yourself and which part of the world you currently reside. 
I am 67 years young and live in Azle, near Fort Worth Texas. I am mom to 4, "Ladi" to 14, (soon to be 15) grandchildren. My husband and I love to travel with the whole crazy crew, and do so at least once a year.
When did you first discover your love of photography? 
I could have said that my 'love' for photography began when my parents bought my first camera as a wedding present. I was 19. I progressed through several cameras, "loving" taking photos of vacations, my children, etc, (all on automatic). True love began about 15 years ago, when finally driven to understand all the buttons on my camera, I enrolled in a photography class at the local college. It was here that I learned the history of fine art photography, the magic of the camera and my passion for making art with photography.
Please tell us about the individual piece that was selected to be included in this exhibit. Also, tell us a bit about the body of work that this is from.
My parents lived with my husband and me in the last year of their lives. Bob, come over here and keep me warm December 7, 2020 is from the series "Till Death Do Us Part," that I made during our year together. I often photographed them snuggling as they napped. As winter approached and the sun moved south, I noticed the beautiful light bathing them in the late afternoon. It is this light that captivates me every December. I am reminded of the year we spent together and the approaching anniversaries of their deaths.
Is it your intention to have your artwork bring attention to any current social issues? 
Yes! Rules and regulations govern where our elderly live in their senior facilities. They often progress through independent, assisted and skilled nursing wings of massive buildings. Why must they move? Could we not design facilities to bring appropriate care to them as they progress through their declining years? This is especially pertinent for couples facing separation after sharing long lives together when accident or illness occurs. 
I brought my parents to live with me only because of the restrictions imposed due to the pandemic. Dad was separated from Mom because the skilled nursing he required was in another wing of the building. It was difficult for Mom to walk the long hallways alone to visit Dad. He lost interest in living and the family anticipated his death. Under my care and living together, they thrived and had a beautiful last year together. I am haunted by thoughts of all the other "Dads" that might have died alone, separated from their "Mom" — with or without the pandemic's impact. 
Who / what are your biggest influences?
My parents, my husband, and my children.
"Behind the Lens" – Do you have any interesting or funny facts about the creation of your piece?
It was late afternoon and a friend stopped by the house to deliver a meal. I checked on Mom and Dad as I went to answer the door. Seeing the ever elusive light enveloping them, I left my friend waiting at the door, grabbed my camera and spent a few moments capturing the image before it disappeared.