Lynn Saville is an exhibiting artist in PCNW's 23rd annual juried exhibition, curated by Kris Graves.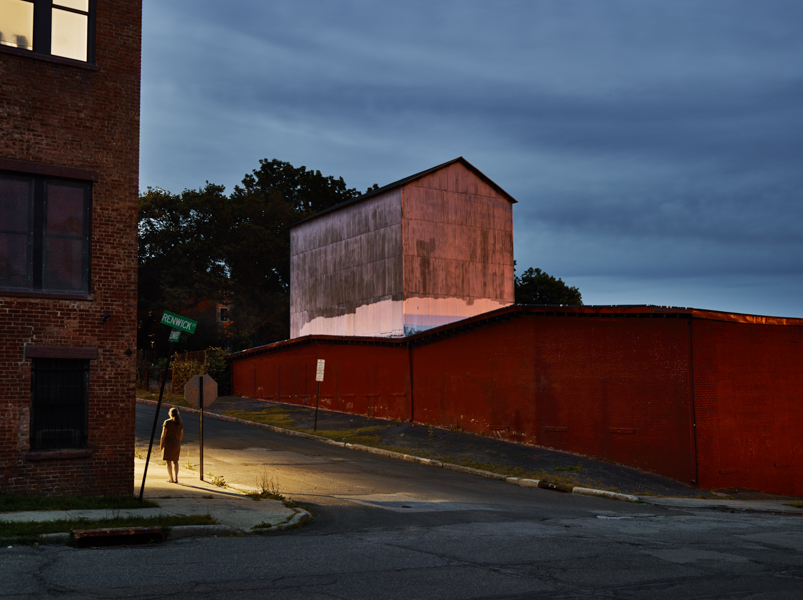 Tell us about yourself, where you're from, and when you first discovered your love of photography.
I currently live & work in New York City. Originally from Durham, North Carolina, I discovered photography in college at Duke University. My father and older brother were avid amateur photographers and so I observed them taking photos on many adventures. When I took my first photography class at Duke, I was immediately thrilled by the emotional impact of a photograph.
Tell us about the work that was selected to be included in Distinction by Kris Graves.
I was with a friend driving around the Hudson River areas including Newburgh. The architecture and light impressed me, especially this intersection with former warehouses and the mysterious rural structure and the rich red wall. When I saw the woman standing in the light, it gave me a feeling of the transition from the past to our contemporary time.
Is the selected work part of a larger body of work?
I have been a roamer of urban limbo regions, especially at dusk. In this liminal period, daylight gives way to moonlight and to the artificial light of streetlamps, advertisements, and surveillance. The shifting light serves to underscore both the mysterious daily transition from day to night and the longer economic cycle in which places become spaces and vice versa. In the photograph Abandoned Michigan Central Depot, Detroit, Michigan, for instance, a place has become a looming shell of itself, a space. By contrast, in Brooklyn Bridge Park Construction, photographed on a restricted construction site, earth-moving equipment suggests renewal and re-creation. 
Who / what are your biggest influences?
My main influences are the painters Vincent Van Gogh and Edward Hopper.
Are you making work in response to the current pandemic?
Yes I am making work in response to the current pandemic. I have often made work in empty places with the occasional figure. During the pandemic, I like to photograph the quiet of places, with fewer people and very little traffic. Even the lighting from buildings is diminished, and I am photographing this aspect of the current life in NYC as well.
PCNW's annual juried call for entry provides exhibition opportunities for artists and directly supports our programs, scholarships, and labs at PCNW. This helps ensure access to photography for many future generations of creatives. We know you have many options for submitting your work, so please tell us why you chose PCNW? What are your thoughts and experience with submitting your work to different calls?
I like to send my work for consideration for exhibitions if the subject of the show seems appropriate for my art. I always consider the curator as well. I'm fascinated by Kris Graves' talent as a curator and publisher as well as the originality of his photography.