What sustains creativity? What are the forces that keep artists creating, and photographers inspired to share their work?
In one of Chase Jarvis' recent blog posts, he credits Long Shot as a tool that helps photographers and artists of all kind rekindle or sustain their passion and creativity for their art. Two recent guest artists at the Photo Center, Diana Markosian and Grace Weston, tell stories of how they stay inspired in their work.
Diana Markosian is a documentary photographer who at age 22 earned the Reuters photo of the year award. Markosian finds isolation to be one of the best ways for inspiration, completely surrounding herself in settings that are foreign. She also encourages herself and others to surround themselves with other creative people they admire. She believes being around smarter, more creative people is one of the best ways for growth. Plus, Markosian encourages photographers to only photograph things that interest you, and to never photograph subjects to which you feel obligated.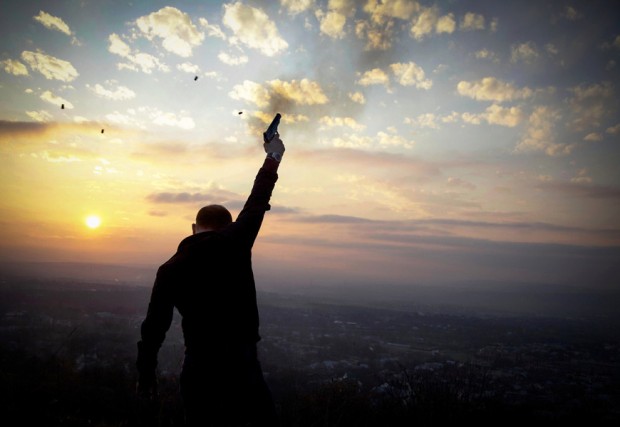 Grace Weston is an accomplished artist who creates constructed narrative images in elaborate studio scenes. Weston reached a point where her formal, black-and-white field work was no longer fulfilling, so she decided to turn everything upside-down by pursuing studio work. Weston was then flooded with possibilities as she both had a lot to learn and also had no idea what to shoot. She turned to narratives found in surrealism. Her first work in that genre excited her so much that she knew she was on the right path. She wanted to shoot what she "felt drawn to, what felt authentic to me, and see where it fit later." Weston encourages photographers to forget about the end result while in the creative phase. Please yourself. Do work that satisfies you, and addresses your own questions about the world, life, and expresses your viewpoint.
"As the Photo Center embarks on Long Shot, a 24-hour photo marathon, we share these stories of personal growth, in hopes that other photographers will join us and share their perspective with the world. Long Shot invites hundreds of photographers to participate by photographing anywhere they are in the world on June 21, the longest day of the year." -Rafael Soldi, Photo Center NW
Join Grace and Diana this summer for the Long Shot photo marathon on June 21. Anyone anywhere can participate, and at least one image from every participant will be exhibited online and at the Photo Center gallery on July 27. This marathon raises funds for Photo Center NW's programs, including lectures and presentations from today's photographers like Grace and Diana. Registration and participation is free.