Long time Photo Center community member, Andrew Miksys, intrigues us with details about his experiences in Lithuania, his latest projects, and Kickstarter campaign to publish his next book DISKO.  Check out Andrew's Kickstarter campaign here.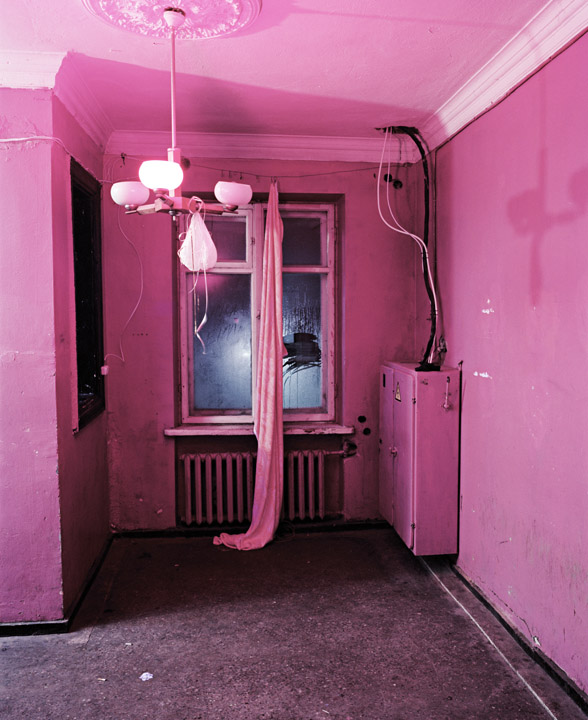 Andrew Miksys, from DISKO series
Q: You are in the midst of a Kickstarter campaign to produce a book called DISKO, can you tell us what made you decide to pursue the publication of your book at this point?
My goal is always to make books of my projects.  Two years ago I had a residency at Light Work and and worked intensively for a month with the photographs and editing.  When I was done it felt like a book and I started working on the design.  Now everything is ready for print.  And that's when I decided to start the Kickstarter campaign to help fund the printing.
Q: You've been working on this series for 10 years now.  We'd love to hear about how you first entered the scene, and how your photographs have evolved over the past decade, beyond what we can see in print.
The DISKO project started in 2000 when I was in a small town in Lithuania and saw some teenagers entering a building with loud music playing inside.  I followed them to see what was going on and found a very simple room with a disco ball and an old Lenin head on the wall.  Lithuania gained independence from the USSR in 1991.  But even in 2000 (and beyond) there were these places that had a very Soviet vibe.  The people in the discos, though, were becoming more western and hip to the world outside of Lithuania.  The contrast between the spaces and the people was quite fascinating.  I'm always drawn to people and doing portraits first.  But over the years I also became interested in the rural Lithuanian landscape, the light of the full moon while I was driving through the night, and the spaces where I photographed.  I think these photographs are also important in telling the whole story and adding to the mood and atmosphere of the project.
Q: How has being an American-Lithuanian affected this project?  Has it influenced your access to these discos and ease with which you interact with your subjects?
In this case, being an outsider helped a lot.  I was kinda like a special guest and people went out of their way to welcome me and help me photograph.  It was really great.  Some of my Lithuanian friends thought I was crazy to go to the discos alone.  And in a weird way a local Lithuanian photographer might have been seen viewed more suspicion.  I didn't understanding the local rules or customs .  This became an advantage.  It was easier for me to break the rules or cross boundaries that wouldn't be open to a Lithuanian photographer.
Q: Can you talk more about what you mean by pagan traditions influencing village discos?
Well there is no actual direct connection between paganism and the discos I photographed in.  But I am fascinated by the fact that Lithuania was the last country in Europe to give up paganism and accept Christianity.  And even today the summer solstice is celebrated here with people performing pagan rituals in the countryside like jumping over fires or searching for magic flowers in the forest at midnight.  And I like to think that pagan culture was much less prudish than Christian culture.  But I don't really know if this is true or not.  However, there is a great scene in Andrey Takovsky's film Andrei Rublev when the main character (Andrei Rublev), a priest and Russia's most famous icon painter, finds himself in the midst of a group of pagans in the forest celebrating the summer solstice.  View here.   He's intrigued by the pagans running around naked and having sex in the bushes.  Rublev even gets kissed by a naked woman, but he can't let go of his Christian vows and join them.  I like to think these were the first village discos.  With the full moon and stars serving as a disco ball for the pagans.
Q: What is your next move?
I've been photographing in Belarus (White Russia) for the last four years.  Fascinating place.  I've been showing a few things from this project on my other website: www.thetulipsproject.com.  Hoping to make a book of this work next year.
Andrew Miksys, from DISKO series