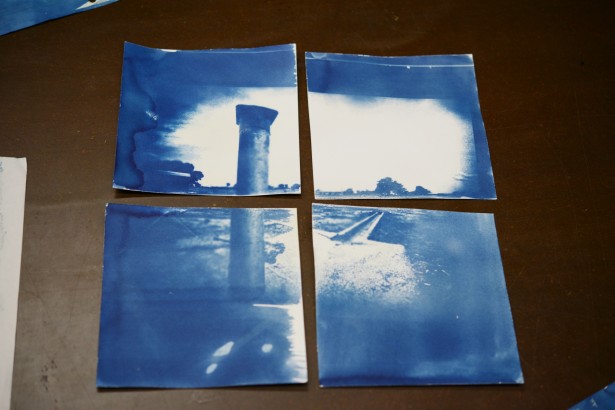 Click below to find out more about:

MEET OUR COMMUNITY
NEW COMMUNITY: CRITIQUE GROUP
CITY PANORAMA
FIRST MONDAYS DISCUSSION GROUP
DAN HAWKINS PROFILED
……
MEET OUR COMMUNITY
Exploring DIY (Do-It-Yourself) Alternative Processes 
Laurel Schultz, Photo Center alumni, co-taught this summer's DIY Alternative Process class with fellow Certificate student Dan Hawkins.
Laurel writes: Co-teaching the Do It Yourself (DIY) Alternative Process class with Dan Hawkins at the Photo Center this summer was one of the best teaching and learning experiences I've had.  The class was a hands-on whirlwind tour of alternative processes; from pinhole cameras, to photograms, cyanotype to wet-plate collodion and more. Everyone, students included, brought their own knowledge of different processes to the classroom.  One of our standout students was JessyLou D'Aprile. 
Meet JessyLou D'Aprile
I met her in the digital lab where she volunteers as a monitor, and was excited to hear that she was taking the class. She embodied the spirit of DIY: without a lot of money for photographic materials, she figured out how to make gritty, beautiful digital prints on the newsprint someone had given her. Because of her volunteer experience she was a huge help in the digital lab, and she tackled an ongoing project to make digital negative profiles available in the digital lab. For her final project she took pinhole photographs of the Photo Center from unexpected viewpoints, developed and scanned the film, made digital prints, wheat-pasted the photographs and installed them on the objects from whose perspective they were taken.They were like little photographic mirrors reflecting the building back on itself, work she describes as a love letter to the photo center. The installation was impermanent by design, but I share some photographs below. JessyLou will be working the front desk at the photo center this fall, so when you see a new face behind the desk, say hi and ask her what she's up to – the answer is bound to be interesting.

Laurel Schultz
Meet Daniel Hawkins
Dan is a natural-born teacher, an explorer of photographic processes, and student in the thesis program. He comes to the photo center with a deep knowledge of photographic technique, an already distinctive photographic style, and experience working with artist to creatively document their theater, danceand performance art. He is taking advantage of the certificate program to focus deeply for a year on one project, with the support and advice of thesis team and everything else the photo center has to offer. Take a look at his contribution to the Photolust auction, and keep your eyes peeled for his photography and installation work around town. 
NEW COMMUNITY: CRITIQUE GROUP
Join the dialogue this fall
We are an informal critique group that meets monthly to discuss and show work.  Photographers with developed bodies of work and portfolios are welcome.  Please contact Terry Novak, at tnovak@pcnw.org if you are interested in participating.
CITY PANORAMA
Photo Center student Anna Reams found a home in public art with the City Panorama class last year. 
Anna writes: I took the City Panorama class because it set the specific goal of preparing work to submit for the public art project sponsored by the Photo Center, King Count Metro, and 4Culture.  I was at a point where I wanted to share my work with a broader audience, and I felt the purpose of the class aligned with that goal.  Having the structure of a class to guide me through the process was valuable, and it kindled a greater interest in the possibilities of public art.  
In conjunction with King County Metro, the Photo Center presents a call for entries for the City Panorama again this fall.  The deadline for submissions is January 30, 2013.  Click here to download the City Panorama guidelines: CALL FOR ENTRIES – CITY PANORAMA 2012-13
DAN HAWKINS PROFILED
Dan just returned days ago from the Korean DMZ
He writes: I am working on a project to photograph landscapes in unintentional wildlife refuges. Areas of the world where humans are excluded and that have been turned into a new kind of wilderness. I plan to expand this series and travel to the forests of Chernobyl and the like. There are also a number of domestic locations I am interested in. Overall this was a wonderful experience and I am really looking forward to continuing with this project.
FIRST MONDAYS DISCUSSION GROUP
Do we make photographs because we are "touched unbearably" or is it done in the hopes that we will join the pantheon of great photographers? 
The reading this month is Letter to a Young Photographer by Michael Smith.  Along with the personal ideas you may bring from the reading we might discuss:
The relationship between new art forms and their content:
While the creation of new forms is often essential, alone, it does not guarantee that the art produced will be of value—that it will have the ability to connect us to the world in which we live and to each other. For art to do this, the form must first of all suit the expression that it contains.
Truth and art:
If the function of art is to connect us to each other and to the world in which we live, it is irrelevant whether a work of art is traditional or avant-garde. From this perspective, one's choice of subject matter is also irrelevant. What is relevant is the truthfulness and depth of the expression and its synergistic connection to the form within which it is contained.
All artists welcome to join First Monday Discussion Group at 6 pm on October 1st at the Photo Center.