Alumni Spotlight
This quarter the Photo Center is featuring the work of Jenn Riedel '00.
"When Jenn Reidel joined a group of us in Molly Landreth's Project Development class this fall, I knew we were in for a treat." Lisa Ahlberg said. This hard working, deeply creative photographer brought in images of scenes she acted in and photographed to the class. Jenn not only used the class to develop her series Heart Crown into a website, she produced a series of exquisite encaustic works. "As a photographer I explore mythic imagination. I question it and listen with wonder to its language that speaks from the heart and mind together. For over three years I have been working on a series of photos called Heart Crown. I also wrote a sonnet to go along with the 14 encaustic artworks." Jenn said. We can't wait to see the series on a gallery wall, but in the meantime, check out her website and read her artist statement below.
As a photographer I explore mythic imagination. I question it and listen with wonder—and belief—to its language that speaks from the heart and mind together. Often in life we fall into and out of myth, especially when it comes to romantic love. Many believe that romantic love is a fantasy – yet it is also truth – a psychological truth playing through us and telling us who we are what we need. In an effort to find out what was true to me, I traveled to wild landscapes to collaborate with nature, a knight, a king, and a queen. Once the scene is set, my process is to become consciously involved and to experience the voice and visions of the spontaneous psyche in each improvisation before the camera. Heart Crown is a sonnet illustrated by fourteen card-size photos each transferred onto beeswax-coated paper. See the illustrated sonnet at www.heartcrown.com.
New Community: Sign Up for LONG SHOT Today!
24 Hours
Hundreds of Photographers
One Photo Center
Join Longshot 2012!
We want you – alumni – to join LONG SHOT 2012!
This is an opportunity dust off your camera, plan your day of shooting, and get your photography on the wall, all in support of the Photo Center.
It's really easy –
Start the project you've been wanting to shoot. Shoot from wherever you are. Take a road trip. Go to Eastern Washington. Travel and shoot the rolling hills of Palouse. Take a train to Vancouver. Go hiking. Visit a beautiful garden. Shoot Seattle's night life. Do some long exposures. Meet up with other photographers. Or just fool around with your camera, have fun – and give us your best shots afterwards for the exhibit July 28.
You don't have to shoot for 24 hours.
You don't have to raise tons of money.
You don't have to shoot from Seattle.
But you do have to join us this year. Why wouldn't you? It's a great excuse to just shoot for hours and hours.
The fundraising part is easy – for the last three years Photo Center alumni, Lisa Ahlberg has sent out an e-mail to friends and family asking them to pledge. Lisa said that each year she's been surprised to receive donations, small and large, totaling over $1,000. Check out pcnw.org/longshot for more ideas.
Alumni Happenings
Lisa Ahlberg '05 Quick! Catch Lisa Ahlberg's exhibition at Plasteel Gallery in SODO before the month is out. If you have seen her portraits as singles in group shows, you still haven't seen her work. This substantial grouping of images is something else entirely. The large portraits, hung slightly above eye level, engage your gaze directly and with a rawness and intensity that is at times almost uncomfortable. Smaller environmental portraits with more context situate you, but it's the people, not the place, that get you.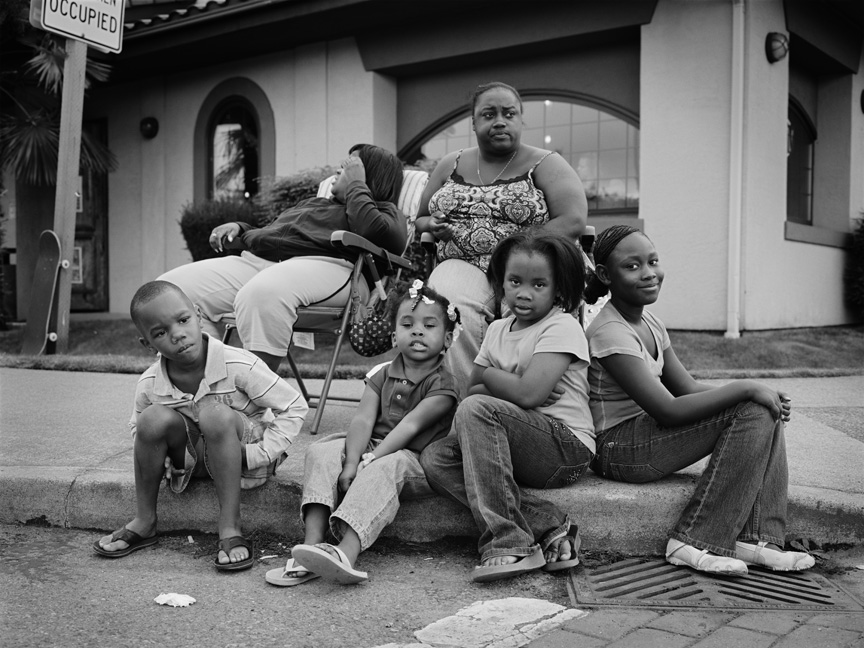 Gina White '08 Photo Center alumni and instructor known for her photos of Paris will be in the 2,000-year-old city of Paris from April 29 – May 9 exploring and photographing with students. The agenda includes tours of the rue Moffetard market, the Paris Museum, and galleries as well as some lesser known sights with plenty of rich history and character.
Karen Howard '01 Karen Howard is your reason to visit Bainbridge Island. Jump on the ferry to Bainbridge and have a look at Karen Howard's photographs of California Missions at the Renew Day Spa. They are exhibited until the end of July and Karen will be displaying a new set of photographs in August. Read more about her work process below:
"I've been visiting several of California's Missions since 2007 and enjoy the photographic opportunities at these places of past refuge. I choose to focus on the details I find peaceful and beautiful. These missions are religious buildings, and many are suffering from lack of funding due to small perishes. They are also a large part of California's history which should be valued and preserved. Separation of church and state prevents any state funding for preservation, so a group of photographers (including me) have banded together to help fundraise for 3 of the missions: Nuestra Senora de Soledad, San Antonio de Padua, and San Miguel de Arcangel. The portfolios created at each mission can be used by each mission to fundraise in their own way. These portfolios are also at the National Steinbeck Center in Salinas, CA and were displayed in 2008, 2010 and 2011."
Community Engagement
Reminder: Meeting 4 of the first Mondays Discussion group is May 7th from 6-9pm at the Photo Center. The reading will tie into the Photo Center's current exhibition, Author and Subject: Contemporary Queer Photography, with a discussion of Judith Butler's Imitation and Gender Subordination. It's going to be a great discussion and we hope to see you there! Full details here.