As we write this blog entry there are donations and registration forms pouring in for Long Shot 2011. We are amazed and grateful for our community, OUR PEOPLE, for stepping up and not only supporting the Photo Center but using this as an opportunity to pursue projects and explore themes that inspire them. As of today we have 389 participants from 25 states and 9 countries with additional donations coming from as far as Russia, Ecuador, The Netherlands and Peru!
Among the participants you'll find Daniel A. Carrillo, whose wet plate collodion (1850's process) portraits have been the talk of the town around Seattle. Carrillo has photographed Seattle artists (including the Photo Center's very own Seth Thompson and Ashley Siple) and got a chance to photograph Kiki Smith during her last visit. Daniel agrees that the Photo Center is an invaluable resource to photographers in the region and will shooting be this weekend in support of the Photo Center. Daniel has an upcoming show at Greg Kucera Gallery in 2012.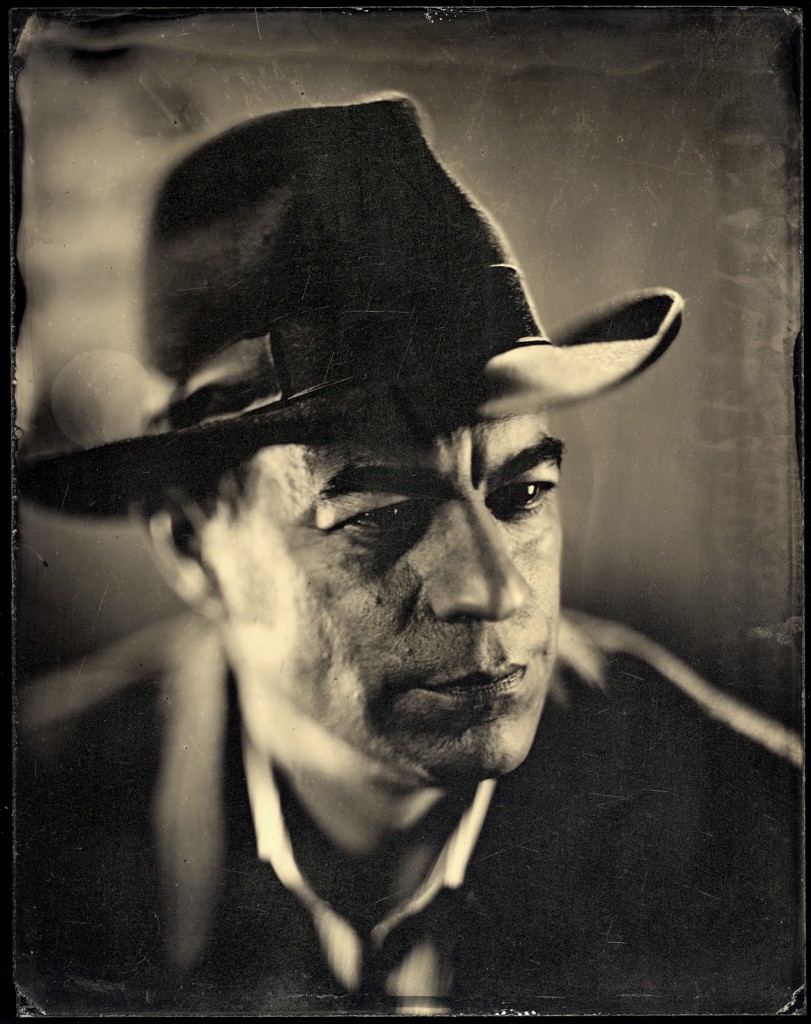 Daniel A. Carrillo
Jim Demetre
8 x 10 clear glass ambrotype, 2011
Every participant has a mission for Long Shot and we're thrilled to see that people have created teams, given themselves assignments and even approached the event as an opportunity to explore their community or even seek social justice! Below are some examples.
"I am taking pictures of Nickelsville, currently a tent city, in south Seattle. I have been taking pictures there for two years since the Long Shot in 2009. The camp is looking for a permanent spot in which to build structures.  They are on city property now [and we are working to help] over 100 people find safe and stable shelter on city property-the current space is great. The system of self management  that exists at the camp works so well to improve the quality of life for the people who reside there; some say it is like a family."
Pamela, WA

"I'm planning to photograph the Slovak community, people & activities in and around Greenfield Center in Saratoga County where I was born and raised. My father was second-generation Slovak in this country; my grandparents came through Ellis Island. There was a strong community here, which over the years has been slipping away, as often happens."
Mary Ann,  NY

"I just want to help out the Photo Center. Photography education is becoming increasingly rare in these days of budget cuts and hard times. I don't want to see the artistic vision of a generation go untapped."
Carol, TX

"I'm participating for you – and photography makes my day. What a cool idea. Good luck!"
Laurie, CT

"I have been wanting to be more active in photographing the people who live in my neighborhood – I'm using this as a reason to get out there."
Heather, NY

"[I will be] documenting Urban Gardening.  I'll be making a tour of Seattle's P-Patches and catching shots of any other gardens I see along the way."
Michael, WA

" [I'm participating] to support and encourage the personal visions of independent fine art & documentary photographers."
Lahary, NY
To OUR PEOPLE, we say thank you. Thank you for your support and congratulations on being such a creative, driven and caring community. The Photo Center exists so that you can have all the tools to create and develop your work, no matter your level of expertise or the scope of your project. 24 hours, hundreds of photographers, one photo center. YOUR photo center.