Mark Peterman is an artist in Imminent Existence, Photolucida's Critical Mass TOP 50 (2022).
On view at the PCNW gallery from March 30 – June 4, 2023.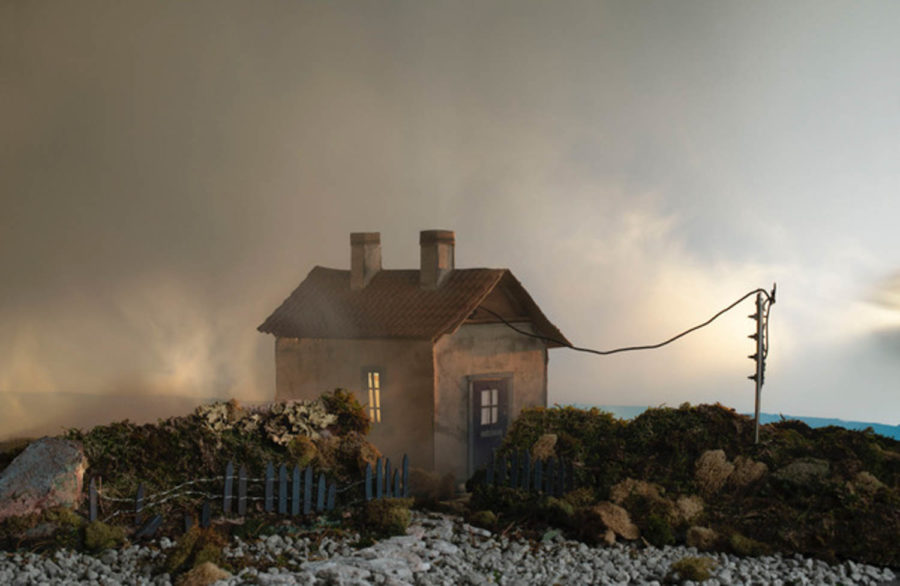 Mark Peterman (b. 1974, Lansing, MI, lives in Phoenix, Az)
The Marshland at Dawn, 2021
Archival pigment print
Digital capture (analog set build)
Edition 1 of 15
Image 16 x 24, framed to 20 x 30 inches
$1500 (for purchase inquiry, please contact Erin at espencer@pcnw.org)
I'm wondering if the Critical Mass review process brought about any meaningful connections with one or more of the reviewers?  
While I didn't have the chance to connect with any of the reviewers I did receive some feedback that I found to be very informative and also encouraging. 
Please tell us about yourself and which part of the world you currently reside. 
I am a visual artist based in Arizona who explores narrative storytelling through photographs and multi-media. I construct fictional narratives inspired from cinematic and literary influences that challenge the perception of reality and utilize the mystery of the unknown. My work examines how change, memory, and the passage of time effect the human experience. 
When did you first discover your love of photography?
I grew up in a family of amateur photographers in the midwestern United States where my first encounter with photography was a darkroom built by my father in our basement. Throughout my teenage years I was engaging with art by drawing and experimenting with design concepts. My first published photograph was in the local newspaper at age 16. I attended the Kansas City Art Institute to further my education in the arts. All of these steps were building blocks that allowed me to build a love of photography and incorporate it into my current practice. 
Please tell us about the individual piece that was selected to be included in the exhibit. Also, tell us a bit about the body of work that this is from.
The Marshland at Dawn is a piece from my series called "Constructed Realities" which is a study in perception of reality. The series is made up of fictional scenes, drawn from cinematic and literary influences, built with 1/18 scale size sets and props. This work involves a multi-tiered creative process that includes a crafted narrative, built environments and  photographs that serve as the final document of the work.
Each finished photograph contains elements of mystery and a general sense of unease. The work is made to evoke a response where the viewer is  compelled to know more about what is happening and question everything. The clues that I present in my images are intended to be like a detective story where the reader feels compelled to turn the next page. I beg the viewer to feel the mist in the air, smell the rain and sense the excitement before embarking on an adventure where they are unsure of what may lie ahead. 
As the series progresses, questions are meant to arise for the viewer as the scale is not revealed but only hinted at. There are times the 4th wall appears to break but the hidden hand is never fully revealed. The delicate play between perception and reality is the core of this work.
Is it your intention to have your artwork bring attention to any current social issues? 
My work examines how change, memory, and the passage of time affect the human experience. While these aren't necessarily considered social issues they are universal themes that are also very personal on a human level. I intend each scene to feel familiar enough to evoke a memory or be a place that the viewer would like to visit out of desire or intrigue. 
Who / what are your biggest influences?
Musician and producer Brian Eno is a seminal influence on my work. In the 1970's he created the term "ambient music" for work that he created that was designed to modify the listener's perception of the surrounding environment. Many of these pieces have inspired my work from this series. 
"Behind the Lens" – Do you have any interesting or funny facts about the creation of your piece?
The creation of this work is a multi-tiered creative process so it comes together over a longer time period than if I was just creating a single photograph. This often results in a more thoughtful democratized evolution of each scene. There are moments I'm not sure that I am getting anywhere coupled with the elation of seeing your vision come to life in the final image. Somewhere in the middle where I can feed off that unsure feeling is where it all comes together for me. It's a bizarre mix of emotions that make up the creative process for me.