Suzanne Engelberg is an exhibiting artist in PCNW's 23rd annual juried exhibition, curated by Kris Graves.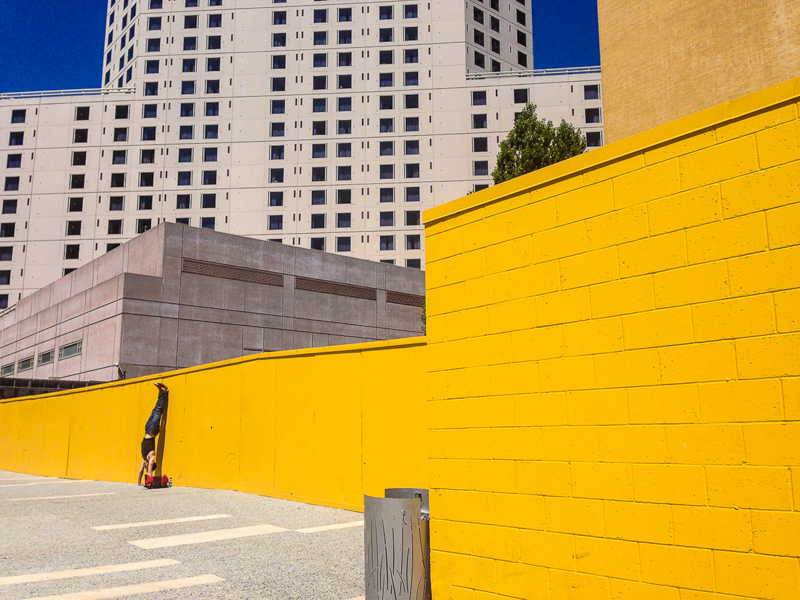 Tell us about the work that was selected to be included in Distinction by Kris Graves.
I am especially interested in interpretative landscape photography and the manner in which color, light and form coalesce to create an image. My photograph in this exhibition, Handstand, was taken in San Francisco, as I was exploring the architecture in the Yerba Buena area. The spontaneous handstand by a passerby elevated this image from a depiction of the wonderful geometry of the urban landscape to a joyful expression of human interaction with a city environment.
Who / what are your biggest influences?
Most of my work focuses on the natural world, rather than the urban environment presented here. One of my earliest inspirations for photography is Michael Kenna. I'm greatly enamored by his minimalist imagery, the beauty of simplicity and symmetry in his photographs and the strong sense of design in his work. Despite the fact that Handstand is obviously not an ephemeral black and white image of the landscape, which typifies Kenna's work, the elements of minimalism, symmetry and design are still very much present here. I have also been strongly inspired by both Alex Webb and Rebecca Norris Webb, for the incredible knowledge and passion they bring to teaching and for the amazing poetry they are able to create in their work.
PCNW's annual juried call for entry provides exhibition opportunities for artists and directly supports our programs, scholarships, and labs at PCNW. This helps ensure access to photography for many future generations of creatives. We know you have many options for submitting your work, so please tell us why you chose PCNW? What are your thoughts and experience with submitting your work to different calls?
Over the past eight years, I have been fortunate to have exhibited my work in over 100 exhibitions, both nationally and internationally, and have been the recipient of numerous awards. I was particularly drawn to submitting my work to PCNW because I have been consistently impressed with the innovative work that PCNW shows. I was honored to have an image in the show Punctum in 2015, juried by Julia Dolan, curator of the Portland Art Museum at that time and I'm delighted to again participate in an exhibit at PCNW.