[portfolio_slideshow exclude= '10161' '10160' ]
This week Rafael Soldi sat down with New York-based artist Kris Graves. Check out with Q&A and learn more about his work and inspiration. Graves creates photographs of landscapes and people to preserve memory. The images' stillness cause the viewer to acknowledge the inevitability of change and the passage of time. These views will never be exactly as they were at their precise recorded moment. Graves suspends his belief and knowledge of this change, not to document a moment or state, but rather to sustain it.
RS: Hi Kris, I'm excited to chat with you and share some of your work. I've known you as a gallerist, a fellow artist, and an overall cool dude. You've had an interesting path in photography, filling all sorts of different shoes, from your former gallery space, to your artistic career and even and interesting day job. Tell us a little bit about your path in photography and what you're up to right now.

KG: I got my first camera as a present from my parents when I was 16, and photographed on road trips my mother would take for work. I applied and got into SUNY Purchase College, knowing that NYC would be too much stimulation. While there, I met a group of photographers in undergrad that were killing it big time and a group of professors that instilled professionalism in me. After school, I worked at a studio photographing artwork for individual artists. That job led to my current position photographing the collection artworks for a major museum in NYC. I also got into publishing, being a gallery director, and a curator. All the while photographing everything i could.
RS: You've had a chance to travel quite a bit. Have you always documented your journeys?

KG: I've been very fortunate these past years. Having a full-time job has allowed me to travel wherever I had a desire to photograph, even if only for a few days. Since I photograph for memory, I usually photograph a place once and never return. The trips always involve a group of friends that travel with or live in the place I am going, but I always travel with people that will let me stop for however long is needed to make a photograph. My book will have all sorts of writings and stories from these travels.
RS: When did you realize you were "onto something"? When did Permanence reveal itself to you?

KG: A few years ago, I realized that I had a large group of urban landscapes that told an urban middle-class story, but I then saw that I was missing photographs with "space" in them. I made it a point to travel to more natural landscapes, places that most people won't find themselves visiting. After a few trips to Iceland, Southern U.K. and New Mexico, I thought I was ready to complete the series. I've always felt that these landscapes were apart of a large group and I thought it fitting to end this series at my 30th birthday, the unofficial end of youth, ha! I know, sounds depressing. But I find it sad, I find it extremely exciting. I have a few new series in the works that I am ready to give my attention to.
RS: You're currently fundraising to publish your book, Permanence, how can we help? What kind of cool rewards are you offering to those supporting you?

KG: Prints Prints Prints!!!! First off, I wanted to make an affordable hardcover ISBN'ed book, which is difficult to pull off. My book price is $45 signed and shipped, when most independent book projects are more expensive. I work with an amazing press named Oddi in Iceland, have been to their facility numerous times and trust them completely. Secondly, I want everyone to feel like that can be a collector of art. For $25 pledges and above, I am making 4×6″ archival prints. At $125, you are getting 11×14″ editioned prints. And check out the biggest pledge, I think its a lot of fun.
(Click here to check out Kris' Kickstarter project!)
RS: When should we expect to see your book come out?
KG: The book will be pre-released to Kickstarter supporters in mid-October 2012. It will be released to the public on my 30th birthday, November 27, 2012.
RS: Share an image that is currently stuck in your mind.

KG: Me and a photo buddy named Paul Lorenzen went on a mini-road trip to Cape Cod last weekend and we found this view of a power plant in Massachusetts. I think I must make room for this one in the book, it fits the theme perfectly.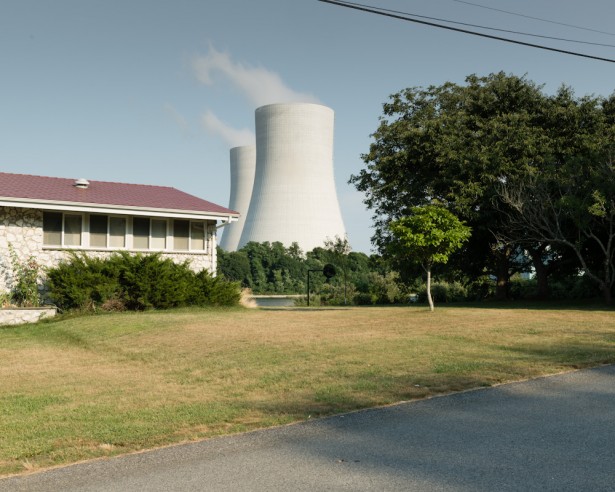 RS: Name your biggest influence and the one thing that represents them in your mind, so we can get inspired as well.

KG: I would say my earliest and biggest influence has been Gordon Parks, a 20th century photographer, one of the first famous black photographers, if not the first. Last week, I was looking through one of his books and AMERICAN GOTHIC showed its beautiful self. My book is mostly landscape, but if I could make my landscapes feel like this photograph, I'd be very happy.