What's Not To Love
Rachel Herman, Molly Landreth, and Jenny Riffle
On view: March 1 – 28, 2008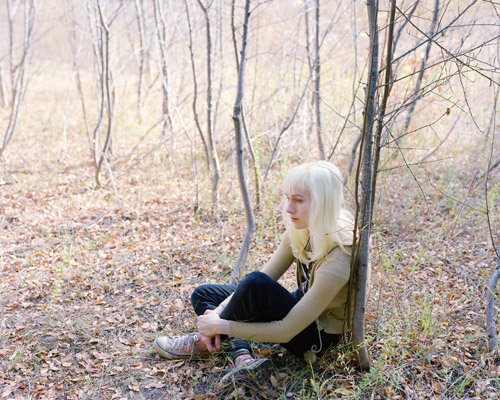 Rachel Herman depicts how love bends but doesn't necessarily break. In her series, The Imp of Love, Rachel Herman photographs couples, who were once lovers but are now renegotiating their relationship in a new context. Even though they aren't romantically intertwined anymore, they still spend time together, sometimes compulsively — even though that time can be painful, fumblingly awkward or confusingly tender. Herman received her MFA from the University of Chicago, and is currently an instructor at Evanston Art Center. She was a teaching assistant to Laura Letinsky for two years and was an artist in residence at Anderson Ranch, Snowmass, CO in 2007. Her work has been exhibited in group and solo shows in Chicago and Kansas City and has been published in the Chicago Tribune.
In Embodiment: A Portrait of Queer Life in America, Molly Landreth's photographs serve as an archive and a journey through a rapidly changing community and the lives of people who bravely offer new visions of what it means to be queer. Even in a world where progressive attitudes are beginning to take hold, to be "out" and visible, is to become both empowered and vulnerable. Embodiment is about love and the process of growing into ones self and the complexity of relationships found between diverse groups of people. Molly Landreth received her B.A. in Studio Art from Scripps College in Claremont, California in 2001 where she cultivated her love for photography, digital & feminist art and art history. In 2005 she received a M.F.A. in Photography and Related Media from the School of Visual Arts in New York City. She is currently living and working in Seattle, WA and exhibiting nationally. This project is being funded in part by a grant from the Humble Arts Foundation.
In her series, The Space In Between, Jenny Riffle investigates the practice of empathy and the psychological spaces of people that surround her and are most dear to her. Drawing attention to small gestures she turns the mundane into the mythical, creating allegorical tableaus that relate the emotional state of her friends and family. Riffle was born in Washington State in 1979. She studied at Bard College in Annandale-on-Hudson, NY and received her BA in photography in 2001. Her work has been exhibited in group and solo shows in WA, CA and NY. Recent awards include: Critical Mass Finalist 2007, PX3 Prix de la Photographie Paris, Honorable Mention in 2007, and Photographer's Forum, Best of Photography 2006, Finalist.