Musings:
18th Annual Photo Competition
Juror: John A. Bennette, Collector & Curator
On view: August 2 – September 15, 2013
Artists Reception & Awards: Friday, August 16 8-9:30 PM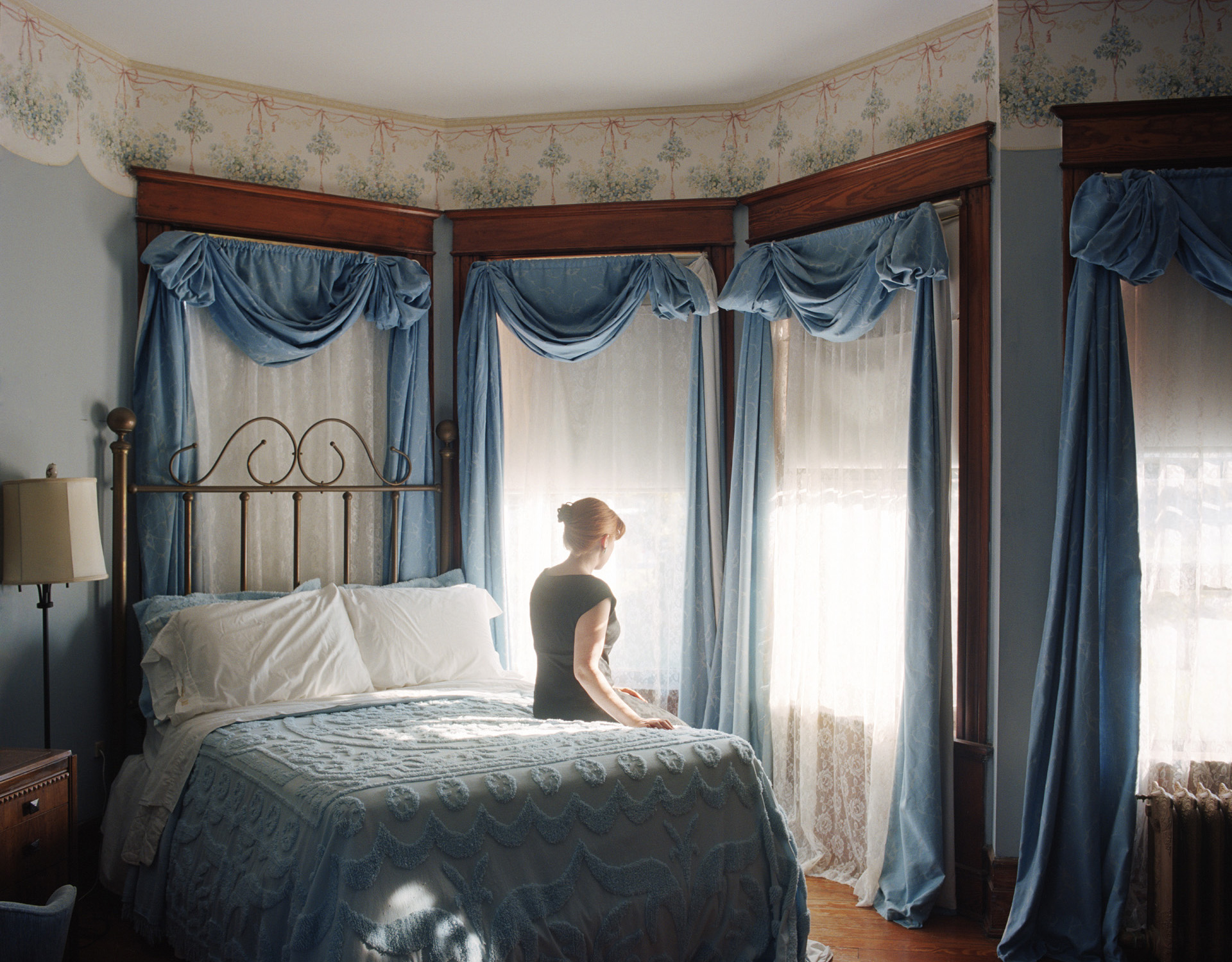 This annual exhibition is one of the most anticipated shows in our gallery program. A wide range of approaches and genres emerge from artists across the world. This year 455 artists submitted their work with over 2500 images for Mr. Bennette to consider. This exhibition showcases 75 artists with one image from each stemming from a larger body of work.
Ben Hillyer's photograph is a portrait of painted ladies of the spring. Growing up in the South, Hillyer has been fascinated by azaleas and how they have reminded him of little old ladies in church who wore too much make-up, oversized hats, and chiffon dresses to match how these bushes flaunt it all in the spring time.
Susan A. Barnett photographs the backside of t-shirts on people she finds in public. She looks for individuals who stand out by their choice of the message on their back. While taking an image of a t-shirt with trees on the backside, Barnett realized how the real trees in the urban background mimicked the shirt, thus creating a new faux environment in the image captured.
Allyson Klutenkamper photographs treasured items that have been passed down to her, such as china, knitted dolies, mirrors, and photos of people she doesn't know. The scope of her work explores personal psychology and altering perceptions of common experiences between siblings, while investigating the construction of memory, and the always-evolving definition one's "self."
Andew Waits explores different concepts of home and survival within the western United States in mobile homes communities. Waits presents a compelling vision of existence outside the current narratives of domesticity typically dominating American life.
Juror: John A. Bennette is a collector, curator and champion of artists. Bennette has written for a number of publications including 21st Journal of Photography. He has been a portfolio reviewer at events including Fotofest, Rhubarb-rhubarb, Photolucida and Atlanta Celebrates Photography. He works with the committees of a number of charity based photography groups including FWAB. Bennette curated several exhibitions for the Hearst Corp., including the Hearst 8×10 Photography Biennial. He has juried exhibitions around the country such as Slow Exposures in Georgia. Bennette was former Art Director and Art Editor for South by South East Photography Magazine. Follow Mr. Bennette's blog or his Facebook Page to see some of his Musings.

Exhibiting Artists: Kathryn Abarbanel, James Arzente, Monique Atherton, Susan Barnett, Philip Basaric, Sheri Lynn Behr, Logan Bellew, Susan Berger, John Berner, Thomas Bittner, Marian Bodart, Amanda Boe, Stephanie Brunia, David Burnham, Tuan Cao, Catherin Colaw, Leonard Correa, Francis Crisafio, Ben Davis, Francisco Diaz, Kim Felsher, Bill Finger, Dean Forbes, Terri Garland, Candace Gaudiani, Roger Generazzo, Jennifer Georgescu, Jason Gorbel, Arthur Grossman, Satu Haavisto, Erik Hagen, Ben Hillyer, Canbra Hodsdon, Sarah Hoskins, Ellie Ivanova, Doreen Kilfeather, Allyson Klutenkamper, Jarvi Kononen, Barbara Kyne, Wendy Levine, Yijun Liao, Cyriaco Lopes, Cary Loving, David Lykes Keenan, Joshua MacCracken, Danea Males, Ben Marcin, Jen Mitsuko, Robert Moran, James Morton, Charlotte Niel, Liz Obert, Michael O'keefe, Michael Ortiz, Allen Palmer, Angela Prosper, Anna Ream, Marilyn Rogers, Doug Rosenoff, Stephen Rusk, Serrah Russell, Wendy Sacks, Richard Saxon, Bryan Schutmaat, Jim Simandl, Paul Sisson, Terry Towery, Britland Tracy, Alison Turner, Tom Vani, Andrew Waits, Brett Walker, Cass Walker, Jacqueline Walters & Joanna Yoder
Award Recipients
1st Place Award
Tuan Cao, Sparks, NV
$1000 Sponsored by Blurb Inc.
2nd Place Award
Yijun Liao, Brooklyn, NY
$500 Gift Certificate Sponsored by Glazer's Camera
3rd Place Award
Canbra Hodsdon, Boston, MA
$250 Sponsored by Panda Lab
Honorable Mentions
Philip Basaric, Vancouver, B.C.
Susan Berger, Tucson, AZ
Stephanie Brunia, Iowa City, IA
Ben Davis, Denton, TX
Bill Finger, Seattle, WA
Roger Generazzo, Brooklyn, NY
Ben Hillyer, Natchez, MS
Doreen Kilfeather, Dublin
Allyson Klutenkamper, Portsmouth, OH
Joshua MacCracken, Seattle, WA
Ben Marcin, Baltimore, MD
Liz Obert, Portland, OR
Angela Prosper, Seattle, WA
Stephen Rusk, Seattle, WA
Bryan Schutmaat, Brooklyn, NY
Thank you to our sponsors