CREEPSHOW
Three photographers reveal their dark sides.
On view: October 3 – 31, 2007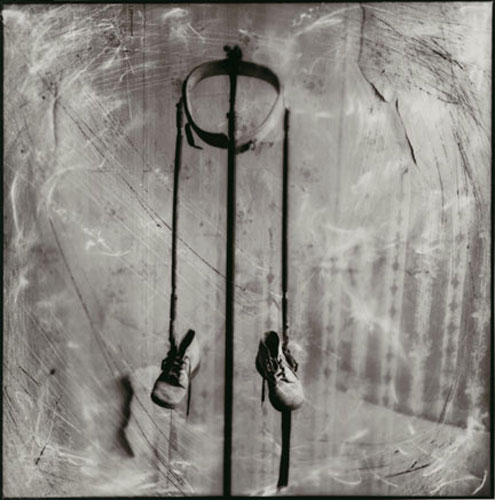 Featuring: Diane Fenster, Carol Golemboski, and Maura Sullivan
Maura Sullivan's images from Selected Stories are like the torn out pages from a made up book. In the shadows of New York City tenement buildings, in front of the peeling walls of old hotels, she imagines who lived there & what could have happened there. Alone in a hotel, a woman remembers her mother, jumping from a staircase, a cool marble floor, a promise … Sullivan is intrigued by the history of places, and by the way an ordinary space can become a portal into another world. She explores the feelings we all share, about fear and love and a time lost. Maura Sullivan was born in 1971 in Hartford Connecticut. She currently lives in Brooklyn, New York. Her work is widely exhibited in both solo and group exhibitions in New York City, Connecticut, New Jersey, Portland Oregon and Krakow Poland. Sullivan graduated Magna Cum Laude from Syracuse University B.F.A and has attended the International School of Photography. Her photographs were featured in the movie "The Devil Wears Prada" and published in Shots Magazine, Antiques weekly, International Italian Photo Magazine Private, and the Sun.
Diane Fenster, a California based artist, started her Ghost Stories because she felt compelled to photograph people who appeared either haunted or haunting. As the work progressed, she widened the initial scope of the project to include portraits of people who are in some way "disembodied" by being marginalized in our culture either because of their beliefs, physicality, sexual preference, etc. The resulting 20 x 24 inch Polaroids reveal gesture without detail, obtained via processes that rely on chance and accident, amplifying the opportunities to capture the numinous. They hint at an underlying thaumaurgical drama that unveils forgotten personas, thereby presenting a documentary of the imagination with a history both real and fictitious. Fenster's images appear in numerous publications including the APERTURE monograph METAMORPHOSES: PHOTOGRAPHY IN THE ELECTRONIC AGE, WOMEN, ART AND TECHNOLOGY published by MIT press, and ART OF THE DIGITAL AGE published by Thames and Hudson. Her work has been internationally exhibited and is part of museum, corporate and private collections including the San Jose California Museum of Art, the Polaroid Collection and the Pacific Science Center in Seattle.
Carol Golemboski's Psychometry is a series of manipulated gelatin silver prints exploring issues relating to anxiety, loss, and existential doubt. The term refers to the pseudo-science of "object reading," the purported psychic ability to divine the history of objects through physical contact. Like amateur psychometrists, viewers are invited to interpret arrangements of tarnished and weathered objects, relying on the talismanic powers inherent in the vestiges of human presence. These images suggest a world in which ordinary belongings transcend their material nature to evoke the elusive presence of the past. Golemboski has been the recipient of numerous grants including fellowships from the New York Foundation for the Arts, the Virginia Commission for the Arts, and Light Work. She was the 2007 Project Competition Winner for Santa Fe's CENTER. Images from her Psychometry series have been published in Lens Work, Contact Sheet, and AfterImage. She is represented by the George Billis Gallery in Los Angeles, the Robert Klein Gallery in Boston, the Sandy Carson Gallery in Denver, Addison Arts in Santa Fe, and the Page Bond Gallery in Richmond, Virginia. Golemboski resides in Denver, CO.