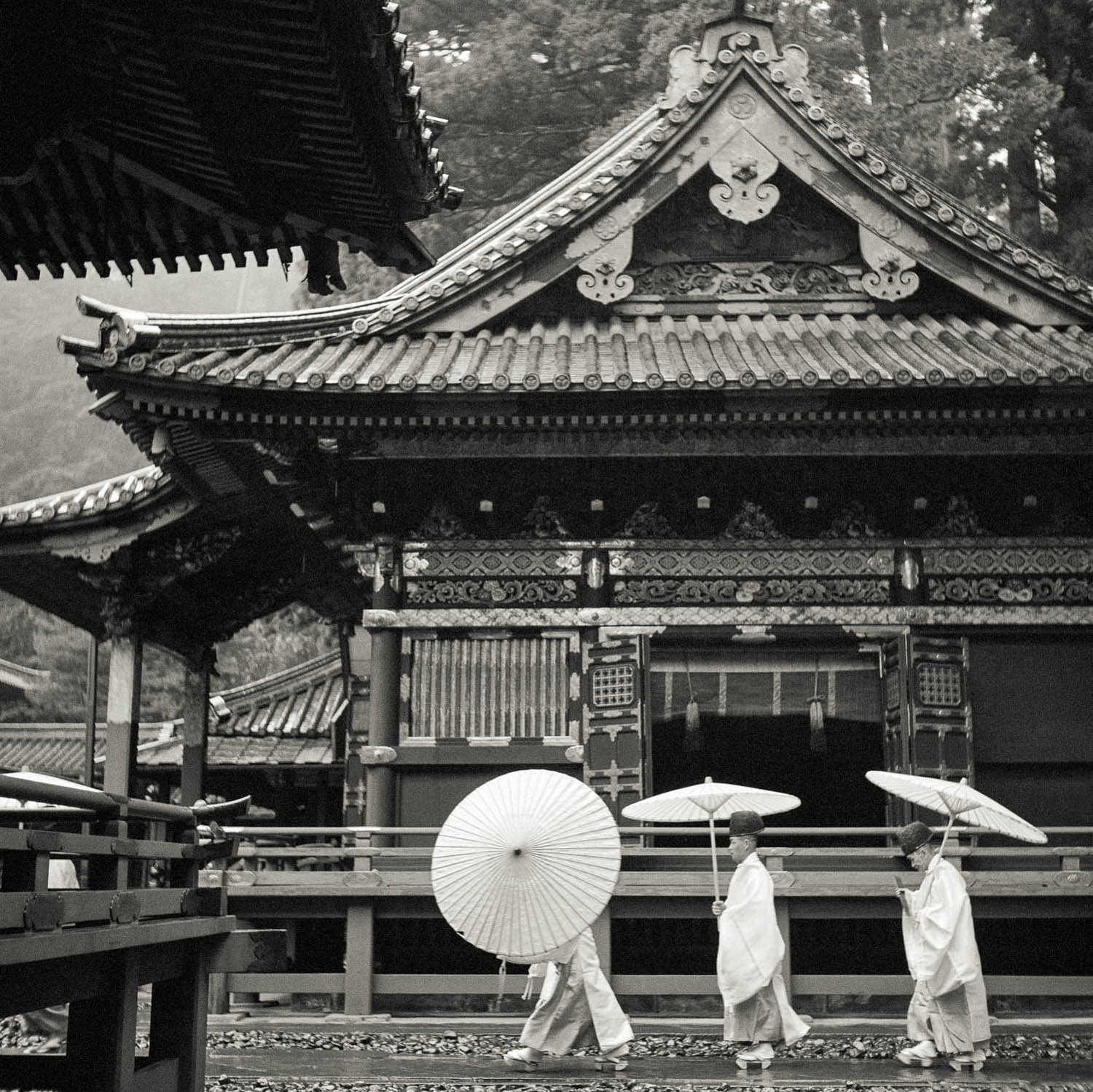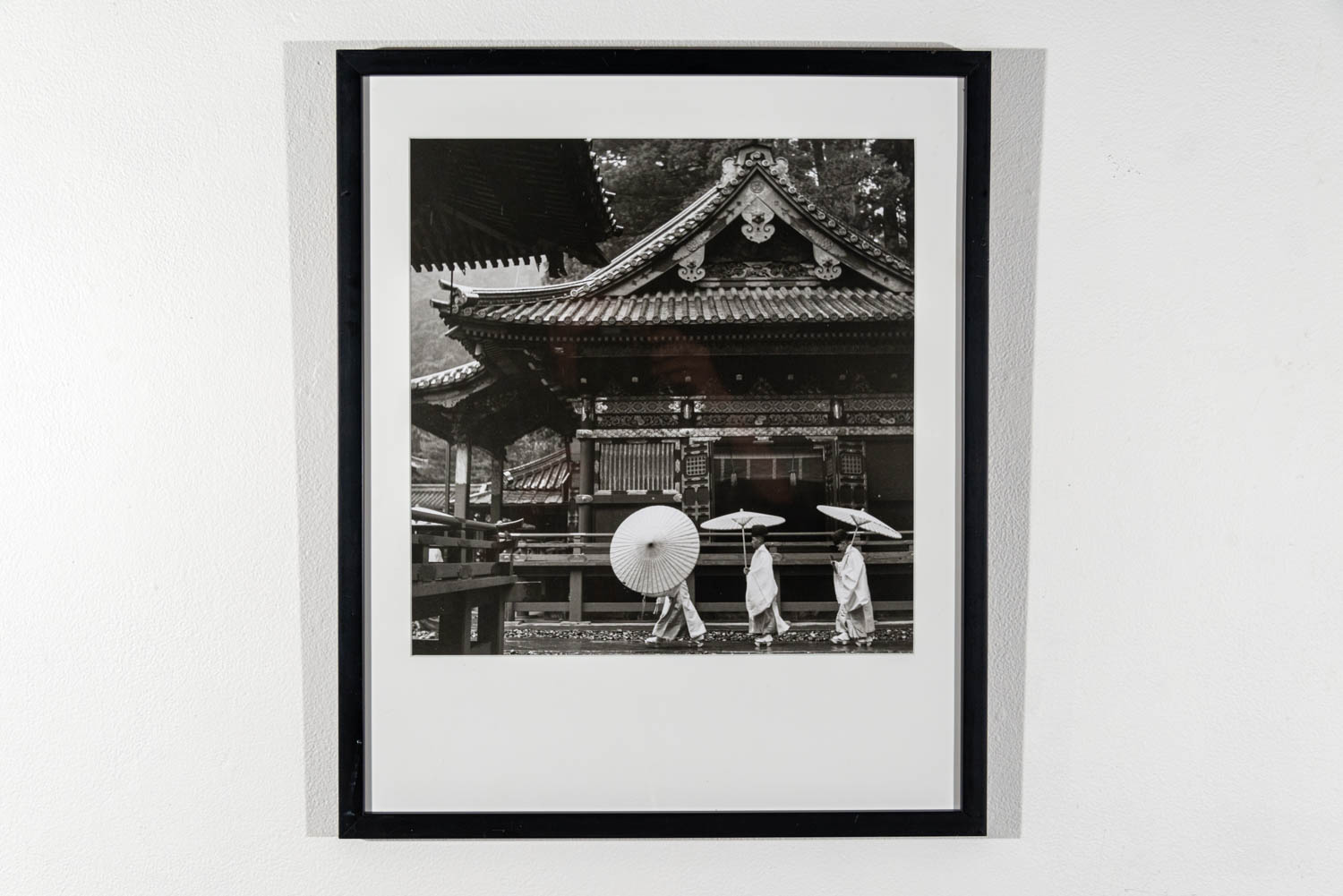 Three Priests with Umbrellas at Nikko Shrine, Japan, 1947
Gelatin silver print
15 x 15 inches, framed to 23 x 19 inches
Edition 2 of 20, signed
Retail value $3200
© Horace Bristol Archives and courtesy Linda Wolcott Moore
Horace Bristol was born in 1908. He studied at the Art Center of Los Angeles, where he was influenced by the work of Edward Steichen and Margaret Bourke-White. Bristol moved to San Francisco, met Ansel Adams and through him befriended fellow photographers including Edward Weston, Dorothea Lange, and Imogen Cunningham.
Bristol became a LIFE magazine contributor in the late 1930s and was soon hired on staff. In 1937 he proposed a story about migrant farm workers in California's Central Valley—a project that would include accompanying text by novelist John Steinbeck. LIFE turned down the story and Steinbeck withdrew from the partnership to write the story as a novel, which became his masterpiece The Grapes of Wrath but Bristol photographed the region on his own.
In 1941 Bristol became one of five photographers documenting World War II under the direction of Edward Steichen, and he photographed battles in North Africa, Okinawa, and Iwo Jima. Bristol remained in Japan after the war and established the East-West Photo Agency, which sold his photographs of southeast Asia to leading magazines in Europe and the United States. 
In 1956, devastated by the suicide of his wife, Bristol burned all the negatives and photographs that he kept at his seaside house in Japan, effectively ending one of the most intense photographic careers of his time.His remaining photographs were packed into footlockers, stored, and left untouched for nearly thirty years.
Having put photography behind him and remarried, Bristol was reminded of his past when his 15-year old son Henri came home from high school in 1985 with an assignment to read The Grapes of Wrath.  Only then did Bristol open the musty footlockers that kept a lifetime's worth of images and memories. When he saw the tired, dignified faces of the migrant farm workers, he couldn't help but regret that his life's work had been all but forgotten in the three decades since he'd put away his camera.
Horace Bristol died in August 1997, but not before seeing his photographs exhibited in galleries and museums throughout the United States and Europe, and a book of his work published in his name: Horace Bristol, An American View (Chronicle Books, 1996). His work has recently been on view at the Santa Barbara Museum of Art as part of Taking Root: A Century of Migrant Workers in California and was featured in the Los Angeles County Museum of Art's exhibition, Made in California. In addition, the J. Paul Getty Museum showcased his photographs chronicling the plight of migrant laborers in an exhibition entitled The Grapes of Wrath: Horace Bristol's California Photographs.
Bidding for this item only available during the in-person live auction at Block 41 on Friday, October 20, 2023. 
Get a ticket or to place an absentee bid email jbrendicke@pcnw.org.