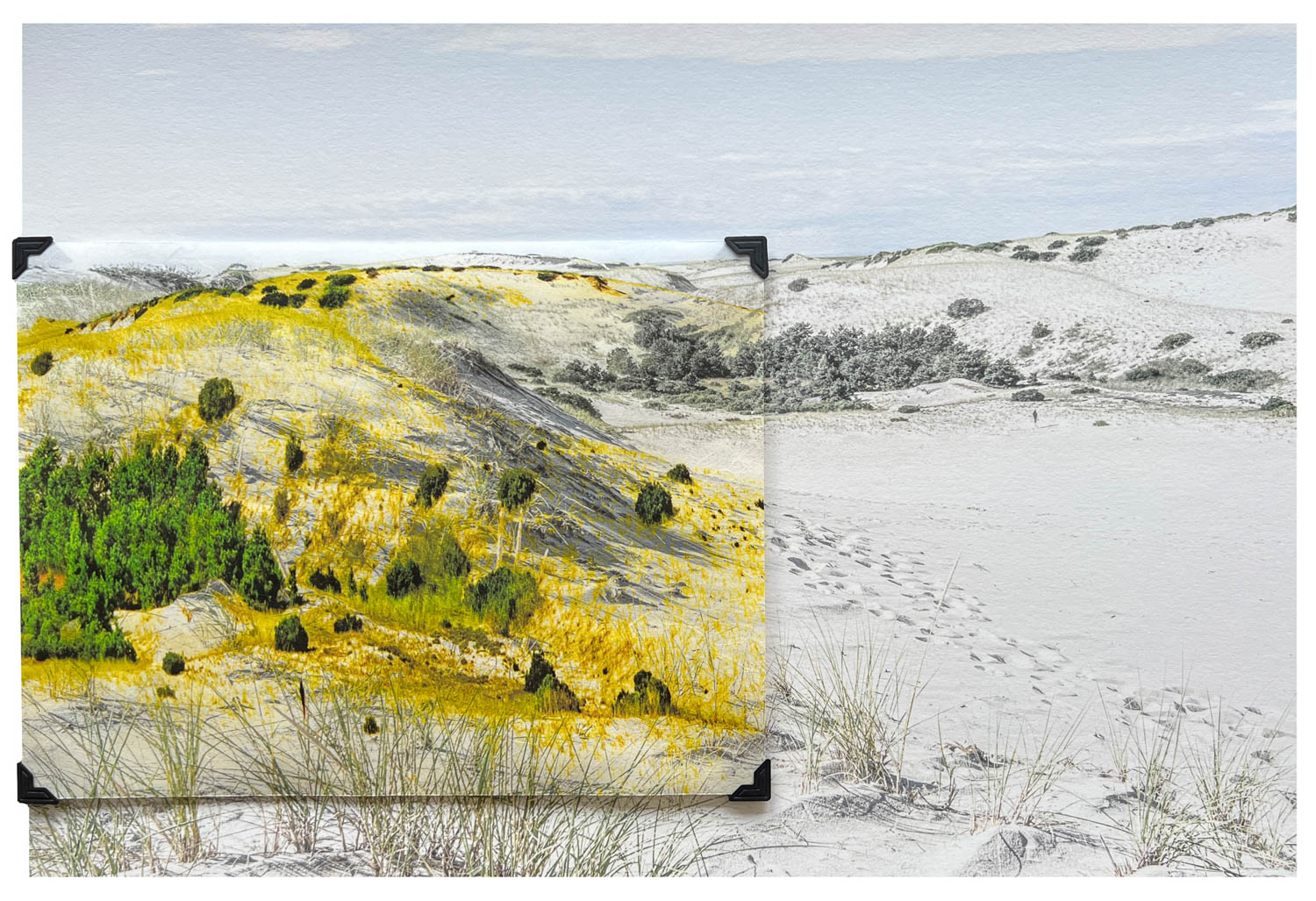 Environmental Melancholia: Postcards from the Past #26, 2022
Archival pigment print
22 x 33 inches, framed to 27 x 38 inches
Edition 1 of 5
Retail value $1800
© and courtesy Donna Bassin
"Environmental Melancholia" is an ongoing series of imaginary, constructed landscapes engaging with the public's difficulty comprehending our disastrous environmental losses. Inspired by and responding to the seductive beauty of classical landscape painters, this series' photographs are pictorial and idyllic at first glance, but a closer look disrupts the sublime. I alter photographs with unexpected color shifts, scale, and composition, physically layering and attaching with tape or photo corners images of natural scenes from different locations. I transform traditional landscapes in form and content. I want viewers to look beyond the beauty and say, "wait, what is happening here?"
Donna Bassin is a photographer, filmmaker, and trauma psychologist born in Brooklyn, New York, and now living in Montclair, New Jersey. She works on long-term projects responding to the injurious aspects of contemporary life: post-traumatic stress, racism, social injustice, and, most recently, the destruction of our environment. She looks to the power of photographic arts to assist in the transformation of grief over catastrophic losses into the power of witnessing and action rather than apathy and melancholia.
Her life work has resulted in two-awarding documentaries, two solo museum exhibitions, public art installations, book covers, and participation in many curated group shows. Tricycle, Fotonostrum, Grazia Magazine, Lens Magazine, and LandEscape Art Review have published her photographs and writing. She was a recipient of the 2021 New Jersey Council on the Arts Fellowship in Photography.
Donna Bassin was one of Photolucida's 2022 Critical Mass Top 50 artists. This image was selected to be included in PCNW's 2023 exhibition, Imminent Existence, which showcased one piece of each of the Top 50 artists.
Bidding for this item only available during the in-person live auction at Block 41 on Friday, October 20, 2023. 
Get a ticket or to place an absentee bid email jbrendicke@pcnw.org.