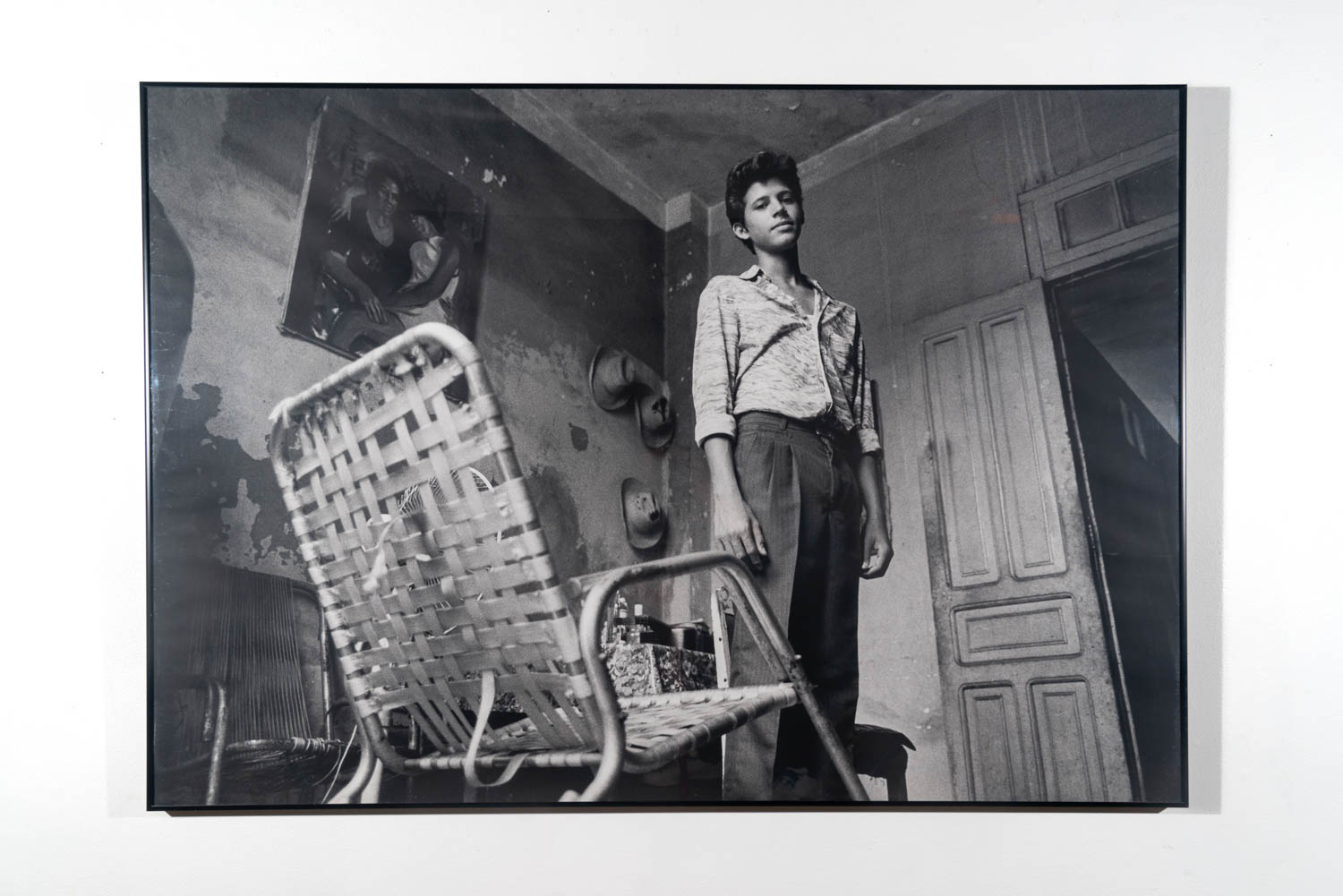 Elvis, Santiago de Cuba, 1998
Gelatin silver mural print
40.75 x 58.5 inches, framed to 41.25 x 59 inches
Edition 1 of 1
Retail value $4000
© and courtesy Claire Garoutte
This photo was taken after an afternoon of music and rum (an impromptu party) at the home of a local street performer (magician), Beny Vili, in Santiago de Cuba.
Making this print was a team effort. Myself and some PCNW student volunteers worked after hours at PCNW using that wonderful old Beseler 45 MCRX enlarger (the head flips up to expose horizontally!). Fiber paper was pinned to the wall and exposed from about six feet away for about fifteen minutes. We divided the sinks in half using a board and lined them with plastic to fashion four "trays" with the developer, stop, fix, and wash. I mixed six gallons of Beer's Developer (parts a and b) to print the project. We supported the paper on a 4 x 5-foot plexiglass, allowing us to agitate, drain, and move the print from one sink (and darkroom) to another without getting kinks in the paper. The final prints were hung from backdrop stands in the auditorium and lighting studio. It took two days before they were completely dry. We worked from 9:30 PM to (around) 5:00 AM, printing three negatives – one mural print each. Fun.
Claire Garoutte is an Associate Professor and Director of Photography at Seattle University. She taught at the Photographic Center Northwest for 18 years and was the Director of Education from 1998-2006. Claire is the author of Matter of Trust (1996, Konkursbuch, Germany) and co-author with Anneke Wambaugh of Crossing the Water: A Photographic Path to the Afro-Cuban Spirit World (2007, Duke University Press, Durham, SC). She has worked extensively in Cuba since 1994 and has been exhibited internationally.
Bidding for this item only available during the in-person live auction at Block 41 on Friday, October 20, 2023. 
Get a ticket or to place an absentee bid email jbrendicke@pcnw.org.