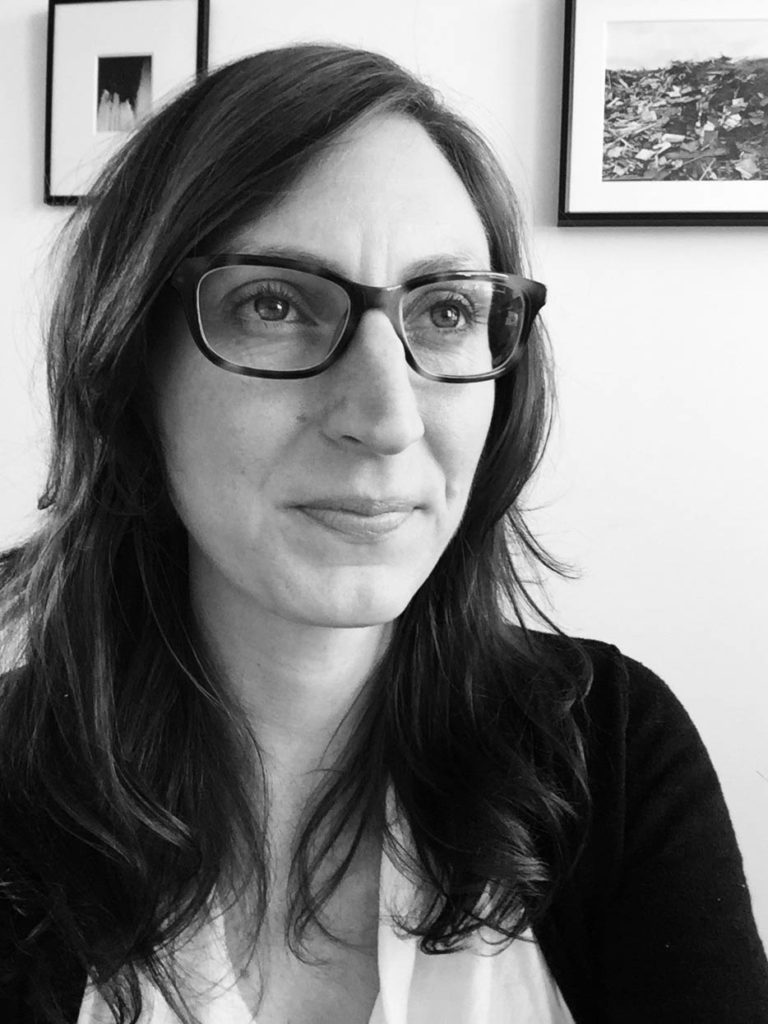 Terry Novak joined the team in 2012. She supports PCNW through community engagement, program development, fundraising, and leveraging resources that foster sustainability and elevate the photographic arts in the Pacific Northwest.
Novak has been a reviewer at PhotoAlliance in San Francisco and PhotoPlus in New York, co-juried the 2019 Pacific Northwest Viewing Drawers at Blue Sky Gallery in Portland, OR, and curated numerous exhibitions. She is chair of the Capitol Hill Arts District, leading advocacy and policy around creation and preservation of affordable spaces and resources for artists and arts organizations. She is also a member of the Fundraising for the Arts Task Force and served as a grant panelist for The Washington State Arts Commission. Novak received her BFA in photography from Columbia College Chicago, and an MFA from Seattle University. She has an affinity for analog color and alternative processes.
Erika Nesholm is the Executive Director of the Nesholm Family Foundation, which awards grants in Health and Human Services, Education, and Performing Arts in Seattle. Prior to that, she was a Classics Professor at Williams College, Georgetown University, The College of William and Mary, Kenyon College, and Ohio Wesleyan University. She holds a PhD in Classics from the University of Washington and a Master's in Education Policy from UW, with particular interest in arts education. Erika is active in the arts community: she serves on the board of ACT Theatre, Arts Corps, and the Community Advisory Board of Classical KING FM.
William Holderman is Gastroenterologist and Senior Partner with Digestive Health Specialists based in Tacoma, Washington. His interest in photography began in high school where he served as staff photographer and editor of his high school yearbook. He deeply appreciates the art and craft of photography having spent many hours in his home darkroom developing and printing images from his Nikon F. He and his wife, Lisa collect 20th Century vintage and contemporary photography, photographic monographs, and ephemera. He is dedicated to the art and artists of the Northwest having served on the Board of Trustees of the Tacoma Art Museum and co-chair of its collection committee. They live in Seattle with their two teenage daughters.
Anna Ream is a conceptual and documentary portrait photographer based in Issaquah, Washington. Her work has been exhibited nationally and has been featured on websites internationally including Lenscratch, TODAY.com, The Daily Mail (U.K.), and in print in Germany. In addition to her role on the board of directors, Anna is an instructor and a graduate of the Certificate Program at PCNW. Before moving to the area in 2005 she worked in the financial industry for seven years in New York City and Washington, D.C. as an investment banker and financial advisor. She is a member of the Fotofemmes and Push/Pull photo collectives.
Ali Basye is a content strategist lead in the Global Brand & Content Studio at eBay. As a longtime brand consultant, Ali has developed identity architecture and marketing and communication strategies for omnichannel brands and organizations. She studied textile design at Moore College of Art in Philadelphia, taught marketing and fashion at The Art Institute of Seattle, and is passionate about promoting and supporting art and design education and developing transformative communities in its virtual and real gathering spaces. Her deep knowledge of fashion history led to a pocket book (literally, it's designed to fit in a pocket), The Long and Short of It: The Madcap History of the Skirt. She has sat on several fashion and art advisory boards, including Blue Earth Alliance and Seattle Art Museum's "Yves Saint Laurent: The Perfection of Style."
SVP at Jones Lang LaSalle (JLL), Marcelo provides real estate services to institutional, corporate, public and not-for-profit clients; specializing in leasing, acquisitions/dispositions, and comparative analysis of strategic options. He is passionate about supporting nonprofits in their space needs, and appreciates photography. He currently leads PCNW's Building Committee.
Marcia Glover is practicing visual artist with strong project management skills and experience in a number of different fields. She is a collaborator who enjoys working with others and understands how important PCNW's people, resources, and facilities are for those who love the art of photography. She is an advocate for artists and want to help PCNW continue to be an essential resource in a new home with a financially stable future. Her work has been shown in PCNW Presents, Center for Fine Art Photography, PhotoPlace Gallery and 10x10x10 Tieton. Glover was a founding member of Studio F Gallery, Seattle and is a member of fotofemmes, a photography collective.
Matthew Milios is an Oscar nominated Executive Producer adept at guiding concepts from development to delivery and creating stories and experiences that generate excitement and drive people to action. He is a dreamer and creator of award-winning, perception-shifting content, experiences and strategies that are thoughtful, moving, and delightful. Milios is dedicated to strengthening brands and creating impact through value-based, people-focused storytelling and someone who understands the realities and complexities of content production across video, photography, podcasts and VR/AR. A self-described inclusive collaborator with a subtle sense of humor, he is a committed to fostering a creative, innovative team culture.
After working for 17 years as a newspaper and magazine photojournalist, Joshua Trujillo came to Starbucks Coffee Company where he is now a senior visual storyteller. At the coffee company he continues to capture those fleeting, authentic interactions and moments that stand out amid visual noise. His goal is always to document the ordinary in unique ways and to look for little moments that add up to a larger story. Joshua's work has been published in almost every major U.S. newspaper and magazine, including The New York Times, The Wall Street Journal, People Magazine, Paris Match, Time Magazine, other print publications and countless digital publications. His photographs from Afghanistan in 2001, captured just weeks after 9/11 are part of a permanent collection at the University of Arizona, his alma mater. He is a veteran of the United States Air Force and when not working he can be found with his family exploring the Pacific Northwest in his 30 year-old VW camper van.
Adam L. Weintraub is a professional photographer and serial entrepreneur who proudly hails from Seattle. For more than 10 years, his PhotoExperience.net workshops and photo tours have been offering insight and creative collaboration in an intimate setting throughout South America. He has coordinated efforts to create a permanent archive of the famed Peruvian indigenous photographer, Martin Chambi. Adam is a past three-term President and 8 term Director of Blue Earth Alliance; he is widely published, collected, hired and admired for his personal work. His book, Vista Andina, offers a contemporary photographic perspective on the Andean region of Peru. Adam's current pet-project is the Museo del Pisco in Cusco, bringing this magical elixir to the masses.
Hayley Young
has 15+ years as a visual storyteller working with editorial and commercial teams to develop creative, manage logistics and execute concepts. She prides herself in cultivating relationships with collaborators and clients. As Executive Director of
Curator
, she leads a diverse team focused on creating opportunities for underrepresented talent in the creative content industry.